The Registrar of the Council for the Regulation of Freight Forwarding in Nigeria (CRFFN); Barrister Samuel Nwakohu has lamented that compliance to the payment of Practitioners Operating Fee (POF) by freight forwarders is very low.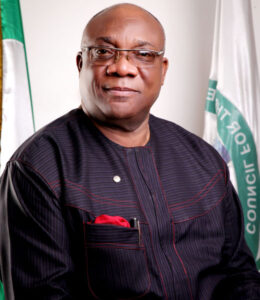 Nwakohu in a chat with our correspondent, informed that the annual projection of the council is about N5 billion in a year, but he lamented that presently the council is collecting bellow N2 million per day.
The Registrar however noted that, if the terminal operators begin enforcement compliance, the level of freight forwarders compliance will increase, while urging freight forwarders to be compliant to the mandatory payment.
"Compliance is still very low. If you look at the projection that we have, which is about N5 billion a year and presently on the average, we get less than N2 million daily.
"It is going to be tough. But I believe that the more the terminal operators begin to enforce the better. The fact with the terminal operators is that when they all start enforcing, the level of compliance will go up considerably, because right now, it is less than five per cent. We have achieved less than five percent of our projected revenue, which is poor. But the good thing is that we have started", he said.
Speaking on the registration of freight forwarding associations, the Registrar informed that it is not within his powers to accredit any freight forwarding association, but he added that it is the function of the CRRFN governing council to do so.
He however said his desire is for the freight forwarding associations to come under one umbrella like other professional bodies.
"In the first place, accreditation of associations (to my understanding) is a function of the board. But if I have the opportunity to advise the board, I think I will look into something else. We are gravitating towards professionalizing freight forwarding. If you look at other professional bodies, they have just one association with chapters all over the country. I'll advise the board to tilt towards that.
"This is because how many will they accredit? We have five now, and quite a number of them have become extremely hostile. Everyone wants to be accredited. At the end of the day, there will be so many that you can no longer manage", he said.
Kindly like us on Facebook