By Joshua Yousouph
The Council of Maritime Transport Unions and Associations (COMTUA) has called for the unbundling of the Electronic Call up system for trucks popularly called "Eto" to arrest what it called the lingering menace of inefficiency, extortion and the burgeoning lawlessness in the maritime industry.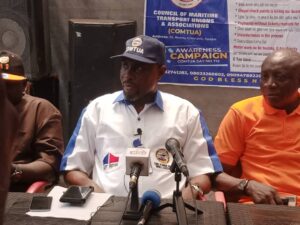 While addressing Journalists in Lagos on Thursday, the National President of the association, Mr. Adeyinka Aroyewun lamented what he called inadequacies and inefficiencies of 'Eto', noting that the association has decided to reinforce the decision of the Nigeria Port Authority (NPA) to undertake the holistic unbundling of Eto.
Aroyewun also alleged that truckers pay between N25,000 and N30,000 to the operators of Eto. He alleged further that, according to records, the electronic call-up platform has recorded about 1.4 million trips, which has netted about N30 billion.
He however stated that COMTUA has developed an alternative computerized application which is robust in scope and backed by a demonstrable effectiveness that is second to none in the business.
According to the COMTUA President, "the Managing Director of NPA came out and addressed the press, saying there's no alternative to unbundling "Eto" which means they have also seen the inadequacies and inefficiencies of Eto policies".
"We are happy that the Nigerian Port Authority has seen the need to unbundle Eto. The responsibility of NPA is purely cargo handling and determining what garage to use is out of their jurisdiction. We have been doing this because we have not organised ourselves. Now that we have organised ourselves, we have now come up with our own workable policies and more workable app than what we have.
The COMTUA boss however called on the Nigerian Ports Authority to embrace this initiative, assuring that it will restore normalcy to traffic and operations in the port.
"We are telling the whole world that the NPA should not bother looking for an alternative. We have got an alternative and they should gladly embrace it and welcome this development. Let us see how it works out. I am assuring the whole world that in the next two months, we are going to do far better than what Eto is doing.
"As seasoned truckers with a long history of enviable performance, it is our hope that in spearheading this unbundling exercise, the apex ports' management, whose core responsibility is in the complex area of cargo handling, would also place adequate priority on the need to promote and support all workable initiatives, such as the one developed by our great union, as briefly highlighted at this open conference.
While commenting on issues of extortions of truckers along port access roads, Aroyewun restated the pains truckers go through in the hands of Lagos State Traffic Management Agency (LASTMA) officers whose culture of extortion has been rampant.
"These category of road managers have become so emboldened by the blind eyes that the Lagos State Government usually turns, in handling all public complaints labeled against them, such that, they had become uncontrollable in the indiscretions they exercise while performing some basic official duties. It is a known fact, that ordinary civil cases involving drivers, such as packing by the roadside to re-fix a depleted tyre always result into arrest, towing and detention of such vehicles and a punitive fine of not less than one hundred thousand Naira ", he said.
Kindly like us on Facebook