Oluyinka Onigbinde
The Maritime Workers Union of Nigeria (MWUN) has renewed the ultimatum given to shipping companies over the poor remuneration of workers in some of the shipping companies in the country.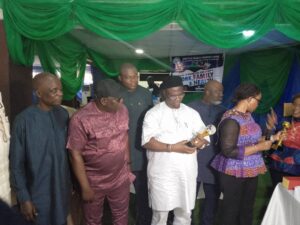 Speaking on Thursday during the Shipping branch Women's wing first seminar and award presentation with the theme "Women in Unionism: Balancing Work, Family & Health", held in Lagos, the President General lamented that many of the shipping companies do not have the love of their workers at heart, this is even as he stated that there is need to have a minimum standard payment for the shipping companies workers.
Adeyanju informed that over the years, the shipping companies have leveraged on the outbreak of the COVID 19 to deny workers the benefits due to them
He however noted that the union will not fold its hands and watch the companies ride on the workers.
He said: "I want to use this medium to emphasize the need for the condition of service in the shipping sector, the shipping workers have contributed their quota to the development of this country
"There is a need for us to have a minimum standard in shipping, if after a worker put up to 30 to 40 years and after years of service, his take-home is nothing to write about. I want to appeal to the shipping companies to wake up, the right of the shipping workers should be given to them,
"They have rejected our ultimatum given to them and impunity is the order of the day now, but we will have to renew the ultimatum
"The ultimatum still stand , we only suspended the ultimatum, but the union have to renew it, I am telling you that we don't want 5% percent increase and I want the shipping companies here to take this home".
Adeyanju who was also awarded at the event urged the women in the union to emulate women who have shattered the glass ceiling in their respective fields.
He urged other women in the industry to emulate the shipping branch by showing appreciation to their leaders.
In his speech, the President of the shipping branch of the union, Com.E Ekpeyong commended the women's wing of the shipping branch for the laudable initiative of hosting women in the management position of of the industry.
Speaking also the chairman of the occasion, Mrs Rosemary Otikpere, informed that the motive behind the event is to educate the newly inducted female union members on how to balance work, manage their homes and take good care of their health.
She said the event will help bridge the gap between the female management staff and the female staff of various companies in the industry.
She added that the event is also about projecting the image of MWUN as a union with distinction.
Kindly like us on Facebook