"If you don't collect POF today, the associations will still go and collect it in another way"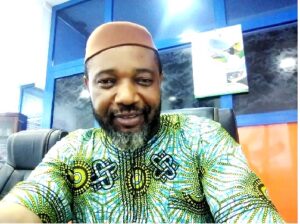 Dr. Eugene Nweke is a former President of the National Association of Government Approved Freight Forwarders (NAGAFF). In this interview with Oluyinka Onigbinde, he speaks on the CRRFN, the upcoming election, the POF and other sundry issues.
The e-call up system seems to have lost its importance, what do you think will be the solution to the present menace of Apapa traffic?
You need to review the objective of that particular e-call up system, it's one thing to pursue revenue drive and another thing to add value. The port is about adding value. So if you're not adding value, you are destroying the system. The e-call up system failed because the emphasis is on revenue generation rather than services to be rendered. With the little amount of money for administrative services, overtime you can still make the money you want but when you come with the types of money you are trying to impose on people, there we got it wrong.
Let's not remove the space or ignore the fact that it is the responsibility of the government to make a law that says every truck owner must own a garage, it is when you own a garage and your truck goes there and you have a place to come to as e-call up system as an intermediary before accessing the port, they don't have garages, they only acquire and put it on the road.
Government has not done well, they have to give the guidelines, if you must be a truck operator, these are the conditions; first thing is to come inspect your garage to see the level of training you have given to your drivers, from there also, they will now look at what should be the template for training the drivers, what is the template for a roadworthy truck, these are things to be put in place so that every year, the inspection officers can go to inspect and make sure the garage is in a good condition.
If you are increasing freight; if the number of your truck are going up and you're still maintaining the same garage, then the government need to come in. We didn't do some of these things as background check. Now, you went to put up the system to get money just like what we call wharf landing fees. It is not about getting money from the ports or using the opportunity to maximize collection of money, it is about adding value and finding solution to the problems in the port environment. So if come with a solution and one hand is saying solution is here and the other hand is saying revenue is here, it is deceitful. But don't forget the fact that the so-called system came on board to checkmate those who have been benefiting from the situation. The portal was poorly managed because it was easy to hack, before we know it, we had another cloned portal. It means the initiators never did their homework very well by not securing the portal from being hacked.
There are so many controversies surrounding the POF. Can you explain the legality behind the collection of POF?
The POF does not have any problem. The problem it is having is the governing council of the CRFFN and the management team of the council not harmonizing what we call an effective regulatory function. What is POF? If POF will be an issue, they can still collect the money with another template or nomenclature. The idea behind POF is not a funny one. The idea behind POF is how do we catch up and allow ourselves become a freight forwarding nation. We have lost out due to no proper regulatory framework that should protect us over the years. Since we can actually pay to freight forwarding associations; pay N1000, N2000 at the gate before the cargo leaves the port. Let's put this country together and help ourselves rather than having one or two associations having monopoly of it. This was the genesis. The same amount that people are kicking against have been collected over the years before the council said, "stop let us put this thing together for the benefit of the freight forwarding sector". So what is bad in that? Even if you don't collect POF today, the associations will still go and collect it in another way because the capacity to enforce and the regulation by the management of the CRFFN is not there. So, it requires the coming together of everybody and we have all agreed. But a test run process is what we have never reached, but we will reach there. So if there's any one saying there should be no POF, then that person is not a proper freight forwarder. He doesn't have the interest of this freight forwarding at heart; looking at the future.
If the CRFFN and her management team have been involved to address some of the operational challenges that freight forwarders have been having over the years, nobody will say he doesn't want to pay POF. But because they just kept aloof over the years and some of them are asking what have you done for us? Some of them, out of anger said I must go to court not because they don't want to pay POF, but because they believe the governing council and the management team have not added any value to them over the years. I'm aware of people saying that their interest is being negotiated. But that is not the issue. POF should be collected by freight forwarders. I will not allow POF to be collected and be managed by non-professionals. Politicians have nothing to do with us as far as the regulation of freight forwarding is concerned. So personally, I will not see myself encouraging the collection of POF for politicians to manage in my profession. That's not possible. So whoever goes to court is going to court because there are professional issues that need to be addressed.
It is a professional freight forwarding Council and not political party. This is not Nigerian Port Authority or Nigerian Shippers Council; neither is it NIMASA or Inland Waterways. This is a professional freight forwarding Council. Ministers are to supervise it and give necessary directions. They should get their hands off professional regulations. What they cannot do to the Nigerian Bar Association or the bankers and engineers, they should not do to freight forwarders because you don't have the right to drive the process.
There have been controversies as to the tenure of members of the governing council of CRFFN, what is your take on this?
The law is very clear. It a four-year transitional period. That four years is two-two years. The first time we went for election, ANLCA won the whole seats. After two years they were to do a reshuffle, the Minister re-appointed some members, and that was why I represented the South east in 2012. After the four years, there should be two years subsequently. So why are you importing your own idea? I look at the people elected and also saw the inexperienced politicians who were appointed too. It was lopsided and we don't expect anything tangible to come out from such mix-up. Professionals themselves were overwhelmed by the political interest there, that shouldn't be and again we can't blame them because when the number of participants that is supposed to be more of freight forwarders have now been twisted overnight to become more of political representatives, what do you expect? So they are overwhelmed. So there's not much we can do for them within two years and you remember that COVID came in. So most times if you just listen to their arguments, the law is meant for man so they should just obey what the Act says. Some of them have the liberty to contest election, but not the way they are going about it.
Just as you said, the governing council election is approaching, should the associations be involved?
For now, that governing Council cannot appoint an electoral committee. What they have just put together as far as I am concerned is a rigging apparatus. No electoral committee like it has been in the past, must be an unbiased umpire, an unbiased electoral body. Not the ones conscripted by the governing council. A neutral people will be asked to come and conduct the election. That has been the practice.
Are you accusing the CRFFN of actually playing games with the coming election?
For the registrar to stand his ground, he knows the truth as a lawyer. If you want to put up an electoral body, it should be independent people and not people that you call and give a script to go and act. We are not daft in this profession. I have been in this industry, I've paid my dues, I've gone through the nitty-gritty. You cannot go and assemble politicians, non-professionals to start telling me about my profession. We have been insulted enough by the government. Amaechi (Minister of Transportation) should watch it.
What is your take on the plans to return the Navy and Standard Organization of Nigeria to the port?
The port has been defined as a security zone. Why is it the security zone? If the Navy has anything to do with the ports, the waters belongs to them. What are you doing at the port that is not for them. Navy and DSS, their activities have to do with networking, information sharing with Interpol, World Shipping Organizations, the IMO and every vessel. Share information and watch them, deploy your military if they suspect anything. I want to see the Navy, DSS and all of them that have come together to share information, going to responsible partnership for security purposes to ensure that our piracy issue is being addressed to the barest minimum. That is when they add value to our maritime environment. Coming to the port, what is the function of Immigration Service? What is the function of Customs, NPA or NIMASA? So must we bring every security agency of the government to come inside the port before we get our ports right?
The navy should find a way of checkmating customs if customs is not doing well. The Marine Police must find a way of checkmating Customs and ensure that illicit trade does not go on. It is not by coming inside the port. How do they have manifest. What does SON want inside the port? They gave flimsy excuses of catching substandard tyres. Have you punished the shipping line? Have you made investigations to find out which country did it come from? Which shipping line brought it and sanction the shipping line. Your (SON) Act never said you should be in the port. SON can effectively manage cargo importation and export from their base.
If America could use a container initiative programme to checkmate cargoes coming into their ports why can we do it? Do we as a nation have any container initiative programme? We tried to embrace Cargo Tracking Note, was it efficient? The answer is no. They have what it takes to do the right thing. NAFDAC has reduced corruption. They have made their system reasonable as compliance is coming through followed by Federal government support on the issue of setting up committee to box illicit drugs.
People are saying that if NAFDAC could be allowed to be in the port, why not SON?
NAFDAC, by its Acts is in the port. You think the former Minister of Finance; Okonjo Iweala didn't know why she did what she did? We want to bring it to the attention of the new DG because he just came in. We now did a system survey of what is obtainable here in Nigeria. As far as SON is not getting it right, so many things are wrong. If they don't listen to us we will escalate it. The word SONCAP has been compromised to the extent that they need to work on it better. In the next two weeks we will go and see them. It is a public office.