By Joshua Yousouph
The Customs Area Controller (CAC) in charge of Murtala Mohammed International Airport Cargo Command, Comptroller Sambo Dangaladima has charged executives and members of the National Association of Government Approved Freight Forwarders (NAGAFF) at the airport to embrace honest declaration and unify for national development.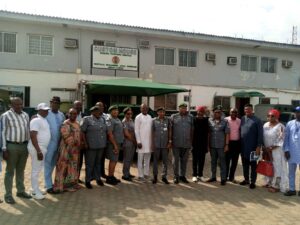 Dangaladima gave this charge during a familarisation visit to the Command by executives of the association on Thursday in Lagos.
The Customs controller enjoined NAGAFF to adequately sensitise its members on the importance of honest declaration, benefits of the port scanners and the worldwide challenge of foreign exchange.
He however pledged his continued support to the association, noting that his office and telephone lines are always opened to all stakeholders and the association for constant engagements.
"You know we are in the festive period and politics is coming. Let us not look at politics as division. Let everyone choose his own beat. Let us not argue too much, we have only one Nigeria and we don't have any other country to go than this country. Let us try and make things work for our betterment and not try to put sentiments in whatever we are doing. Let us sensitise our people on the issue of due process. Let them do the right thing. Let us work together and move the country forward.
"I am happy you are here and I promise that whatever we can do together, we would do without any problem. I know NAGAFF to be a freight forwarding association and how you deal with issues that come and you solve our problems within ourselves because Customs and agents are like brothers and sisters.
"I like the way your chapter people conduct themselves. Even if there is a problem, they help us cool down the tension and do the needful because I know the foundation of NAGAFF is due process. So, feel free to air your views and complaints. My office and phone line are open for you all" Dangaladima said.
Speaking earlier in his opening speech, the National President of NAGAFF, Chief Tochukwu Ezisi noted that the purpose of the familiarisation tour is to strengthen the association's relationship with the Command and also to introduce the newly-elected executives of the chapter.
While appreciating the cordial working relationship with the Command, Ezisi however sought for the continued support of the CAC and his management team, adding that NAGAFF is an association without any faction.
"Our visit today is our usual standardisation tour and to introduce to you our newly-elected executives in the Airport chapter of our association. This is to show and ascertain that their activities are backed up by the association's headquarters. I don't think you will be expecting any faction, because I would stand here to tell you that NAGAFF is the only association without factions".
Ezisi however charged the Chapter executives and members to embrace honest declaration and desist from any act that will tarnish the image of the association, stressing that NAGAFF is known as an association with great integrity.
Kindly like us on Facebook/twitter