A deadly cyberattack on South Africa's state-owned ports and cargo rail operator this month resulted in the firm declaring its second breach in one month.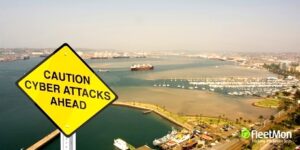 Transnet implemented a precaution in response to a security compromise on July 22 that prompted the business to handle container shipments manually at compromised ports. It included the Port of Durban, the largest cargo gateway in Sub-Saharan Africa, along with the Ngqura, Port Elizabeth, and Cape Town harbors.
Transnet said last Tuesday that it has made "significant progress" in regaining its computer systems, though other companies, including manganese producer Assmang, have maintained their force majeures, which were declared on July 12 following brutal riots on July 10 that effectively shut down key logistics arteries.
The port closures are wreaking havoc during the export season on citrus farmers in South Africa, which is the world's second-largest exporter of fruit behind Spain.
They are also hurting automobile industry exports, which contribute to approximately 14% of South Africa's total export value. Because of the interruption to retail value chains, distribution centers, and cold storage facilities, producers have been forced to increase their orders to compensate for the losses in the supply chain. As a result, it is anticipated that the situation will deteriorate in the next weeks.
The Port of Durban handles 60% of South Africa's cargo and also carries goods and commodities to and from countries in the region, including the Democratic Republic of Congo in the faraway North. According to Mike Schussler, chief economist at economists.co.za, the interruptions are likely to cut "quite a few" percent growth off southern Africa's economic output.
Transnet announced force majeure on a critical rail line earlier this month, citing disruptions caused by violence, looting, and arson. Investigators are still attempting to pinpoint the source of the cyberattack as well as the amount of damage it has inflicted.
Kindly like us on Facebook