Ahead of the planned deployment of the deep blue assets, stakeholders in the nation's maritime industry have urged the Nigeria Maritime Administration and Safety Agency (NIMASA) to back the deployment with intelligence.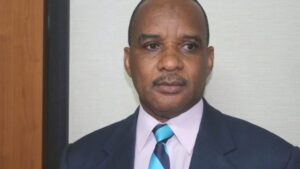 In an interview with various stakeholders in the industry, they stressed that beyond deployment of the assets, the management of NIMASA should also look into enforcement and effectiveness by backing them up with formidable intelligence in order to ensure its sustainability.
In a chat with our correspondent, a former director at NIMASA; Captain Waredi Eniousoh noted that deployment of the deep blue assets by NIMASA is a good initiative against piracy but said a high level of intelligence on the assets will go a long way in making the fight against piracy a sustainable one.
"Obviously there is no doubt about it that the war against piracy is both psychological and technical, having assets to go after the situation is definitely a good move. There's no doubt about it. But there is no one system that can give you 100% accuracy in the situation you find yourself in. So I think apart from planning the assets, there is a need to back the assets up with intelligence also because assets are very expensive to run" he said.
Captain Waredi also stressed that the more assets NIMASA acquires the more personnel they will require to run and man them, adding that the deployment will create training and job opportunities.
"This implies that the Deep Blue assets are more likely to create training and job opportunities, it is going to open new doors for trainings because assets are new types of ideas coming into the scene. So obviously we wouldn't have had a lot of people who are already trained in that direction. Obviously they'll need to train people. It's a new approach and it's not only going to create jobs, it's going to offer training opportunities also" he said.
He however urged NIMASA not to localise the assets but make them internationally relevant. organised crime. Who are those aiding them? Who are the foreign people negotiating because for every kidnap it is a foreign country that negotiates so who are these people that are negotiating? he asked.
Speaking in the same vein, the President of Nigerian Association of Master Mariners (NAMM), Captain Tajudeen Alao also expressed optimism that the deep blue assets will reduce piracy on Nigerian waters, because according to him, the assets are of international standard, but they need to be sustained to achieve effectiveness.
He however questioned whether the agency will have the budgetary provision to maintain the assets.
"The assets cost a lot of money. The budgetary provision to maintain it is what should be our concern. What we have is fantastic. When you are aware of your maritime domain, the activities and movements, then you can take action to combat anything. The fact that they know you are there is a big deterrent. So I am very positive. They (NIMASA) are not working alone; they are working with other security agencies and international stakeholders. This is a big and positive signal. Nigeria is on ground because the Navy, Immigration, Customs, and everyone is working together. The DG has tried on that aspect" he said.
On his own part, Dr McGeorge Onyung a ship owner also expressed optimism towards the deployment of the Deep Blue assets. "I cannot really answer how effective the deep blue assets will be. We thank God that they are here. Of course we have been told times without number and we have been waiting for them to come. Now they are here, the issue is that we're waiting for them to be deployed and of course if they are deployed, we believe that the purpose for which they were brought was to reduce sea piracy".
"If piracy is curbed, people will want to go out there and do business, but the issue is that the opportunities are not what is on the front line now. The issue is get it launched and get it deployed", he stressed.