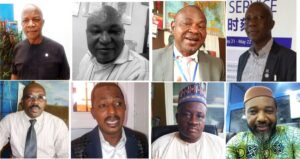 Simeon Nwonu (Freight Forwarder)
We cannot get it right without we deciding to do the right thing. But as far as we are still not seeing things from the angle of dedication towards service to mankind, we will continue to fail. This is the genesis of the failure. As far as we are still much concerned with what comes into our private pockets and fail to be patriotic, we cannot get it right. I don't blame the NPA fully for this. The NPA is just an integral part of the entire system. The system is a bad system. You can recall that several attempts have been made in the past, but those attempts were not genuine. By the time they began to carry out the assignment, it was dead on arrival. It failed on arrival because there is no genuineness or willingness to make it work. That is our problem. If they continue to work hard, one day they will get it right.
Festus Ukwu (Secretary General, NCMDLCA)
I think there is a lot of improvement in the E-Call Up system because if you pass through Oshodi to Mile 2 where there used to be a very excruciating hold-up, and the tankers blocking the road, you will notice that it is now free. NPA is trying to make some improvement to make the E-Call Up work better. The only aspect I earlier complained about the E-Call Up system was that someone told me that they do collect N50,000, but when I called the NPA, I was told it was just N10,300.
Stanley Ezenga (NAGAFF PRO)
I won't agree that the E-Call Up system is a failure. The issue is that we had high expectations when this E-Call Up was introduced. Coming from the era of the backlog of traffic stretching all the way from Apapa to the National Stadium, we thought this E-Call Up will remove all the gridlocks along port access roads. But unfortunately, it didn't work. Of course, it must have come with its own teething problems which I believe that is what we are experiencing now. The road coming from Mile 2 to Tin Can have failed along Sunrise. This means that all the trucks assessing the port from Apapa or Tin Can all pass through the Apapa road. So, definitely, there is going to be gridlock on that axis. I am not so sure that the E-Call Up has failed. I believe it is still experiencing some teething problems and with time it will normalize.
Babatunde Mukaila (National Secretary ANLCA)
Not at all, the E-Call Up is one of the most important promulgations set up to reduce gridlock along port access roads. But naturally, people that don't want change will resist it and that is what we are seeing today. As an agent, I do deliveries out of Nigerian Ports. This is the easiest way to go. If there are any hiccups, we should tackle them and move ahead. It is the best innovation and nobody should make any attempt to cancel it.
Increase Uche (NAGAFF President)
The E-Call Up has just started, its promoters are not tired, they are working. We only have teething problems. It has to do with technology. If they noticed that there are areas that need to be fine-tuned, then they have to go back to the drawing board. We have not done this before; it will be an overstatement to say that they have failed. I suggest that they should gather technocrats and identify where the problems are coming from. The terminal operators are complaining that they are not able to link up to the platform. I don't even subscribe to what the transporters are saying. They are just frustrating the system. They are the major problem in the implementation of the E-Call Up system. We need to tame them and call them to order. They should slow down and allow the government to take decisions and implement policies. I have not seen any failure yet, but I advise that we should all come together to see how it can succeed.
Dr. Segun Musa (Freight Forwarder)
I have said it times without number that the E-Call Up system is a failure, because the intention behind it was not to alleviate the sufferings of the people in that corridor especially the port users. The intention is just to score a cheap political point. I was the one that proposed the automation of the E-Call Up when the Shippers Council Consultants elected me as the Chairman but unfortunately, it was midwifed and it created a lot of suspicions. The essence of the E-Call Up is only for revenue purposes, nothing more.
If It was to be implemented the way I proposed it, one would have expected that the NPA would have brought on board all stakeholders including the tanker drivers so that It will be an App that will cover the holistic challenges we are having within the corridors of Apapa. When you develop an App for a single user, then you are at the mercy of other articulate vehicles that are also plying that corridor. It is just dead on arrival. It is a total failure.
Aloga Ogbogo (Executive Secretary,NARTO)
There is nothing new anyone can say. They all know what is happening. They rushed into the E-Call Up system in a hurry. There is no way you can make E-Call Up work with parks here and there. You need to have one park that can accommodate at least 1,500 trucks. Hadiza and Lagos State government were in a hurry to implement the E-Call Up system. I don't know what to say again. If the truckers do not entice people, they too will not be tempted. The truckers are in a hurry. They want to buy their ways. Everybody has his own fault. The whole thing is so frustrating.
Eugene Nweke (Freight Forwarder)
The E-call up system failed because the emphasis was on revenue generation rather than focusing on the services to be rendered. With the little amount of money for administrative services overtime, they can still make the money they want. We got it wrong by trying to impose the levy on people. The truckers don't have garages, they only acquire and put them on the road. it is the responsibility of the government to make a law that says every truck owner must own a garage before making the E-Call Up system as an intermediary to accessing the port. If they are increasing freight and the number of trucks is going up, and they are still maintaining the same garage, then the government need to come in. They didn't do a background check on some of these things. It is not about getting money from the ports or use that as an opportunity to maximize profit but adding value and finding solutions to the port environment. The portal was poorly managed and it was very easy to hack which led to a cloned portal. This means the initiators never did their homework well by not securing the portal from being hacked.