Fishing vessel attacked, 5 crew kidnapped, Gulf of Guinea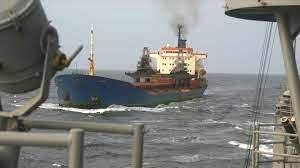 Five crew members of the fishing vessel Atlantic Princess were kidnapped after pirates boarded her south of the Ghanaian port Tema.
According to Dryad Global the 55m long fishing vessel, registration IMO8124412, was approached by a speedboat with eight pirates aboard. The Atlantic Princess was apparently fired on before she was boarded by five of the speedboat's eight crew.
The vessel was allegedly hijacked and sailed 100 nautical miles south 100nm before the pirates left the Korean captained tuna fisher.
The Atlantic Princess attack is the first kidnap in the Gulf of Guinea since 15 March bringing to 56 the number of crew forcibly taken from fishing and merchant vessels in the body of water this year.
"This incident represents the furthest westerly kidnapping in the Gulf of Guinea to date," Dryad said adding "Trends over the past 18 months indicated a broadening of the pirate footprint in the Gulf of Guinea, beyond the traditional Nigerian EEZ heartland".
Container ship lost 1 crew, 3 injured, in cyclone
Container ship SSL GANGA lost one crew overboard, three other crew were injured, in the evening May 15 in Arabian sea off Mangalore, India. The ship left Mangalore on May 15, bound for Hazira, and encountered very rough weather, brought by cyclone Tauktau. 4 crew were performing their job on a cargo deck, when the wave struck. The ship returned to Mangalore in the morning May 16, injured crew were taken to hospital. Understood the ship was searching lost man for several hours, before turning back. As of morning May 17, SSL GANGA was still berthed at Mangalore.
Brand new container ship on fire off Colombo
Cargo in containers on board of container ship X PRESS PEARL caught fire in the afternoon May 20, on Colombo Anchorage. The ship arrived at Colombo anchorage on May 19 from Hazira India, with 1486 containers on board, loaded among other goods, with nitric acid, other chemicals and cosmetics. Sri Lankan Navy is engaged in fire fighting, as of 0330 UTC May 21 the ship was in the same position, understood firefighting still continues, with deployment of tug or tugs, including offshore tug, and probably, Navy ships, too.
According to Sri Lankan Navy press-release, ship is manned with 25 crew, which includes Philippine, Chinese, Indian and Russian nationalities. The ship is brand new, she was built in China, started trading in Feb this year.
Strange disappearance of container ship in Malacca Strait, probably blackout
Container ship A DAISEN was reported to be off contacts since 0300 UTC May 19 in Malacca Strait west of Port Klang. Ship's AIS was missing since around 0600 UTC May 19. As of 1100 UTC May 20 AIS is on, ship is dead in the water west of her last May 19 AIS position. Probably some kind of blackout or shortcut, which disabled comms and AIS. The ship is en route from China to Suez.