"NNPC should focus on what it is formed for and allow the people who are into Shipping to do their shipping"
In this exclusive no holds barred interview with Shipping Position Daily, a former Director General of NIMASA; Mr Temisan Omatseye looks back at his travails and challenges at the agency. He also speaks about the plight of indigenous participation in Nigerian shipping sector. Enjoy the first part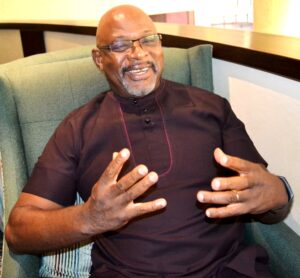 What have you been doing since you left office?
I left NIMASA on the 15th of December, 2010. I am sure you well aware that I was charged to court sometime in January 2011. I was taken to the Federal High Court under Justice Binta Nyako where I was charged for not only money laundering, but also contract-splitting amongst others. After waiting for two years and they didn't see any evidence, they withdrew all those charges. Suddenly, they even charged me for splitting contracts, and later they accused me of approving contracts above my threshold and a few other things, I don't understand. And after about two years, Justice Nyako was transferred to Makurdi. Then Justice Rita Ajuomougobia took over the case. I am sure you are aware that she found me guilty, which led me to spending one month in 'Ikoyi Camp'. It's an experience, I later got a bail and then I went to the Court of Appeal and to God be the glory, it is a landmark, because it was a majority decision. First of all, I was charged for an offence that doesn't even exist in Law, so I don't understand why I was charged, tried and jailed for an offence that doesn't even exist. I was discharged and acquitted. I have been on suspension all these while, so I waited and expected them to lift and clear me out. Effectively and truly I am still in the system and also not in the system because they (NIMASA) don't pay me. Ever since then, I became the President of African Ship Owners Association. At the same time, I became an executive member of the Shipping Owners Association when it was newly-formed, and also a major adviser to them. So I do a lot of freelance advising in the industry. Interestingly, NIMASA set up a committee to look at the ceasation of waivers and I was chairman.
How did you feel about the ordeal?
I felt betrayed. I felt betrayed by a country I came to serve. I felt Nigeria betrayed me. I have lost 12 years of my life in this ordeal. I came to serve, but unfortunately, there were things bigger than you that you wouldn't understand. My upbringing is different; I came from the private sector to the public sector. Like I said, I felt betrayed and it was quite hurtful. It had a major impact on me and my family and one is still finding it difficult to get out of it. It was very painful. We came back home; not because one could not stay back in England and have a nice career, but I came back home to try to make sure things work. Having gotten the opportunity, I was trying to make things happen. Having to face the ordeal of a crime I never committed, was a major betrayal for me from this country. It is quite difficult for me to carry the flag.
So what were the plans you had for NIMASA that you were not allowed to achieve?
It was very unfortunate because, I had given myself 24 to 26 months to achieve a few things. So prior to coming to NIMASA I had been prepared for two years in the industry. That was why, when I came in, I understood quickly because we had the same agenda. What we were trying to do was to professionalize likes Nigerian Civil Aviation Authority, and the NCC etc. That is what NIMASA is. It is a regulatory body. Unfortunately, it was because of the mindset of the 'NMA thing' that was being transferred. So we tried to professionalize them. That was why we did a lot of training and we were actually working on the organogram and begin to place people in their rightful positions based on their qualifications. What I found out that happened a lot was that we seem not to take up a lot of positions in international organizations like IMO, UN and others that relate to the issue of Maritime. This is because we don't have a clear-cut career path in NIMASA. If we look at agencies like NIMASA, they are supposed to say, I have come in here and I want to end up being a director. If you want to go on a career path, based on every move, these are the exams you need to take on an annual basis which will lead to your promotion and the courses you need to do etc. and that builds up. By that you are professionalizing either the maritime environment, safety or certification. So you become a professional in that area and you can do your PhD and that allows us to move when openings come up in places like the IMO and others. But what is happening there is that the DG can just come in and push or move you. Someone in Engineering can be asked to go to Marine. That doesn't make you go on a career path. The strategy we had basically was to professionalize the agency and make it an agency that is purely working on professional people who are there doing their job and they begin to carry on based on their understanding of the job. Also, we tried to introduce a bit of automation to reduce the level of human interface and make the laws that are in place to actually work. These are the laws, let the law speak for itself and now focus on enforcement by enforcing the laws. That was what we really wanted to achieve. We felt that once we succeed in setting that agenda and putting the foundation, then even if we step out, it wouldn't make any difference, because the system will run. That is why Obama said the problem we have in Africa is that we don't have strong institutions. We were trying to build a very strong institution then we achieve it.
If you had a second chance, what would you do differently?
As a matter of fact, I will go back to where I was and professionalize the agency. I will go back and do a Staff audit based on qualifications; which is what we are doing, and basically begin to put square pegs in square boxes. We will begin to develop peoples' careers. We will try to rely more on automation and automate the processes as much as possible. This is so that the process will speak for itself, so that when there is an audit, the audit will be easier and will reduce human interface. I will also make the Cabotage Act to work, because now, I have a better understanding of the Cabotage Act. We will make sure the Cabotage works; not as a means of depriving people of business, but as a means of encouraging more people to come into the business, because the business is quite big and it is enough for everybody. It's just unfortunate that Nigerians are not taking advantage or are not being given the opportunities.
You are an active player in the shipping industry. What pain do you nurse as a ship owner?
It is painful as a ship owner. I came in from that industry into NIMASA. I had a bit of understanding, because basically a ship owner wants to make money while the regulator who is supposed to protect the ship owner is looking at the issue of safety. So where do we meet? The ship owner could go and buy an old vessel and the regulator says no, it cannot meet their requirements. So it becomes a challenge. It becomes a challenge because as a ship owner you are competing with people who are supported by their governments to come and penetrate your market, but your own people are not protecting you. There are laws to protect indigenous ship owners, but they will not protect them. The guys that are coming from outside who are able to buy vessels at 3 percent interest rate are disobeying your laws and you're allowing them to do that. But as a ship owner, you're frustrated. I will even give you an example of the aviation industry, which is similar to shipping. A country like the UAE, when they but aircraft; they go as UAE to buy in bulk, after which they do a lease; be it Airbus or Boeing, they could buy 300 or 500 aircrafts. They will then say we are going to pay you in 15 years, but at 3 percent interest rate. Boeing agrees to do that, and the UAE company begins to share to the airlines, be it Etihad, Emirate on wet lease it to them to run. Definitely, the cost is reduced, because the interest is at 3 percent, the government is backing them. Now look at Arik airline which goes to buy the same type of aircraft from Airbus, which only gives it to them for 5 years at 30 percent interest. How will it compete? The same thing is happening to us in shipping. In shipping, we have ship owners who are able to access funds from the Stock Exchange or through IPO or whatever and they are paying based on return on investments on the vessels they acquire and returning what is returning what is expected of them; which is loan repayment. But then you now come to Nigeria and the same Nigerian man is trying to raise the same kind of money and getting 5 percent and will need to get a guaranty from a local bank. That local bank is also giving at 5 percent. By the time you are finishing, you are looking at a 10-12 percent interest rate. So how can you compete, because you already have a spread of almost 9 percent between the differential and their interest and they are not pushed by interests. Nobody will want to make that kind of investment when the regulatory agency is not protecting the indigenous ship owners. When that protection comes in, we believe in World Trade Organization, but even if you give us, let's share 50/50 and not to take 95 percent. That is the challenge.
That takes me to the raging allegation of Cabotage violation by NNPC. The allegation is that NNPC encourages the patronage of foreign ships. How true is that?
That is very true. That is the fact. NNPC is a challenge to me, because I am really having a difficulty in understanding that organization. The reason is that, what is the core function of the NNPC? Has NNPC lost focus? We really need to go back and look at what the NNPC Act says. What is the Mission and Vision of NNPC? You will realize that NNPC seems to do everything and anything that they think. They are being a jack of all trades and master of none. This is my challenge with NNPC. You cannot be in the government and be in the business of doing business. You own the cargo and you have provided your shipping line. What is happening is that you are using your cargo to yourself whereby you are frustrating the private sector which is not right. NNPC, in my opinion should focus on what it is formed for and then allow the people who are into Shipping to do their shipping. But what they are doing is that they are developing the products and shipping it themselves thereby frustrating the people. The worst of it is that they are not growing in capacity. That you have the cargo should have given you the opportunity to acquire assets. Like NNPC moves 1.5 million tons of petroleum products per month. With that kind of cash flow, you can go to any bank to borrow loans and acquire vessels. If they have at least acquired vessels, one would have appreciated what they are doing, but they are not moving forward. They are stagnated and still there chartering vessels. This might not sound well but that is the truth.
Kindly like us on Facebook