Oil and Gas industry stakeholders using the Trans-Niger Pipeline in the Niger Delta have collectively lost about of $774 million in 43 days.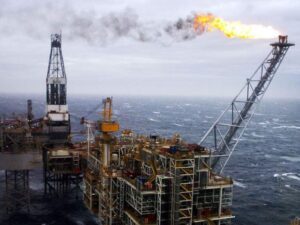 This amount was arrived at when $100 per barrel is used as the average price of crude oil for the period under review, and the fact that the pipeline carries180,000 barrels of crude oil per day.
The period under review is from June 15,2022 to July 28, 2022. The volume of crude oil that passes through this pipeline account for 15 percent of the total Nigeria's daily crude oil production is at its peak.
This is just one pipeline out of the lots that have also been rendered dysfunctional by the activities of oil thieves and pipelines vandals in the region
However, Nigeria is seeking a collaboration with the European Union (EU) in deploying technology to urgently tackle the blooming security challenges in the Niger Delta region, which has provided a perfect cover for crude oil theft, pipeline vandalism and other criminal activities.
EU delegation had paid a courtesy visit to the Minister of State for Petroleum Resources, Tmipre Sylva on the need to collaborate for sustainable energy supply to both Nigeria and Europe.
According to Timipre Sylva, he said, addressing the security challenges plaguing the Niger Delta region is inevitable if the country is to reap bountifully from exporting crude oil and gas.
He said: "Security is one area of cooperation with the EU. They went to the Niger Delta to see the security situation for themselves. Part of the solution is technology deployment. I've always advocated for collaboration in this regard. We have to have a four-legged race. We have to have the government, security agencies and communities working together. We also need to have technology. We're discussing with the EU on how we can collaborate on developing technology.
Mathew Baldwin, Deputy Director-General, EU Energy Platform Task Force said the visit was part of an effort to establish new sustainable partnerships and investments with Nigeria.
Nigeria, an OPEC member has been suffering for years of rampant oil theft from pipelines which has often forced operators to shut down crude links for repairs and even declare force majeure on crude loadings because oil couldn't reach terminals on time.
According to Bloomberg's report, the pipeline targeted in the latest oil theft, Trans-Niger Pipeline, has not been formally shut yet, however stakeholders are sharing information that has not been made public yet.
Oil theft has been a never-ending issue in Nigeria's oil industry for years, crippling supply and production and making international majors warier of investing in production assets in Nigeria's onshore.
A lack of investment and capacity has prevented Nigeria from reaching its target production under the OPEC+ agreement for more than a year. Nigeria has been the biggest laggard in the production pact for several months. As of June, Nigeria was already pumping 500,000 bpd below its OPEC+ target. Nigerian crude oil production averaged 1.238 million bpd last month, according to OPEC's latest Monthly Oil Market Report (MOMR), while Nigeria's June quota was 1.772 million bpd.
Unlike other crude oil producers, Nigeria has not been able to take advantage of the multi-year high oil prices this year. Nigerian oil revenues have come in 61% below target for the first four months of 2022. That's despite crude oil trading at highs not seen in years. Nigeria continues to battle oil theft, pipeline vandalism, and most critically, high gasoline prices, which the country subsidizes.
Kindly like us on Facebook/twitter