"I had a dream that the people who will come to propel NNPP will meet me. Kwakwanso is one of them"
"The various agitations in this country is because things are not working well"
In this interaction with Shipping Position Daily, Dr Boniface Aniebonam, the founder of both the National Association of Government Approved Freight Forwarder (NAGAFF) and the New Nigeria Peoples Party (NNPP) speaks on his political affiliation in the build-up to the 2023 General elections.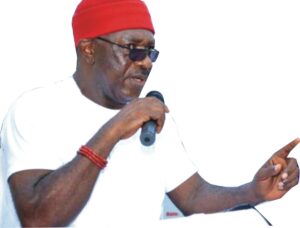 What will you advise the new governing council of the CRFFN to focus on?
What do you expect us to tell them? CRFFN is not a new setup. How many times do we set the agenda for them? We have continued to set the agenda for them, but no improvement. You are setting the agenda when the new council has not even been inaugurated; two months after the election. We are hearing that the Minister of Transport is going for a Presidential nomination. So as of now, he is likely not to be thinking of that swearing in. Let's be hopeful, but there are signals. What we need to do honestly is to take out CRFFN from the Transport Ministry to the Ministry of Trade and Investment. This is because the Ministry of Trade and Investment has to do with what the port is all about. CRFFN is one of the most strategic regulatory agencies in this country. For instance, the last quagmire at the port wouldn't have happened if CRFFN is effective. Every matter that would lead to the shutting down of the ports would have been discussed amongst all agencies and associations. We keep saying this, but nobody is listening. It is as bad as that but there is hope. Why do we talk about the President of the Country as not being competent? All these do not add up because the powers of the President have been delegated to the heads of government to carry out responsibilities. It is a constitutional matter. Mr. President cannot be the Inspector General of Police or the Comptroller General of Customs or the Head of Ministries. These powers have been delegated. So why are we not doing what we ought to do in the interest of the country? But we sit in the comfort of our rooms accusing the President. Although he may also have his faults, because he has the residual power to intervene when there are issues. For example, the insecurity of the nation is fully on his desk. He should have deployed modern-day equipment to locate where some of these things are happening and track down the perpetrators. That is where leadership comes to play.
As a frontline freight forwarder and stakeholder in the maritime industry, you are also the founder of the New Nigeria People's Party (NNPP). What is your current political direction and what does the Maritime industry meant to benefit from this?
The maritime industry is the gateway to the nation's economy. If you want to get Nigeria right, you should take cognizance of the entry point; which is trade, then education, and of course investment in the country. So the New Nigeria People's Party is an offshoot of NAGAFF. The way I am speaking to you now, you can see that our hearts are bleeding. Things are not working well. Then what do we do? Part of the efforts we are making is to be part of the system, so that we can effect change from the inside. Most times, talking from the outside does not make so much sense, hence the emergence of the NNPP. The NNPP is 21 years today. It is not a new party. It started operations in 1999 till 2021. We have been going gradually and today we have hit the limelight. People talk about third force; we are not a third force to anybody. We are simply a registered political platform in Nigeria whose interest is to see how we can make a contribution as far as governance in our country is concerned.
How far can NNPP go?
Just watch what will happen in 2023 and beyond. We are already on it and our target is to provide Nigeria with the greatest leaders we have ever seen. Nigeria has all its takes. People are not happy and we have to do it.
Are you not worried that the structure of the National leadership of NNPP has been taken over from you, unlike what we had before?
As I speak, I am the current National Chairman Board of Trustees. I am the founder and spiritual leader of NNPP. A party is about people and when I had that dream, I was told that the people who will come to propel the party will meet me. Kwakwanso is one of them now. In less than two months, look at what is happening. You have never asked yourself why we were able to get the party to be alive up till now for 21 years. How many have been de-registered? When God is working, just watch out. Every Nigerian today is not happy and looking forward to who will come to help us. Have you thought about the name "New Nigeria People's Party"? Everything about Nigeria today is that Nigerians are looking forward to a New Nigeria. Then why did we choose this name? This name is not an ordinary name. It is a name ordained by God. Look at our logo; it is a basket of fruits which has to do with food. People want to live good lives and eat good food. God will not come down here, he uses people to work. I am not a politician and I cannot be any, because most politicians are seen to be people who speak from the two sides of their mouths. I don't do so; I am not interested in that. I tell you what it is and off I go.
What is the position of NNPP about an Igbo Presidency?
Are you not a Nigerian? I take exception to respond to these kinds of issues, because these are the questions that continue to divide us. This is a self-inflicted injury and yet we said we are Nigerians. Why are we going that way? We are thinking of a good life and I gave you examples. Today the complaint is here and there. Katsina state is where the president is coming from; look at what those bad boys are doing in that state. So these things are inconsequential. I am an Igbo man, a full-fledged Igbo man. It is known that the Igbos are exceptional people. I believe that one day, an Igbo man will win the election and you will see what will happen to this country. As I speak to you, NNPP is a national political party and it is open to everybody. If you think you have anything to offer this country, NNPP is there. We will profile you. Finally, the essence of the multi-party system of our country provides an open opportunity for people to test their popularity, and that is why you should respect people like Kwankwaso and Ifeanyi Uba who took up a smaller party and won Senatorial seats. Kwankwaso for instance, having been in PDP and APC believed in himself that he has the capacity and popularity; he has the honor and integrity. He has the commitment and patriotism in him to provide leadership. He decided not to have any distraction and began to profile a party of this nature. Now, look at what is happening. I expect all these people in APC and PDP to pick one of these parties and showcase their popularity. Otherwise, the whole thing is a total abuse of the multi-party system in Nigeria. If we have decided to have only two political parties in Nigeria, it is a different thing; the National Assembly can deliberate upon that. But they said "No", they want to create the space. So when people are doing the right thing, they need to be encouraged. What happens if Atiku picks us one party, Tinubu picks another party, Wike picks his own party, Peter Obi picks another party, Amaechi picks his own too, Saraki, Tambuwal pick too, and you go on and on. There are up to 18 political parties, let them pick these political parties and let's see what happens. That is the essence of a multi-party system. Why are all these movements here and there; going up and down? It doesn't make sense to me. When someone is just running round the clock and does not have anything but just rely on whatever.
I asked you about structure earlier?
Talking about structure, in less than two months, we have done local government, Ward, State, Zonal, and National Convention. The register has been profiled and submitted to INEC. It is not about money or whatever. People are making contributions. That is the difference between NNPP and other political parties. People are using their money to hire vehicles. Like the last event in Abuja, all those trailers you see nobody gave them one naira. They contributed money and rented those vehicles to be there. Nigeria is evolving politically. The high point is to draw your attention to these round and round zoning or no zoning and others. If they know they are popular or have the capacity, in the essence of the multi-party system, let them take up a political party and test their popularity. They should stop wasting the money, because all these movements here and there, money is exchanging hands (as far as I am concerned) on who will step down and who would not. Why don't they use the money to do something else in terms of logistics? That is why people like Kwankwaso and Ifeanyi Uba should be respected politically for having the courage to pick up a political party and test their popularity. That is the way I look at the whole thing. I want you to know that the various agitations in this country either from the Igbos, North-Central, North-West, North-East. South-West etc. is because things are not working well. It is simple. So let us start thinking of how we can reunite Nigeria by bringing us together as one large happy family. This is what should be the thinking of every Nigerian. That question will divide us more.
Kindly like us on Facebook