"A clearing agent is a noble person, of course, we have bad eggs and that happens in all the professions"
Dr Rafiu Oladipo is more known as the face of the Nigerian Football Supporters Club. But, unknown to many, he is the first National President of the Association of Nigerian Licensed Customs Agents. In this interview, he speaks about the pains of seeing the association brought down to its knees by crises. He however gives hope that reconciliation is in sight.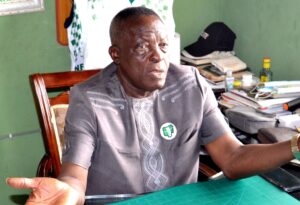 Let's start from when you served as the pioneer President of the Association of Nigerian Licensed Customs Agents?
I was not just a pioneer. I became the first National President of the Association of Nigerian Licensed Customs Agents in 1986. In fact, the formation of ANLCA started from my office and I was the leader of the few people that were going from one office to the other before we put together ANLCA, after which elections took place and I became its first National President. ANLCA was an association of those of us who believed that there was a need for cohesion and re-shape the damaged image of the clearing agents. Actually, nobody is called clearing agents. Clearing agencies were companies that were licensed by the Board of Customs to practice the trade of clearing. Therefore, we employed staff. They were staff of the clearing agencies. Everyone in the country then saw a clearing agent as a fraudster or person who don't have good means of living and no education. Every rubbish happening in the port was laid at the doorsteps of the clearing agencies and we took up that decision to correct these. That was how we started and thank God today it has become a well-known and respected association.
As the pioneer President, what kind of association did you have in mind when you and some persons formed ANLCA?
We had an association that we felt all the Managing Directors of such companies are members; where decisions as to clearing and importation are taken. As at the time I was the President, the government of this country would not implement any policy unless they call us for a meeting where we brainstorm and agree with Customs, the Manufacturers Association of Nigeria, and maybe some representatives of importers. When the government decided that they wanted to do anything, they will invite us. Then members will come together, talk about it and go to the government to put across our views and the government was listening then. Even at a point, when the port was congested due to the then newly-introduced Import Duty Report started, the association came together and told the government that it was wrong to take a decision today and implement it immediately. We advised the government to give the Nigerian importers a grace of time to be able to clear the backlog of goods that have arrived in the port and then give them when the Import Duty Report will start. Then we were given two weeks and everybody around the country was told to go and clear their goods and they all did. After two weeks, they started implementing. There were a lot of things. We were seeing ourselves as participants in the real economic situation of Nigeria, whereby our advice will help Nigeria and the economy.
We were also talking to our people about how not to be a clearing agent that can be tagged dubious. The clearing agents are noble people. They were people who will collect your documents, when you import a consignment and the Bill of Laden, invoices and shipping documents are prepared for you as an importer. When you get hold of those documents, they will endorse them to a clearing agency who becomes the temporary owner of such goods. The Customs duty you are going to pay including the NPA, Shipping company and driver charges will all be given to the Customs agent who disburses all these money to all the various bodies and then in the end clears your goods and deliver them to you intact with no problem. That is a noble person who is not ready to make away with your money or goods. That was the job of a clearing agent. When I was the President, we felt that for you to be a clearing agent, even if you are a professor, you still need to go through the scheme and school. What we were thinking then was to put up a school where would-be clearing agents will be trained and then certificates will be issued to them, because it is not just a job that you just leave the school, carry your bag and say you are a clearing agent. That was what we had in mind.
No doubt that you and your contemporaries had good intentions, but how will you describe the ANLCA of today?
It is quite very unfortunate that there have been crises in ANLCA in the last few years. As the first President, despite whatever happened, I feel very uncomfortable. As an association which I was party to its been formed and being the first National President, to be involved in this kind of leadership crisis is not an ideal situation. I felt disturbed when I heard of it. So I decided to say enough is enough. What are we looking at? Are we building an association that will destroy itself? Or an association that will become a pride to all of us? I am not happy with the crisis and I have decided to look into it.
Don't you think the crisis has diminished ANLCA and ridiculed it?
I don't just think so, I believe so. It has reduced ANLCA to almost ground zero. An association that was respected by all and sundry getting itself involved in crises, fighting all over the place, and going into court all day, is not right.
When you started ANLCA there used to be only one association. What led to the split into many associations as we have today?
I had put that behind me because ANLCA was one then. Somehow, there was a palace coup. But I have forgotten that because I have moved on. Maybe if I was still there I wouldn't have been who I am today. I remembered when the coup was planned against me and I was removed, I had a challenge. That was when I got home and I was thinking and crying. My wife asked me what the problem was and I told her. She asked me not to bother myself, but to use what they (ANLCA) have lost for the Nigerian Football Supporters Club and that was why I had to put everything I had into developing the Supporters Club. The Supporters Club is all over the world today. But if I was still there, I wouldn't be who I am today. I am not just a national figure, but an international figure. I have offices in almost all the countries of the world. It is not all about money but the good legacy you are leaving behind. Wherever I go all over the world, I am recognized and appreciated. That notwithstanding, I still believe that I started making my money from the port and I still make money (even though not much), from the port. I cannot afford to see this association that we founded in 1986 now being destroyed gradually.
We need to set a record straight. ANLCA of today claimed that it was founded in 1958 and you have been saying 1986. How do we reconcile that?
Let it be told that ANLCA of 1958 was an enterprise. But this is an association that was founded and got registered with the Corporate Affairs Commission and I became its first National President. So there is a big difference.
Let's go to the crisis that is currently rocking ANLCA, how worried are you about this?
I am very worried. It started and we thought it was going to be a small thing that could be handled and resolved. The practitioners and executives within themselves never listened to each other and that has brought ANLCA down to its knees. I am not happy and I believe all the past Presidents would not be happy to see that that association we were leading is now messed up in crisis.
So what are you going to do?
We have started it. It is not an easy thing, because the two warring factions, Tony Iju and Alhaji Taiwo Mustapha, Taiye Oyeniyi and the rest. I believe that there is a need for us to say the truth and bring the two together. Nobody holds a position forever and life is not even about position, but what you put in it. Even as an ordinary member of an association, you can even do better than the President, if you are focused, determined, and forward-looking, you can get all these things done. So I believe there is a need for me as the first national President to wade into this, and I am going to carry along all the other former Presidents. I have met with Tony Iju, Dr. Taiwo Afolabi, Kayode Farinto, and also spoken to Ernest Elochukwu. That is on one hand. I have been able to speak to Taiye Oyeniyi, Oye Ariyo, Azeez and the rest. I believe the two warring factions are now getting together to agree that there is a need for peace. I made them know that if there was no need for peace then there is no need for me to wade into this. This is because if I had to go back and start thinking of what happened to me, I will just keep quiet, but it is not to that extreme. It is about what good things you were able to do. By the time we are no longer living, the legacies will have been there. So we need to come together. I went to ANLCA office and I met with Farinto and his people and I spoke to them. I asked them if the matter on ground can be resolved and they said Yes. I asked if they believe someone can resolve it and they said, and that it will be me Dr. Rafiu Ladipo that will resolve it. I called Taiye Oyeniyi and Oye Ariyo here in this office and I asked him if he believes the issue can be resolved and he answered by saying that he has a lot of respect for me and believes the matter can be resolved. He (Oyeniyi) said if it is not me, he probably might not be listening but since it was me their first President, they must listen to me. With these two sentences coming from the two warring factions, I believe we will resolve it. I talked to them last week.
Without being pessimistic, we have also spoken to the different factions and they appeared to be very rigid about their positions. How do you intend to break this ice?
There is no rigidity in anything. The two of them have reasons to be talking, but there are more reasons for us to come together and resolve the crisis. If you say a crisis cannot be resolved, who knows tomorrow? You that is saying No today may not even be there when it will be resolved tomorrow. Then what legacy are you going to put behind you? So I don't believe we cannot resolve it; particularly now that I have asked them questions. I am on their platforms, I contribute all the time. Before I wasn't but because of this new innovation that I have taken in trying to resolve the issue, a lot of good things are coming up, which I am not ready to say now. But what I would say is that it must be resolved and it will be resolved. No matter how long it takes, I will commit my time to resolving this crisis and by the grace of God, we will get it resolved.
We also share in your optimism, but how much time do we have to wait because the industry is worried that that it has lingered for almost four years?
This matter did not start today, so it cannot end today. This matter started years ago. If it takes me another two months to resolve it or three months, it is fine by me. The most important thing is to get the result. The question is so simple. In a situation like this, there is what we call compromise. You have to put things down for people to see which one is this and that. What are you ready to leave and what are you ready to give? By way of compromise, we will. Tony Iju and Farinto were elected as President and Vice President. The executives should be allowed to run their tenure for four years. The matter at stake is the BoT. Thank God, the court has given its ruling. As it is now, it is like there is no BoT. Some people believe they registered the BoT, why some said No. But I was advising them that if your membership is 9, let us see how we can distribute the 9 between the two factions. If you don't want to do that, you can even increase it and let everybody that has contributed to this association be relevant. It is about relevance and there must be a tenure. Once the tenure says two or three years, after three years, if you want to, you can go for another election. If you win, so be it and if you lose, you are still relevant. It is about the BoT and not about the President of the association. Elections took place some time ago and this is almost their 3rd year and that means in another 1 year we will be trying to organize another election. They must be allowed to run their tenure but let's look at the BoT again. Let us have people of character, substance, and the love for what we are doing to be in that board. That will solve the situation.
Finally, the perception of people is that the average clearing and forwarding agent is very corrupt and fraudulent. How comfortable are you with that allegation?
I would say it is not true. I had said earlier that a Clearing agent is a noble person. Of course, we have bad eggs and that happens in all the professions. But I have given you an illustration and analysis that a clearing agent is a noble person. If you are bringing in goods worth N500 million, you are going to endorse documents to the agents. You are going to give him the Customs duty of N200million and he pays it to Customs. You gave him a shipping charge of N50 million and he pays it to the shipping company. You gave him Driver's charges of N10 million and he pays it. He spends all these money on your behalf, clears your goods, and brings it to you safe, sound, and intact. That is a noble person. I am not saying that we don't have bad eggs. We have bad eggs, but bad eggs exist in all the professions and that is why in the first instance if you go to 1986, 1990 up to 1995, we were dwelling on how we cannot be fraudulent and that is still the situation. Any clearing agent that is fraudulent and corrupt is undesired, we don't need them. A clearing agent is not a corrupt person as far as I know, because even the Customs duty that the Customs collect, they are the receivers, while we are the collectors. We are the people who talk to the importers that this is your duty. This is the amount you have to pay, you give us the money and we pay it to the Federal Government through the Customs. You cannot afford to be corrupt.
Kindly like us on Facebook