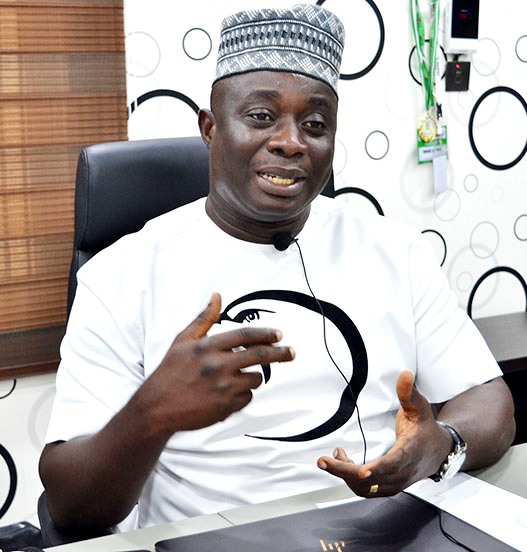 "If we can have a Minister for Aviation, then I think we can also have a Minister for Maritime affairs"
"You cannot go into barging and approach a commercial bank for a 19 or 15 percent interest loan"
"We agreed that there would not be any increment in handling charges in five years"
In some days, the tenure of President Muhammadu Buhari will be over. How would you assess his performance in the maritime industry?
Let me first of all say congratulations to the President-elect and congratulations to President Muhammadu Buhari for serving the country for eight years. It is not an easy task. So far, there is nothing much to say. I pray that God keeps him till the end of his tenure, he has tried his best. The Deep Blue Project is a good one. It has led to the suppression of piracy at the Gulf of Guinea which is a great achievement for any government of Nigeria. We have been able to reduce the rate of piracy in that corner. We had about just 10 percent piracy not until recently when we had one or two incidents. The cooperation among key players and stakeholders in the maritime industry is also a good one. The development of new Deep Sea ports is also commendable. We now have a Deep Sea port in Lekki and other ones are coming up in Badagry, Calabar and other places. This will bring development to those environments. To me, this is a big achievement which I think we need to commend. So far, I will say he has tried his best.
Many have called for the appointment of Minister of Maritime Affairs owing to the fact that the maritime industry has been neglected for so many years. Do you agree?
If we can have a Minister for Aviation, then I think we can also have a Minister for Maritime affairs. You know I am also into Aviation. To me if you compare the two, Maritime is the major source of income in Nigeria as at today. If you look at the Oil and Gas, NLNG, and even Customs, 70 or 80 percent of the revenue generated are from the maritime industry. If you look at the export of goods and services, the revenue is almost 80 percent from maritime. I think if we have a minister for Aviation, it will not be wrong to have a special attention for a Minister for Maritime affairs too. I will also create a lot of jobs and opportunities in the country, if well harnessed.
What areas do you want the in-coming administration to focus more on for the benefit of maritime stakeholders?
Well, I will advise that the Cabotage Act is well looked into and ensure that indigenous players are fully- integrated into the system. I mean purely indigenous players. Unless we want to deceive ourselves, there are some aspects of the sector that are supposed to be occupied purely by Nigerians; that is 100 percent Nigerian. That is what we can use to create job, build capacity and encourage indigenous players in the industry. There is no way we can compete financially without engaging indigenous players. It will not work. We don't have Maritime banks. You cannot for instance go into barging and approach a commercial bank for a 19 or 15 percent interest loan. It is not going to work. We need to understand the maritime industry to import or build a barge and all. We see foreign investors coming to barging operations and you cannot tell us that a Nigerian will have an edge. You must build us, the government who licensed indigenous individuals should ensure they are encouraged with adequate capacity building. That is how I think Nigerians will survive in the industry. It is going to be a very good one. At the same time, we are looking at a situation where indigenous players can get the Cabotage Vessel Financing Fund. Having this fund will develop the industry if given to purely indigenous players. Also, the multinationals should be mandated that there should be a Nigerian workforce and with that we can get a lot of opportunities. These are the areas we really need to look into.
For some weeks now, ANLCA and NAFFAC members at the airport have been on strike due to the recent hike in tariffs by NAHCO and SAHCO. Some have alleged that ANLCA and NAFFAC are not considerate as regards the increase. How would you react to this?
I want to say we have been on this for some time. About three years ago, NAHCO had brought this same request. We had an agreement of increment and it was signed. We agreed that there would not be any increment in another five years. We also agreed on things to be put in place such as chairs, trawlers, wheelbarrows and things that will make the operations in and around the shed to reduce people loitering around the shed. A lot of things were agreed. Three years down the line, they came up with another narrative and we said okay, understanding the situation of the economy and the position of what's going on in the country, we would like to access the part of providing the necessary facilities responsible for the increment in previous agreement. Honestly speaking, nothing was put in place. SAHCO even has a little equipment to assist operations. We had made a lot of complaints and made it clear that these are parts of what we have agreed to be put in place. We told them the things we have highlighted before need to be put in place. There is no association clamoring that there should be no increment at all. We are only saying you cannot just come up with an increment of 300, 280 or 250 percent.
Now that they have agreed to a 75 percent increment. Why is APPFLON still against other associations? Is there no unity amongst the associations in the Aviation industry?
The 75 percent is still on the high side. Sometimes when you fight a cause, you are not fighting that cause for yourself. So many years ago, we had a battle with FAAN. The fee we were paying for years then was N100. It was not just NAFFAC members that were paying, other members were paying including other Nigerians in the airport. But when a case came out, we all fought against it because everyone was paying it. So, when we are fighting a cause, it should not be personal. I am not going to be NAFFAC President forever. Whatever is right to do should be done without any ulterior motive or selfish gains. We started this fight from 300 percent, so here we are. We have sacrificed some things to get to this level. They are now saying No, we should go and pay.
This means billions of Naira might have been lost from the fact that cargoes have not been able to leave the Airports all this while.
If there is no pain, there is no gain. We keep negotiating and talking which I believe they cannot just come up with and tell us that the increment will take effect from next tomorrow. We need to talk and dialogue. By the time we have a roundtable talk, then we will be able to agree if it is 50 or 60 percent or whatever percent. We will all agree that in two weeks' time, this and this will be in place.
You are a former member of the Governing Council of CRFFN and they are in the process of recruiting a new Registrar. What do you think should be the focus of the Governing Council in appointing a Registrar for the Council?
I will advise they should not make the mistake of the past. They should give us a Registrar who understands what freight forwarding is. They should give us a Registrar who knows where the shoe is pinching. A registrar who is ready to put the profession of freight forwarding into its right position in the committee of professionals. It should be the live wire of the economy of the country. That is where everybody should be looking at.
Lekki Deep Sea Port has disclosed that it will only deal with Ocean-going barges. Do you think we have enough of such barges in Nigeria presently for operations at the Lekki deep sea port?
I think we have ocean-going barges in Nigeria. It may not be enough but like I said, we need to be encouraged. An ocean-going barge going into Lekki Free Trade zone and back to the hinterlands, I pray the expenses will not be too much for the loss we have in Lagos waters.
Do you think the Lekki Deep Sea port is driving the port enough for people to move their containers there?
It is a new port. We also know they have a lot of constraints. We need to look at the gains and what to lose. It is normal for every business man to do that. If I bring my cargo to Apapa and I have a better transport system that will help me get my consignments out of the port, so why will I go to Lekki? I want to believe that some things need to be put in place for efficient capacity.
Does that mean you are not seeing the Lekki Deep Sea port as a cash cow for barge operators?
It might be a bit difficult.
The new CEMA has been assented to by the President. How do you think freight forwarders can leverage on it?
We had a bit of a battle on that CEMA when they were doing the amendment. But there are things we are allowed to do because it is a law. We keep working on until we get to perfection. The Act assented to by the President has a lot of advantages and disadvantages. There are some things that we have complained about in the old CEMA and it was amended and looked into. We would keep looking at it and see how far we can go with it. But it is a law. Until it is put to test, we cannot totally say it is a bad idea or a good one. Having said that, we are ready to work with Customs. We are not working against each other. We are always partners in progress. What the achievements of Customs are, they are also our achievements because the Customs cannot achieve it without the freight forwarders. We should just keep working together. Whatever is happening here is also happening with other sister agencies. It is just for a period of time. After sometime we would move forward.
Do you support the call that the Nigeria Customs Service to annually give a percentage of revenue generated to freight forwarders?
That has been the practice all over the world. It is not a call. It is a right. But sometimes we abuse some things in the country. It is not a call. We deserve some percentage.
Do you think CRFFN can push for this?
I want to believe they should be able to. We deserve some percent.
Follow us on Facebook/ twitter