Oluyinka Onigbinde
The Institute of Export Operations and Management (IEOM) has inducted the acting National President, Association of Nigerian Licensed Customs Agents (ANLCA); Dr. Kayode Farinto, the National Secretary of the association; Alhaji Babatunde Mukaila, Chief Kingsley Offor; Secretary of ANLCA BOT, Chief Mike Ebeatu, Chairman Onne Chapter of ANLCA and others as distinguished fellows of the Institute.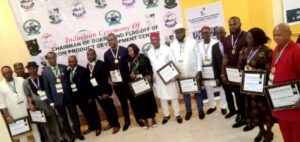 The institute says that the induction is aimed at boosting and fast-tracking export operations drive for national growth and development.
The patron of ANLCA, Chief Henry Njoku was also inducted as Chairman of Board of Directors of the IEOM.
Accepting the induction, the Acting National President of ANLCA commended the ideas and network sharing of the Institute of Export Operations and Management and urged the body to ensure standards compliance and sustainable development in curriculum development in line with international standards and best practices.
He however advised that, "all licensed customs agents should always ensure compliance on imports and exports trade to foster a more mutual respect and working relationship."
In his welcome address, the Chief Executive Officer and Executive Secretary of the Institute, Mr. Ofon Udofia, said, " The Institute of Export Operations and Management, Nigeria, is a foremost independent provider of export earnings and research, established in 2014 to stimulate and facilitate increase participation of Nigerian SMEs in non- export business."
He said: The Institute is a trade support institution groomed to become the leading Nigeria training institute for international trade and a pivot for West Africa. We initiate and assist individuals and organizations of all sizes and across all export industry sectors to develop and grow their export enterprises in the international market place."
"We also create products and platforms which our clients and members can leverage to drive measurable results and scale up their products business in a cost – effective way."
Speaking also the Chairman Board of Directors of the institute, Chief Henry Njoku informed that export operations are necessary to boost gross national products which has an inherent multiplier effect to stimulate economy growth and development of the economy.
"Export Operations are capable to generate more revenue to the federal government and boost monetary value chain of any economy."
Kindly like us on Facebook/twitter