Dr Boniface Okechukwu Aniebonam is the founder of the National Association of Government Approved Freight Forwarders. In this (concluding part) interview with Shipping Position Daily, he opens up on more industry issues. He affirmed that his association has nothing against the recent increase in charges by terminal operators.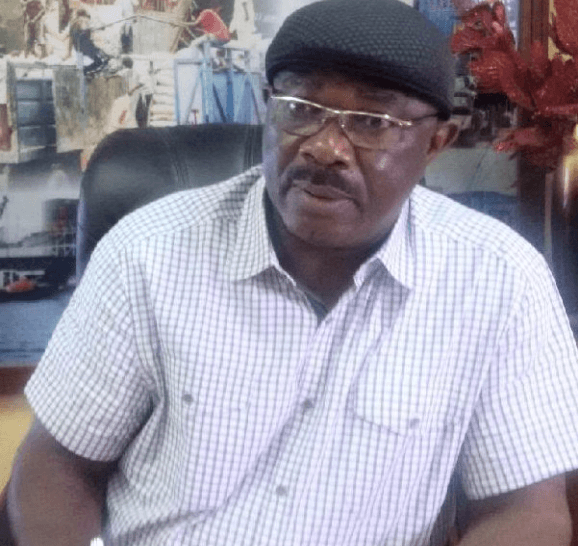 Now, talking about a common enemy, the terminal operators have just succeeded in getting the charges increased by 400% and the position of NAGAFF is not quite the same with that of ANLCA, what have we got to say about this?

Ordinarily, this is a matter ANLCA and NAGAFF would have sat together and fashioned out and come up front in relation to that matter. But can I tell you? – The terminal operators have committed no offence. You know why? They are businessmen and women whose mandate is profit margin. Remember where we started in this conversation? Sometimes I take matters from a different angle. It's not about just castigating somebody. I don't have any problem; I don't have any business with the terminal operators. They are businessmen and women. If we allow them, they can make it 1 million percent and they make their money. This is where government comes to play. So, any person blaming terminal operators and all that is on your own; to me is inconsequential. What role should the Shippers' Council and Nigerian Port Authority have got to play? Take for instance, the charges. Where is the concession in agreement? That's a concession agreement that is domiciled in the NPA. As for advice, NPA has that responsibility to look at the concession agreement and see the need for increment as the case may be. Yes, laws are made for man. So, what was lacking there was the inability to bring in those who are paying this money to make contributions. This is because the people were not consulted, that's it. The people who are paying this money. So, you cannot you cannot just take any decision. The complicity there is government. The terminal operators are our professional colleagues now. I had enough with all that. Why should we be criticizing them? We don't need to fight it.
If I read your body language very well, are you in support of this increment?

I am the founder of NAGAFF. What I have told you now is the position of NAGAFF which is that we don't have problem with the terminal operators. They are in support of the charges. We have problem with the agencies of the government that are charged with responsibility to oversee the activities. They are businessmen. These things are clear. Go and tell it to anybody. If you want to extract from me whether I support increment or not, terminal operators do not come to me and ask me how much I am charging my importers for me to take their cargo out of the port. They are our colleagues. However, as a leader now the processes of that increment became an issue. Now it has happened. A reduction has come from 650% to 400%, meaning a discount of 250%. That's good on their part. They have shown that we are colleagues especially when we are crying. Now, what do you want to know? Whether the increment is in order? Whether I am in support? We are not against increment. We are asking for moderation, an increment that will be responsible and competitive. We are part of the economy of the country. After the removal of oil subsidy, everything has gone up. So as at the time they entered into this contract I was telling you, the concession agreement, this was about 11 years ago. How much was dollars 70 years ago? And now it's how much? Almost N1,000 to N1,200. How can they operate? Let us be honest to ourselves. Look at the operational cost. Let's be honest. We are brothers, we are sisters. We should share the feelings of others. Truth be told, the increase should be competitive and responsible, so that we can breathe and do some little business with clients.
In recent times, how would you describe the relationship now between NAGAFF and its sister association; ANLCA?

I don't see light in the tunnel in having a responsible partnership. It's unfortunate that Farinto who is somehow modern, lost in their place. That's my thought. Farinto has better understanding of what transport, logistics, freight forwarding is all about and the need for collaboration and all that. Some, most of them behave like people in a cult. Once they say we are going left, all of them will go left. Say they go right, all of them will go right. Nobody will say no, let us wait. So somebody must be thinking for my sister organization. I think for NAGAFF. You see, when you don't have any person or group of person thinking for an organization, it's a problem. I sleep and think what would be the best for NAGAFF and the society down to the port. Is there any person doing it for ANLCA? Farinto was doing that. Because I speak to most of them and I see where he is and they have so much intimidated that boy, that even the last election he didn't have the courage to even visit us in NAGAFF village here to tell us he is contesting an election. So that nobody will say he is collaborating with NAGAFF and look at what has happened. How would we have caused this? Some of their members are good friends of NAGAFF. Some of them are even my people that are very close to me, that can give instruction.
This position confirms what some people speculated before the election; that Farinto is your godson and that you are his godfather.

Yes, any way you want to say it, go ahead and say it. He is my son. Farinto is my godson and go and ask him. I remember an incident, but go and interview him on that. Because of his position, he is a free-minded person; he is somebody who thinks about the society particularly in our profession. Go and ask him what these people did to him, during the time of the late Dikko, go and ask him. So that it would not be like I said it, go and ask him. He told me. Even at the time, that boy, out of blackmail, was clipped. He can't breathe because of what the same members of ANLCA passed on to Dikko about Farinto when he was the chairman of Tin Can. The first shot was to shut down his operating license. It was blocked because they tagged him as a revenue risk. There is nothing they did not do to him and these are people he was eating and drinking with, in the same ANLCA. When he contacted me and told me his problems, In fact I saw him looking emaciated somehow and I promised to get back to him. I picked my phone, called Dikko and I said I want to see him together with Farinto; that there is something going on. I'm telling you a life story and the person who collaborated that, Farinto will tell you. I persisted as my friend. He was my friend. So you have to listen to me. He said, okay, doctor, come with him. I told Farinto we are going to Abuja. Farinto did not have transport money. He could not pay his ticket. I paid. I asked him we are to meet Dikko tomorrow. That means we have to fly in either first flight in the morning or this evening. But my ticket and his own was for a day before the time, the last flight. Only for Farrinto to tell me that he is not going anywhere. How? Why? He said, no. I said, okay, I've already told Dikko. Aside from his problem, I wanted to see my friend. I said, okay, it's all right. Late in the morning, the next day, around 5:30am or thereabout, he called me. He said, doctor, I want to come. I said you want to come? I said, okay, come now. But if you come, just go straight and wait for me at the gate. I got to the gate. I said, let's go. I moved out. I found Dikko. We moved in right away. When we got there, you see the face of Dikko. It was terrible. I just told him to calm down and then I said one or two things. Dikko shook his head and brought out his phone and I asked him to read. Who sent those messages? It's not what I'll tell you. If I talk, I'll use my mouth and tell you. Who are the ones that wrote it? They are the ones that were telling him not to go, don't follow Aniebonam.  They were the ones that wrote it.
I just had a discussion with my friend. Before I got to Lagos that day, they opened his license. Let me tell you, people are not good. Forget about all this nonsense. But I cannot live their life. Let's not go more than this.
So you want to know whether I'm his godfather. I'm his godfather. Put it in a headline. Now you have confirmed it. Yes. And it would have been better for him to have won the election, of course because he's going to turn around ANLCA and we'll guarantee a relationship between NAGAFF and ANLCA and the industry will be better for it.
Let's look at the Minister of Marine and Blue Economy. It is a new ministry and he's a new minister. What advice will you give him?

He has a memorandum. He has his reference point. You cannot appoint somebody a minister and he doesn't know blue economy. The government has told him what to do. So what you see there is that Mr. President under the mantra of Renewed Hope, we want to see how we can concentrate on the sea and see what we can tap looking at issue of sea transport, ship building and all that; open it up, open up fishing so they can create employment and create revenue. Everything about the sea should be unbundled and then we get the best out of it. Tourism also comes in. Water transport like I said earlier will be properly-defined and made to be efficient and that will bring in a lot of money.
Finally, sir, what will be your advice for the new CG of Customs now that he has been confirmed?

He is competent, he's the right person for the right position. There are no sentiments about that. He's an international officer and I expect him to bring some level of experience. When I say international officer, I mean he's been with several CGs and he has been to almost every part of this world, to see how Customs operate in those areas; all the seminars and what have you. He has that. He's commanded an area. He rose from the ranks.
So what is the big deal? If he fails, he should have himself to blame. But what I think he should do immediately is the zonal commands of the Customs. I don't want him to continue with that wastage. This is because I don't see why he should have an Assistant Comptroller General of customs, Comptrollers, Deputy Comptrollers down the line sitting idle and wasting public fund but adding no value. The zonal command is an operational command of the zones. I will be speaking from a vantage position as an ex-customs officer. When I joined customs, the zonal offices were effective. So how they have carried everything, I think it was in 2004, they carried everything. You can see the problem and now look at the level of insecurity in our country. Things that you can go to zones and resolve, then you have to go to Abuja. Does it make sense? It doesn't. You're firing red alerts from Abuja down to the ports. Does it make sense? So I will expect the headquarters of customs to follow some level of one, two, three functions they are supposed to do in terms of trade policies that guide, manage, and administer custom law policies, general welfare of officers, like promotion, training, infrastructure and the likes. Operations should be to the zone to oversee. I have raised that matter before the CG and I think you can see something about that. He has also shown that he can react when the CGC strike force was disbanded. And see, when we started talking about that, CGC strike force is an intervention force and they are not supposed to be more than three months, and if at all, six months; because they come to correct an anomaly. Once they finish with that, they go back to their base. Because all these officers are drawn from some places, they have to go back to their offices, because there are specific elements. The CGC automatically decided to go and solve this matter and not to become a permanent structure. He came and he knocked it out immediately. I think there's another division in the border drill. I don't know. I'm looking at it from a joint something. So maybe he didn't have the power to knock on that. But I guess you should look into that. The border drill found in Djibouti, Benin. Well, is that place border? The law says 40 kilometers away from the border. You cannot get a point. So what's the border drill? I've done away with that. So, all these things need to be removed. Otherwise, his trade is under siege. But I don't know. He may not have that power because it's a joint. Maybe he's able to draw his consciousness. He can take up the matter with Mr. President. There's no need for that. We need to remove all these human elements, the pediments against trade. So that's the political flow.