Ahead of the planned meeting holding this week, the acting National President of the Association of Nigerian Licensed Customs Agents; Dr Kayode Farinto clears the air on some contentious issues.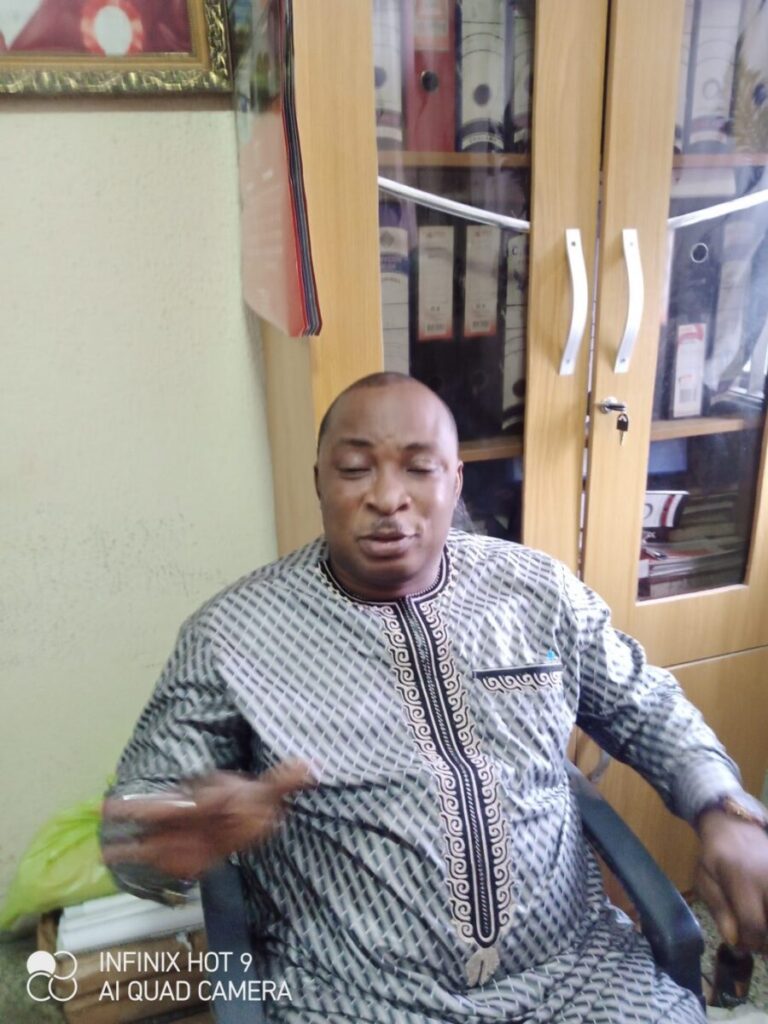 Some have argued that license are for companies and not for individuals. What is your take on this?
Let us take my license for example; Wealthy Honey Nigeria Limited is a license owner that is licensed by the Board of Nigeria Customs Service. But the issue is Wealthy Honey is not a person but there are representatives in Wealthy Honey. The ANLCA constitutions says that for anybody to come and represent Wealthy Honey, the person must be a Director and not ordinary Director, he must be a shareholder. I have over 20 staff who are also bearing Wealthy Honey. But can they come to ANLCA and say they want to vie for a position? The answer is No! That does not mean that they are not members of ANLCA. But when we are talking about executive positions, you must be a director or the owner of the license. I have joined ANLCA for the past three decades and I know the procedure. My first license was obtained in 2005. A lot of people were screened out for not having a license. I remember the last election where Alhaji Babatunde Mukaila was the chairman of the ASECO, somebody had a license but was not even having up to 10 percent of the shared capital. He was screened out. So ANLCA membership is for license owners and directors of licenses.
The AGM is an instrument of peace by CRFFN to reconcile the two factions. From all indications, the other faction is crying foul and may likely boycott the AGM. So what will be the relevance of that AGM when it is dominated by one faction?
Let me correct an impression, the AGM will not be dominated by a faction. Do not forget that we are calling for customs license owners, who are the owners of the association to come and take a decision. When you're talking about the factions, you are talking about myself, Babatunde Mukaila or this NECOM. It goes beyond that. We have a situation whereby over 200 people have registered to be part of the AGM. So the issue of faction does not come in. But that does not mean some group of people does not want to attend the AGM , although I don't want to preempt them. Maybe you have some information. I want to believe they will come for the AGM. If a decision is taken, that is sacrosanct because those are the owners of the association. We cannot continue to say because of the sentiment four or five people should hold the whole of the association to ransom. So the AGM is for the generality of the association. If 200 people have registered, the issue of faction is no more there.
If the Taiwo Mustapha faction did not come for the AGM, do you think the peace we crave for in ANLCA will reign?
The question we should ask ourselves is that if we have an AGM and a group of 300  to 400 attends  and a group of 7 are now saying they are not in support of what 300 people have done, mathematically, that number is infinitesimal. If I can stoop low as the acting President of ANLCA and brought my 2022 license to Mukaila (National Secretary) and I registered and I paid, so that nobody will have any excuse. I know this faction has been owing for about five years. I said they should waive four years and they should pay for only one year, then somebody somewhere doesn't want this association to have peace.
I could as well as a leader be selfish, but I believe it is only God that gives power. But I will not sit down and watch some group of people kill it because of their selfish interest. This is the association that brought us into the limelight.  The question we should ask them is what is it that they are crying for because we have asked them to bring all their challenges to the AGM. If they want someone to be a member of the Board of Trustees, someone will move a motion and another person will move a counter motion  then will put it into vote. Majority will always have their way, while the minority will always have their say. It is beyond me as the President; my duty is just to call for the AGM. I cannot influence the decisions to be taken.
We had an interview with Sir Errnest Elochukwu and he made mention of the fact that CRFFN should have been the one to call for the AGM 
I am disappointed that Elochukwu is saying that, because he was once a President of this association. It is an aberration. If the CRFFN calls for that AGM. Everybody will just go to court and whatever decision made will be thrown out. The sitting president must call for the AGM. If we are having a NEC, the sitting President is the Chairman  of the NEC. All we are saying is that we should have promoted the role of our Board beyond what CAMA says and that is the problem of ANLCA. That is why we must find a solution to this.
The National Secretary alleged that all members of the other group are not qualified because they don't have licenses. Has it really been verified? and has the attention of the CRFFN, the peacemakers  been drawn to this?
What the National Secretary was saying is that it is very wrong for Mustapha to appoint an Interim government. Also, it is an aberration to appoint someone who is not a license owner as our acting President. You can ask the gentleman for the name of his license or if he is a Director; that is what our National Secretary his saying. That does not mean he cannot be a member of ANLCA, but there are some positions that he cannot hold. that is what the Secretary is trying to clear. You cannot put someone who doesn't have a license to be the head of people who have licenses. Do you know what it takes us to renew our license on a yearly basis? This year, I have paid N215,000 to renew my license. In all the ports of the federation, I am going to pay N15,000 to Customs and I am going to pay N10,0000 to NPA to be able to operate. If you don't own a license you cannot hold any executive position. The constitution is very clear on this.
There have been allegations that the CRFFN Chairman is dancing to the tune of the Vice Chairman and the Acting President of ANLCA. How will you react to this?
People do not know the kind of issue we have when there was a pressure on me to call-off the last AGM. There were altercations here and there because I insisted that ANLCA is ANLCA. But when I now went through the CRFFN Act, I know that we are actually being regulated by CRFFN. So if CRFFN is coming up to say they want to resolve this issue once and for all, except I have ulterior motive, then let me follow them. We have a procedure on how we work in the Council. Let me use this example, the last Registrar brought a letter on the 15th of December that he wants to continue as the Registrar of the Council, what the Chairman did at our plenary was to set up a committee to go and look at the Registrar's application vis a vis the committee's report and report back to the house. I was a member of that committee and our findings were not sacrosanct, they were not final, whatever were our findings were brought back to the whole house for discussion and amendment, before it was ratified. So I don't know whether there is a different report that these people are shouting over. Whatever the Committee reports it will be brought back to the whole house for discussion. Except someone has a different report that is not known to somebody like us. The Chairman of the Council has integrity and I hold him in high esteem. He is somebody that is saying that the Minister is insisting that he must see to the end of this crises. What is my gain if this crisis continues? But we know there are people who are feasting on this crisis. We know there are internal and external factors here and there but we want to see to the end of this, that is why we are saying let us waive this, so that they will not say it is because the acting President asked them to go and pay fine when he knows that there is no money and he wants to use that one to edge us out; to be unable to attend the AGM. If you have your license, I don't know why it is difficult for you to bring a photocopy of your license to the Secretary and pay N10,000 which must be your financial contribution to determine your financial status in an association.
The other faction claimed that the tenure of this NECOM has expired, so they lack the authority to superintend over the meeting
I will use a simple arithmetic to answer that. We were actually elected 2018 for a tenure of four years which was supposed to have ended last year, meanwhile in 2020, there was an addendum and amendment to our Constitution; that every offices in ANLCA should be one single term. It is even possible for Tony Nwabunike to say he wants to come back and contest for another term. He was not happy because we were even short-changed but because we wanted to move forward, we decided that it should be one term of five years that makes him the President of ANLCA. If the tenure of those that were elected in 2018 has expired then the board which was put in place in 2014 for a period of six years tenure has also expired.
They said it was when they registered that their tenure started.
Where is it done? The 2020 Act amended CAMA Section 834 says your tenure starts the day you were given the mandate or appointment by the association. There is no lacuna. So if a board of six years that is still there in the last nine or 10 years are saying our tenure has expired, then we need to ask a simple question of whose tenure has expired?
Some people have raised concerns that CRFFN being the regulator is too lenient. Every member of association believe they can do anything and drag the CRFFN to court which is not so in other industries. Do you think the CRFFN has been too lenient with the freight forwarding associations? 
It is not so, where they are having issues is that most of these associations have been existing before the existence of CRFFN and it will take a time and a while for CRFFN to get its feet together. And that is why the Council is insisting that if you do this you will be sanctioned. I knew the pressure I went through to cancel the former AGM of February 2nd, the CRFFN Chairman said he is going to sanction us if we go ahead with that AGM. So I had to cancel it. Whether we like it or not, by the virtue of that Act, CRFFN is the regulator. So anybody going outside what the Act says is only looking for trouble  and because some people believe in their way that they can always find their way, That is why they think they can rubbish the CRFFN. we are not ready to rubbish the regulator. We have many issues in the ports that we have not attended to because this crisis in ANLCA is affecting it. That is why we are saying let us sheath our swords, come back together as brothers, forget what has happened and forge ahead so that our members will be better off.
Are you saying whatever party than does not agree with the decisions of the AGM will be sanctioned?
Well, when we get there, there will be a press conference.
Do you want to contest for the elections? If yes, what are you bringing to the table?
Yes I want to contest by the grace of God. After the AGM we are going to unveil our programme and there will be a press conference. I am contesting but it is going to be shifting from the old tradition. we are going to come from another angle on the issue of ANLCA, but the AGM first.
shippingposition
Kindly like us on Facebook/twitter