In this interview with Oluyinka Onigbinde, the   President of a tribal group within the crises-ridden Association of Nigerian Licensed Customs Agents; the Oodua Descendants Freight Forwarders Global Association; Prince Segun Adefioye speaks about the more-than-four-years old crises. He also calls out some members of the tribal group for being directly behind the prolonged face-off.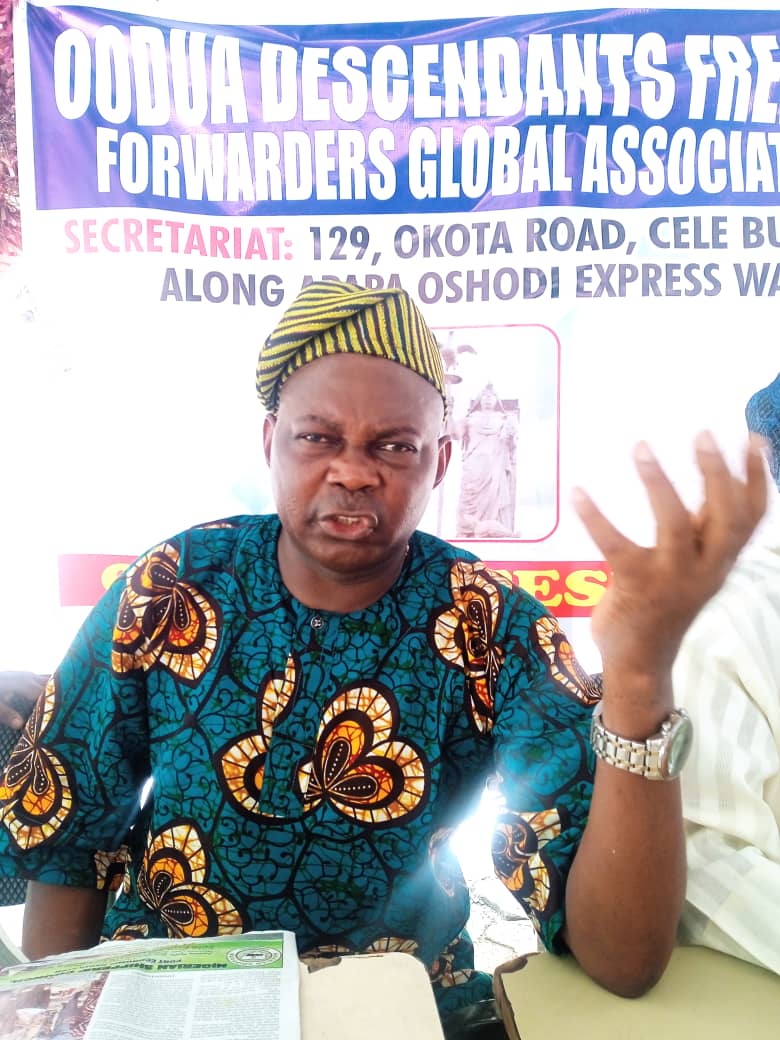 What role or step has the Oodua group taken to resolve the crisis in ANLCA?
I am Prince Segun Adefioye and we are here on behalf of Oodua Descendants Freight Forwarders Global Association. We called for this press briefing because of the current situation in ANLCA. As you have said, we have been expecting our elders to intervene but they ignored it. I don't know why they decided not to intervene. So we in Oodua Descendants Freight Forwarders Global Association have watched and waited for them to intervene, but we couldn't see any efforts made so far from their own end. That was why we called this press conference to tell the world that we at Oodua Descendants Freight Forwarders Global Association are now intervening in the crisis in ANLCA and to find solution to what is happening. That is the major reason for calling for today's press conference.
So what are the steps you intend to take, what are the solutions and what should we expect?
We have seen that if we should call for a general meeting, majority of the people concerned will not turn up. We have taken some steps by calling them on phone asking them how we can come in to resolve what is currently happening in the association. They have been stylishly telling us they will call us back or we would meet the following week. They have been trying to dodge us that was why we now decided to call for a press conference in order to let the world know that we in Oodua Descendants Freight Forwarders Global Association are ready to intervene in what is happening in ANLCA. This is because if Oodua is peaceful, ANLCA will be peaceful. Majority of the problems we are having in ANLCA emanated from Oodua sons and daughters. So we are now trying to do reconciliation. But how can we go about it? That is why we have shortlisted the names of those elders that are concerned and we would reach out to them. We want the nation and Yoruba to know those who are concerned. We have listed their names and we want to be meeting them one after the other. We have given ourselves a time frame that between now and two weeks, we would constitute a reconciliation committee that will meet them. That is why we want to publicize their names. If they now reject our calls or appointment, then in two weeks' time, we will call for another meeting. We would state that we have tried to reach so and so people, they honored our call and this is the steps taken.
Are you aware that CRFFN is also trying to intervene in this crisis and has directed the present NECOM under the leadership of Kayode Farinto to call for a huge event to take place on Wednesday?
Yes, we are all 100 percent aware that the CRFFN has intervened. But one of the party, (don't let me say the other because we in Oodua Descendants Freight Forwarders Global Association don't belong to any of the two factions) is trying to neglect or boycott that Annual General Meeting. We called for today meeting because we want to solicit with them before the AGM. We want to plead and implore them that they should come and air their views and grievances at that AGM. No matter what is happening or their grievance are, they should please turn up at the AGM. All of us will be there on that day. But if they now refuse and they did not honour the AGM, which does not stop the steps Oodua Descendants Freight Forwarders Global Association is taking today.  This is our first step by calling for a press conference.
How many leaders of ANLCA have you shortlisted for reconciliation?
It is not the association (ANLCA); we are talking of Oodua that is, our Oodua sons and daughters that we believe are involved in the crisis of ANLCA. So as at now, we have shortlisted 10 names.
If you won't mind, can you list the names?
Number one is Prince Taiye Oyeniyi, he is our elder.  Number two is Prince Olayiwola Shittu, our former ANLCA President, then the President of Oodua Logistics, Chief Oye Ariyo. Also, Dayo Azeez who is one of the Board of Trustees in ANLCA, Dr Kayode Farinto the Acting President of ANLCA, Mukaila Babatunde the National Secretary, Abiodun Ogunfowora, Bayo Oyekogun, former Western Zone Secretary and former Chairman of KLT, then the former Chairman of Apapa, Olumide Fakanolu, and the BoT Chiarman, Taiwo Mustapha. Those are the people that we have shortlisted. We have called some of them on phone and stylishly they are begging us and we want to publicize their names.   Between now and two weeks' time, our reconciliation committee will start work. That is from the 20th of March and they will round up in two weeks. On the 3rd of April, we are going to convene a general meeting for all the Oodua sons and daughters in the maritime industry. Then we will now read out the report of the reconciliation committee. The second step will now follow.
A member of the other faction, Sir John Oforbike had said except the Igbos finish their two terms, there is no way peace can come back to the association. What is your take on this?
This very funny. The constitution has been amended that all the executives in ANLCA soon run one term of five years. So I am sure that our President Tony Iju will never go back or go contrary to what is in the constitution. He is just bringing that one as a new agenda. Nobody has been saying that before. Even me, I am just hearing that for the first time. He has not come out in the open to say the Igbos have done one term and must complete another term. That is his own view. But everything will be trashed out in the AGM on Wednesday. Since the constitution was amended, they gave Kayode Farinto and Tony Iju and extension of five years tenure. So by April, the five years will be complete. Nobody is going for two terms. It is not accepted. Since the constitution has been amended, five years is okay for one term.
Dr. Kayode Farinto has confirmed that he will contest for the President of ANLCA by the time their tenure finishes in April. Is the Oodua descendants supporting his position for the Presidency of ANLCA?
I am hearing it from you for the first time. He has not come to us to make his intentions known to us. The Oodua Descendants Freight Forwarders Global Association accepts anyone that comes forward to contest for the presidency of ANLCA. Farinto as a person has not come to us. If he comes to us, we are going to give him our blessing. And if any other person comes to us, we are going to give them our blessings. But as at now, nobody has told us that he wants to contest for the post of the ANLCA President. But what we are after now is that we just want peace among Oodua sons and daughters and also ANLCA at large. This is because if there is peace in Oodua, I'm very sure there will be peace in ANLCA. That is why we are taking the steps we are taking today.
Lastly, what will be your advice to the two factions?
My advice to the two factions is that they should please embrace peace. We are pleading to them to embrace peace. The reconciliation committee we are setting up between today and weekend will commence their operations on Monday. We want them to honour them, embrace them and tell them whatever grievance they have. Let them open up and we are going to wade in. We are not doing it for doing sake. We are backed up by the Ooni of Ife. Oodua Descendants Freight Forwarders Global Association is not just an ordinary association. We're backed up with the ruling Arole Oodua. We pray that they listen to us but if the worse comes to worse, we're going to take the matter to where the Oodua comes from. So what we are doing today is not just for doing sake, we have backing. So we implore all of them to embrace peace. Whatever their grievances are, they should embrace peace and let peace reign.
shippingposition
Kindly like us on Facebook/twitter