Daewoo Shipbuilding and Marine Engineering (DSME) has earned $10 billion in orders for the second straight year.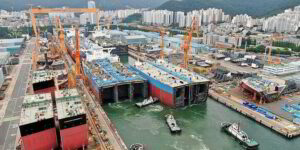 The company said Maran Gas Maritime, an affiliate of Greece's top shipping company Angelicoussis Group, ordered a liquefied natural gas (LNG) carrier for 350.9 billion won ($256 million).
Okpo Shipyard on Geoje Island, South Gyeongsang Province, is where construction of the vessel will be done, and delivery is slated for the second half of 2026.
The ordered carrier is a large type of the 174,000 cubic-meter class featuring the pride of DSME, a ME-GI high-pressure, dual-fuel propulsion engine, and a more advanced re-liquefaction facility.
In addition, the company's smart energy saving systems such as those of the axial generator motor and air lubrication have boosted fuel efficiency, and many new and leading green technologies were applied to cut emissions of CO2 and sulfur oxides.
Starting with its first order in 1994, the Greek conglomerate has bought 119 vessels from DSME, the most in the world by a buyer from the same shipbuilder.
A DSME source said, "We landed orders for 38 LNG carriers this year, surpassing our previous record of 37 in 2014 for most orders for such ships in a year," adding, "We'll do everything we can to secure more orders based on our overwhelming technology.
DSME this year has landed orders for 46 projects — 38 LNG carriers, six container vessels, one ocean plant and one depot maintenance contract – worth $10.4 billion, equal to 117% of its original yearly goal of $8.9 billion.
Kindly like us on Facebook/twitter