Provost of Charkins Maritime Academy, Rivers state; Dr Eben Okorie, has urged government institutions and corporate bodies to sponsor students for maritime courses to enhance proficiency in the subsector.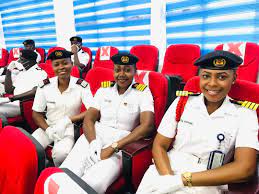 Okorie made the call during an entrance examination for a proposed two-year Basic Certificate Course in Maritime Training by the academy, to be sponsored by Andoni Local Government Council in Rivers.
The proposed training was in fulfillment of the campaign promise made by Mr Erastus Awortu, the newly-inaugurated Council Chairman for Andoni Local Government.
The training is open to all indigenes of the area who are within 17- 23 years of age and have a minimum of five credits in their West African Examination Council (WAEC) result.
So far, it has attracted no fewer than 315 candidates.
The chairman, while soliciting for votes from his constituents prior to his emergence, had promised to enroll 20 students for training to build capacity and make them employable in the maritime sector.
Commending the gesture demonstrated by the chairman, the Provost of the academy, noted that the prospects in the proposed programme would be very rewarding.
"Successful candidates will be eventually trained to become Merchant Navy Officers.
"They will specialise in Nautical and Marine Engineering with course duration of a minimum of two years for the basic certificate course.
"After the basic certificate course, eligible candidates are also expected to pursue intense professional one year training upon completion of a one year internship programme.
"Generally, the programme will gulp as much as two years duration for the full programme package," he said.
Describing the programme as a long term investment and a rewarding human capital development strategy, he said the measure was worthy of emulation especially as the country strives toward conquering unemployment and youth restiveness.
"This is the first time I am witnessing such a laudable commitment from the political class.
"I have spent a long time in the industry and I make bold to say that this is the first time I am seeing a local government chairman take interest in sponsoring students in maritime courses or other courses of benefit," he added.
Meanwhile, candidates at the examination expressed satisfaction on the process describing it as a transparent academic exercise while commending the council chairman for the bold initiative.
Kindly like us on Facebook