The Minister of State for Transportation, Prince Ademola Adegoroye, has reiterated the need to upgrade the Maritime Academy of Nigeria (MAN), Oron, Akwa Ibom to a degree-awarding university.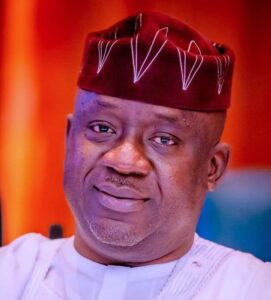 Adegoroye, in a statement by his Special Assistant on Media and Publicity, Ebenezer Adeniyan on Friday said this while speaking at the 2022 Cadets Graduation ceremony of the school.
He said that Nigeria was seeking technical cooperation with the International Maritime Organisation (IMO) for the upgrade of the institution, which he described as a pride of the country.
"It is heart-warming to note that Nigeria has enjoyed IMO Technical Assistance in the area of capacity training.
"There is the need to seek greater technical cooperation between the IMO and Nigeria to enhance our capacity to meet the significantly increasing demands for maritime education and training in Nigeria.
"These needs include but not limited to support from the IMO in further training of the academy's instructors and lecturers and other personnel.
"Technical assistance from the IMO in converting the academy from diploma to degree-awarding institution and using the academy as a sales-point for IMO books and publications in high demand by trainees.
"And greater involvement of the academy with the IMO's seminars, conferences, workshops and other activities."
The minister joined other stakeholders at the event to commend the Rector of the academy for turning around the fortunes of the institution in the last few years.
He urged the graduates to be good ambassadors of the school wherever they found themselves.
In his presentation, the Rector of the Academy, retired Commodore Duja Effedua, promised not to rest on his oars in ensuring that the academy was ranked among leading institutions in the world.
Effedua also thanked the Federal Ministry of Transportation for its support for the institution.
"When I came in, we battled with failing standard of training, over bloated cadets' environment and demoralised manpower.
"There was infrastructure decay, poor maintenance of facilities, dearth of teaching aids and make-shift library facility without relevant books of reference, among others.
"However, we have been able to turn that around in the last five years."
A total of 233 cadets graduated from the academy with National Diploma (ND) and Higher National Diploma (HND), with Mesaiyete Omotayo emerging as the Best All Round Graduating Cadet.
Three of the best graduating Cadets got immediate employment/scholarships with Starzs Investments Company,
Bricks Nigeria Ltd. also took two of the most disciplined Cadets for immediate employment.
shippingposition
Kindly like us on Facebook/twitter