Recently, the Director General, NIMASA; Dr Bashir Jamoh spoke with a selected team of maritime journalists in his office. Our Assistant Editor; Oluyinka Onigbinde was there. We bring you excerpts from the interaction.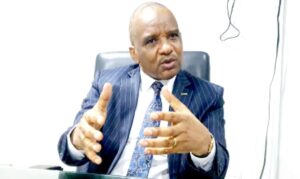 What is the status of the Deep Blue Project being spearheaded by NIMASA?
The issue of the Deep Blue Project has come to stay. In June last year, the President commissioned the Deep Blue Project. As at that time, we had about 40% left with the Nigeria Custom Service of the remaining assets, and we had only 60% at hand. But today, I'm happy to announce to you that we don't have a single pin outside our own domain. So all the Deep Blue assets are now with us. We have a total of 17 fast Interceptor Boats and Two Special Mission vessels with dynamic positioning. These are the sea assets. We have the land assets which comprises 600 detachments of personnel which includes the Nigerian Navy, Nigerian Army, Nigerian Air Force, Civil Defence, State Security Service, Marine Police, Nigeria Drug Law Enforcement Agency, Nigeria Customs Service, and the Nigeria Immigration Service. We have these personnel on board and are well-trained to international standards. The land assets also consist of 16 armoured vehicles. These are not armoured tanks, but armoured vehicles specially built to take care of the terrain of the Niger Delta area. The Creek of Niger Delta is the longest in Nigeria. We also have the C4i which is the Command and Control Centre at Kirikiri in Lagos. The Command and Control Centre is the first to come on board. It has been working for the past two to three years. In the air asset, we have two special mission aircrafts, three special mission helicopters and four unmanned air surveillance. The four unmanned Air Surveillance can be sent and can travel from here to about 100 km and it can remain in one place for 10 hours gathering data and sending it to the Command and Control Centre. All these assets have interconnectivity with each other. The land and see the sea, the sea can see the air and the air can see the water at the same time. We have a kind of satellite system that connects them. So anytime we have a problem or an issue, the response can be easy. It determines if it is something that Aircraft, Boat or Vehicle can attend to. the C4i will announce.
Can you tell us more about the signing of the deal with the Japanese Government to boost the project? What are the specific areas of aid and collaboration?
With the advent of the Deep Blue project, the international community was so impressed. So every country and international body is coming with their own assistance. The IMO came in and commissioned a Consultant to help Nigeria build a National Maritime Security strategy. We had the Maritime Security strategy coordinated by UNDOC. The Nigerian Navy and other security agencies are also part and parcel of it. For a wider coverage and commercial purposes the IMO now commissioned another Consultant which at the end of the day will interface with all security agencies to see how we can harmonise the Nation Maritime Security Strategy. So we are going to link it up with what has already been developed. We are working on it. That is the contribution of IMO. Now, the South Korean company has given us a donation of War ships. Any moment from now, it will be in Nigeria. The Nigerian Navy are collaborating with them to get it to Nigeria. The Japanese government also came with an aid of 2.7million US dollars and they said they're going to use the 2.7 million Dollars to build specialised fast intervention vessels for security purposes. They awarded the contract worth 2.7 million Dollars to Crown Agent which is a Queens procuring agency in the UK with a promise that they should build a minimum of two ships for us. We have signed the agreement and at the end of the day if the cost of two boats is less than 2.7 million Dollars, the Japanese Government will send the balance to Nigeria for us to make use of it in a different form. That is our own interface with the Japanese government. It is not only the Japanese government, we have different arms that are looking at the way and manner they can assist our maritime security.
What is the update of the floating dock?
From the time I assumed office till date, we have been working on the floating dock. If you go there now, you would find people working. The floating dock was built and there is installation. So when they built and bought it here, there ought to be an installation. That installation part has not been done. So it is not that we are sleeping or we are not doing anything. We are doing so many things simultaneously, there are processes and procedures in putting the floating dock to use. If the cranes and generator that powers the engine are not working you cannot work with the floating dock. So the first thing we did, was to call Damien (the manufacturers of the floating dock) and told them that you delivered this floating dock and you did not install it, we have to know the workability of the cranes and the engine; because everything must be in place, and then above all, the floating dock is not a ship that is moving, you have to clip it. As we speak, the dolphins that we are going to put for the clipping cannot be found in the country; in the whole of Nigeria, you cannot get the equipment that can put that dolphin into our own sea for you to clip the floating dock. So we have to do temporary importation of the equipment from Netherlands to come only purposely to put the Dolphin and take it back to Netherland.
The second issue is the issue of location, the first thing that came up was the issue of taking the floating dock to Niger Delta, but we discovered that we don't have the draft. Secondly, the issue of commercialization, people don't have the confidence to go there and so many other things. On this alone, we spent eight months to convince the authorities to give us approval to commence the operation of this floating dock in Lagos. I just came back from Abuja to get the consent and agreement of the people that they will give us a location where we can place the floating dock, till now we don't have a location. And remember, this floating dock has been there since 2018, nobody worked it, nobody started it, nobody knows how it works, so we have to bring the Damien engineers, they came here several times from Netherland; we have to bring the Israelis to come here and work with it, so it's not that we are sleeping or delaying. Above all, the modular floating dock is not something you can give anybody to kill. The position we want to put the modular floating dock, the same position about four years ago, NPA removed their own (dock) dead; we came, we saw their floating dock working; everybody knew the NPA modular floating dock was there with the Dolphins standing, but today it's no more, due to mismanagement of government resources. We said No. We came here, we had a meeting with the former NPA MD; Hadiza Bala Usman, and we were contemplating whether the management that managed the NPA own can manage ours. I told her in black and white that they killed your own, they can't kill our own. They destroyed the NPA floating dock and we said that this (NIMASA floating dock) cannot be destroyed also. We learnt from that and we said let's go the Public Private Partnership (PPP) arrangement, that we will get a managing partner who has the experience and the technical knowhow and the wherewithal to bring customers. It's one thing to have a floating dock, it's another thing to have the confidence of the people to bring their ships there. So what we have is a floating dock that can repair ships, if you don't have the integrity and the technical know-how, nobody will bring their ship there. We had to go to ICRC. It was a procurement process. They had to check if the PPP arrangement we want to do is doable, bankable, and profitable. When they found all these to be affirmative, they gave us a go-ahead and they gave us a certificate. After that we had to develop a business case where everyone must know his or her share, their responsibility and what they will provide. After this is finalized, they will take it to the Federal Executive Council; because it is now a public property. Sometimes you will have to spend almost a year in the Procurement cycle. Everybody knows there is a problem with the Procurement cycle. So we are looking for the best for the country, at the same time we are working to see the modular floating dock work; working to see the appropriate place where to put the floating dock, working hard to make sure that we have people who can handle it like a private entity, we get our profit and send to the government. We shouldn't take it to our own friends and cronies. Everybody that has investment should come and invest. At a later date, we will put it in the Stock Exchange and it becomes a public property and everybody owns shares and manages it well. We had a meeting at the Ministry recently and the Minister gave Us till the 31st of this month to produce a final solution to the modular Floating dock. We are working on it and we will get back to the Federal Executive Council. If there is any priority before me, it is the modular floating dock, followed by the CVFF. There are three issues which are under Blue Economy which are – fleet expansion, ship repairs and ship building. We will now have to go back to the drawing board to conduct research. We are opening a Lokoja office any moment from now and see how we can develop our inland waterways. By God's grace, at the end of the year, you would be able to see the successes we would record on that.
How soon should we expect the removal of War Risk Insurance?
In June, they told us that they have completed their quarterly meetings and in September they are going to sit. We are to give them the measures we have been able to put in place on a short, medium and long term basis. They told us we have a point for risk assessment. Each country that couldn't reach certain categories of risk will have to fall under the War Risk Insurance premium bracket. They told us Nigeria has been on that list for the past 25 years. So you cannot come after one or two years of sustained peace and say they should cancel what you have been for the past 25 years. We would need to give them our analysis on what we have achieved and recorded and what we have put in place to sustain the tempo. From there, they can go back to their board and see how they can reduce the risk level that they can remove us from the War Risk Insurance; definitely they will remove us. We have two options which is; removing us totally based on what we have been doing. As you know, most of the physical successes lie in the hands of the Nigerian Navy because they are the one doing this kinetic operation. We are doing the non-kinetic operation. Last year in October, we dispatched 200 seafarers to go to different countries to study Marine Engineering, Electrical Engineering, Surveying and Marine Architecture which are purely maritime courses. Those 200 people are young Nigerians that don't have jobs; who at the end of the day, they trigger this kind of insecurity. This is a long term play. By the time they finish and equip themselves with work, they will even be the one fighting those who are trying to bring back these crimes. Secondly, we tried to introduce Marine Militant Marshals whereby we have over 1,000 people that were employed. We are giving them a stipend of N50,000 per month, so apparently we are paying them a salary. For about six years we have been paying over 1,000 people N50,000 each as Marine Militant Marshals to see how they can guard and protect our own ships. This year, we created a Vocational skill acquisition centre where those who cannot go and study for conventional degrees can go and learn Welding, POP, Carpentry, Plumbing and all kinds of work; you can use your talents for. It is our sincere hope that we would have gadgets, unlike the vocational centers where you would go and after learning, you come and you don't have anywhere to work. We would give you a kind of kit, for you to go and establish your own business. we would continue to monitor you. If we graduate 10 and about five or six are successful, then there would be a value chain in the country. We are making sure we sustain the tempo. We are now employing young Nigerians into it. We are building maritime institutions in the six geopolitical zones. so that we can have more people employed to have more knowledge in the maritime industry and the maritime domain. in no time we would be able to get to where we want to go.
Can you tell us some of the challenges that are hampering your success in this organisation?
As we know, in life nothing comes easy. You know time is of essence. The process of procurement of things takes a long period of time. Bureaucracies are also another challenge. The stakeholders also need more helping hands. For instance, there is no country that owns an industry without the helping hand of the government. There must be incentives. Those incentives could be physical or monetary. For the first time, we got the approval of the Federal Government for physical incentives. When we were procuring ships, it graduated in terms of higher duty depending on the age of vessels you are procuring. On the issue of monetary incentives, we are still talking to the Central Bank of Nigeria to see what type of monetary incentive they can help the indigenous companies to see they can do. Another challenge is that since we have now decided to increase the fleet, the owners of cargo cannot utilise our own ships due to lack of knowledge or because they don't trust the functionality of our own indigenes in terms of cargo.
Kindly like us on Facebook/twitter