"Whatever is holding the CVFF should be quickly removed"
Mr Bolaji Sunmola is undoubtedly a strong protégé of late Otunba Kunle Folarin at the Nigerian Ports Consultative Council (NPCC), haven worked closely with him for many years. In this interview with Oluyinka Onigbinde and Joshua Yousouph, he talks about the deceased, the NPCC he left behind and many related issues.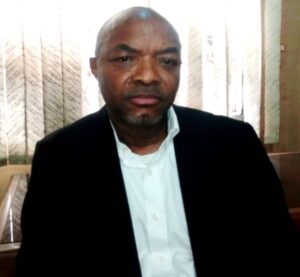 Who was Otunba Kunle Folarin to you?
To me, late Otunba Kunle Folarin was a father, a great promoter, a wonderful man, a man that means well for the young and growing ones, especially in the maritime industry. He is a man that was passionate about what he was doing, a man of excellence in all the things he laid his hands on, he was a motivator. Otunba Kunle Folarin was a good man.
How will you describe his time as the chairman PCC?
That will be so much for me to put an assessment on. This is because he is such a big man. It would be difficult because it is like giving him a scorecard. I think I am far too young to give him a scorecard, but having worked closely with him for quite a number of years, I will say he was a man of excellence in the maritime industry; which he had so much passion in doing. He put his life to seeing that the maritime sector develops to where it is today.
What will you miss most about him?
It would be too early for me to start saying that. Except you want me to start crying if I start having a reminiscence of this great man. Apart from work, we are so close personally that I see him as a father-figure. There are so many things we share that are not even maritime. I don't know who I can turn to now to share those things, because it has been a journey of life such as giving advice; I share my mind with him. He is so wonderful I don't think I can give an assessment of him. He is just so wonderful apart from the fact that he has been a great motivator of who I am today.
Many believe that his demise will affect the impact of the PCC in the industry?
Certainly, we are in a culture where people don't like developing ideas. We are in a culture where people don't keep records of what happened in the past or make a prognosis of what will be in the future. Like I said, I don't know where to begin when speaking of this man. This is a man when every 31st of every year, he is making a prognosis of how the following year will be. Talking about the total economy of Nigeria, narrowing it down to what the maritime sector will be till the 31st of the following year. This is a great vacuum that has been created. We pray to God that those of us coming behind him, maybe, we will be able to emulate what he has set and try to do what he has done. That is a great vacuum.
Do you also think the PCC was given enough support from maritime agencies and stakeholders during Otunba's time?
The PCC, during the time of Otunba was everywhere shouting and presenting papers and sometimes when he is talking everybody looks at the time and say Baba is talking too much, Baba has come again, but we never knew that a day like this will come that he is going to leave us and he has gone now. The question now is that, are we going to do what he has done? He has done his beat, but has the industry supported all he has proposed and all his thinking? Have they been able to capture 100 percent or even 10 percent of it? I doubt it. The industry has not been able to give PCC the necessary support. I can say that as someone who has worked and is still working within the PCC. This is supposed to be an industry advocacy and a mouthpiece for the industry, but has it been fully used? Most times you find Baba spending his own money for advocacy, going up and down to ensure the platform was created. We [A1] know how we went round seeking assistance here and there apart from one or two agencies which are adequately supporting PCC. I don't want to start mentioning names. How many of us have contributed to ensure that PCC runs very well? It is quite unfortunate.
Are there plans to appoint a new chairman?
Definitely, there will be a succession plan. After the mourning period and giving him a befitting burial; which he rightly deserves and the National honour to come to him, even if it can be posthumous, there will be a continuity. I believe that will be the greatest happiness of Baba to see that there is continuity. Otherwise, all that he has suffered for in this industry for over 50 years will have gone down the drain.
Do you consider yourself next in line to take over from him?
I expect that to come. PCC is not about one person. I'm sure at the point when such decisions will be taken, the people that matter within the confines of the committee who are involved in PCC will make the best decision to move PCC forward. I am sure the constitution will guide adequately on the succession plan at the right time and there will not be a crisis in terms of succession.
What is the main function of the Port Consultative Council?
The PCC which was established in the 60's, that is over 60 years ago. It is supposed to be a mouth organ and mouth piece of the maritime industry. When we talk about the maritime industry, it involves the government and the private sector basically and we have all these two functions coming together to make the maritime industry thick. There are so many things that individual companies might not be able to advocate or even sponsor. PCC is supposed to be a mouthpiece and a place where ideas are put together and when you have problems you run to and we give solutions and lead the way on how to sort things out. I cannot recall how many companies have come to this PCC and benefited from it. The only one I would mention for now is that for many years, the PCC took on the issue of Deep sea port for Nigerian ports, many years ago. We went all over the places such as Kano, Ondo, Akwa Ibom. PCC was saying that the ports we have in Marina at the time will not be enough to meet our cargo throughput and meet the challenges of cargo movement in Nigeria. That was even before we had the gridlock. The PCC was shouting, bringing so many people together and what do we have today? We have about six deep seaports, at different stages of conceptualization and conception. This is what PCC does silently without making too much noise and many other interventions that we have across board; be it within the government and the private agencies and institutions and even academic intervention all over the place and abroad where different agencies come to PCC for guidance and rubbing minds together. PCC interventions and involvement in the maritime sector have been tremendous and wonderful and this has gone beyond limits and boundaries.
What recommendations do you have for the industry?
The industry needs a lot of think-tank to move forward. There are a lot of things that the PCC is observing that are going wrong. Our model of deep sea port was taken, but the Maritime economic zone to make the deep sea port functioning at maximum point and take the opportunities have not been taken into play. Looking at the intermodal transportation system; it has not come into to play. There are so many things that we need to do. The Lekki Deep sea port is almost ready and we are hearing that by the end of this year it will come into the stream. Are we repeating the same mistakes as our late Papa told us? When cargoes come, how easily will they be able to move? Are we carrying the full potential of Nigeria being at the hub of maritime activities in the whole South and West coast of Africa? We are a big hub. God has given us that natural Africa connectivity. These are challenges which I think PCC would be looking forward to in the future and see that the professionalism is adequately maintained. In other words, PCC will still maintain its great voice in the maritime sector.
As a stakeholder in the industry, how do you think Nigeria can achieve the dream of acquiring a national fleet?
Well, time changes. When Nigeria bought over 20 vessels and all of a sudden, all those vessels disappeared. If we ask the government to come and invest in buying vessels for individuals, it will not work, because the economics of the world have gone drastically from government control to commercialization. For effectiveness, private individuals have been asked to come and put their money into it. I think this joint cooperation between the government and the private sector will help. The provision of the CVFF is a wonderful scheme which unfortunately has now been bedeviled by intricacies that no one can be able to explain. So, it is important that whatever is holding that fund should be quickly removed and let the fund function for the original purpose of the indigenous ship industry. When this is done, it will help a great deal; where we don't have foreigners coming in to dictate movement of our cargo. There are many places where ships can be bought. They are ready to sell their ships to us. We can run ships, we have the experience, we have so many Captains within the industry. So many of them are well experienced and proven to be mentored in all parts of the world. So, once we have that, why not encourage them to come together and put our heads together and see that this works. The CVFF as I mentioned is necessary. We need the will and the love for this country to be able to make it work. I think that is all that is missing. It is not a fund that we should begin to joke about. It is a serious fund that will turn around the economy of Nigeria.
Kindly like us on Facebook/twitter