The number of sailors infected with COVID-19 on a South Korean destroyer on its exclusive anti-piracy mission has gone up to nearly 250, the largest cluster for the country's military during the ongoing pandemic.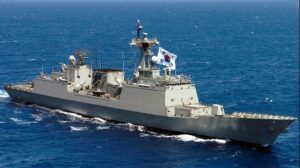 On Monday, the Defence Ministry has said that two military aircraft have been sent to bring all 301 sailors back aboard Munmu the Great.
Pacific Ocean, Hawaii (July 25, 2006) Ð A Korean Ship sails in formation at the end of Exercise Rim of the Pacific (RIMPAC) 2006, where 28 ships and six submarines from the participating nations come together in a group formation. Eight nations are participating in RIMPAC, the world's largest biennial maritime exercise. Conducted in the waters off Hawaii, RIMPAC brings together military forces from Australia, Canada, Chile, Peru, Japan, the Republic of Korea, the United Kingdom and the United States.
Authorities suspect that the outbreak had possibly started when the destroyer had docked to load goods around late June. No crew member has been vaccinated against Covid-19.
Healthcare officials have reportedly said that the crew members are in relatively better condition. On Monday, South Korea reported 1,252 new cases of Covid-19. It was the 13th day for South Korea to get over 1,000 Covid-19 cases.
Kindly like us on Facebook