For fighting Sea Piracy headlong through the Nigerian Navy and ensuring a successive decline in reported cases of sea robbery attacks within Nigeria's maritime domain, the International Maritime Bureau has exited Nigeria from the IMB Piracy List.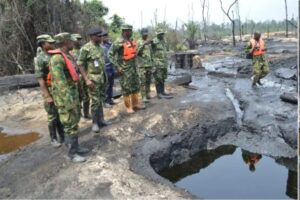 This feat was achieved just as the Navy through Operation Dakarta Da Barawo has arrested a total of 45 suspects, and deactivated 172 Illegal Refining Sites (IRS), as well as 745 metal storage tanks within seven weeks of its offensive against crude oil thieves.
"These products are worth over #15.7billion, Fifteen Billion, Seven Hundred and Sixty-One Million, Five Hundred and Thirty-Six Thousand Four Hundred and Forty Naira.
The Chief of Policy and Plans, Nigerian Navy, (CP-Plans), Rear Admiral Saidu Garba made this known on behalf of the Chief of Naval Staff, Vice Admiral Awwal Gambo at a media briefing to commence the 66th Nigerian Navy Week Celebration on Tuesday in Abuja.
According to Rear Admiral Garba, the delisting of Nigeria from world piracy list has led to improved shipping into Nigeria's waters with attendant positive impact on the nation's economy.
His words: "This noble achievement was complemented by the International Maritime Bureau Global Piracy Report of 14 July 2021, which indicated the lowest number of piracy and sea robbery against ships in our waters in 27 years. The report was corroborated by the Defence Web, which noted further decline in reported cases of piracy and armed attacks against shipping in Nigerian waters.
"I am pleased to notify that the latest International Maritime Bureau report of 3 March 2022 shows that Nigeria has exited the IMB's Piracy List. This means that Nigeria is no longer in the list of piracy prone countries. The consequences are enormous and positive for the shipping industry, general maritime commerce, and the national economy".
In the continuous battle against oil theft, the Chief of Policy and Plans said, "The most recent and ongoing operation in the NN is Op DAKATAR DA BARAWO (meaning "Stop the Thief" in Hausa Language) which was activated on 1 April 2022 in synergy with the Nigerian National Petroleum Corporation Limited.
"Pertinently, within 7 weeks, the operation recorded some successes. Notably are the arrest of 45 suspects, deactivation of 172 Illegal Refining Sites (IRS), 745 metal storage tanks, 567 ovens, 263 pits including the destruction of 50 wooden boats and 14 speedboats.
"Equally, NN Patrol Teams denied oil thieves about 11,781,937 Liters of illegally refined AGO, 20,378,414 Liters (128,180 bbls) of crude oil and 367,715 Liters of DPK. Others are, about 232,000 Liters of PMS, 830,000 Liters of Sludge and 66,000 Liters of LPFO.
Kindly like us on Facebook