The Nigerian Navy Ship Victory (NNSV) on Friday in Calabar handed over a tanker-load of unspecified litres of diesel, suspected to have been adulterated, to the Nigeria Security and Civil Defence Corps (NSCDC).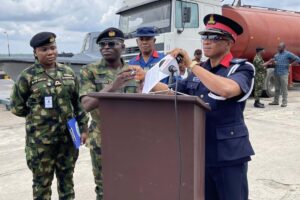 Rear Adm. Ibrahim Dewu, Flag Officer Commanding, Eastern Naval Command, handed over the tanker to Mr Samuel Fadeyi, Commandant of the NSCDC in Cross River.
Dewu was represented by the Base Intelligence Officer of NNSV, Calabar, Lt.-Cdr. Godswill Okotue while the Public Relations Officer of NSCDC, Mr Solomon Eremi, represented Fadeyi at the ceremony.
Dewu said that the truck was arrested on Aug. 19 at the Nigerian National Petroleum Corporation Park at Esuk Utan Community in Calabar.
According to him, when naval officers arrived at the park, the driver and his assistant had fled, abandoning the tanker.
"The product is suspected to have been adulterated diesel with unspecified number of litres.
"In line with extant regulations, we are handing over the tanker to the NSCDC for onward investigation and prosecution," Dewu said.
Speaking after receiving the tanker, Fadeyi thanked the Nigerian Navy for the synergy.
Fadeyi assured that the NSCDC would go after the suspects and ascertain the content in the tanker.
Kindly like us on Facebook/twitter