The Board of Directors of the Port Authority of Valencia have approved the contruction of the new container quay at Port of Valencia. This will be Port of Valencia's fourth container terminal and is envisioned to be the most environmentally advanced in the world.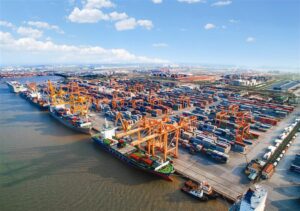 Both public and private entities are to invest in the construction of this $1.64 billion terminal. Over $572 million of public investment by Valencia Port is in the process of being drafted. Following the draft, the tenders for the work will be posted. In addition to this, $1.07 billion will be invested privately by the Italian/Swiss firm, Terminal Investment Limited.
This new terminal will come up in the inland waters of the breakwater of the northern extension of the Port of Valencia. It will have 137 hectares of surface area to work with and 1,970 m of berthing line. With these, the terminal will have the capability of handling 5 million containers per year.
98% of the driving components and installations of the terminal will be electrified and will utilize renewable sources for their energy needs. These also include ships that will be connected to the grid while they are in port.
The new container terminal will increase employment at the Port of Valencia from 38,866 jobs to 44,000 jobs. It will also create 5000 potential jobs for the Valencia's community in the area around the Port of Valencia. These include indirect and induced jobs.
shippingposition
Kindly like us on Facebook/twitter