The Ocean Ambassadors Foundation (OAF) on Wednesday said Nigeria was not ready for the younger generation to take over the maritime industry and the 2030 blue economy.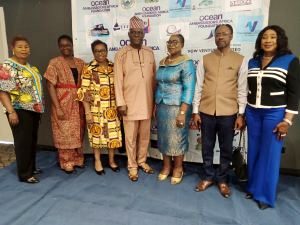 Mrs Violet Williams, President, Ocean Ambassadors Foundation, said this at the Fourth Educators and Maritime Stakeholders Lecture and Awards organised by the OAF on Wednesday in Lagos
The lecture had as a theme:" Gender Balancing, Right Timing and Blue Economy, the Future of Nigeria."
Blue economy is the sustainable use of ocean resources for economic growth, improved livelihood, and jobs while preserving the health of ocean ecosystem.
Williams said that the younger generation expected to take over in 2030 were unprepared, noting that they did not know what brown waters entails talk more of blue water Atlantic.
According to Williams, if the nation invests in these children, three things will be off, social menace, put food on the table and they will be able to re-write the rich maritime heritage untapped in the nation.
"If you look at the map of Africa, it's like a horn, you have Lagos outside the Atlantic, inside is inland waterway, untapped and unrivalled. We don't have any encumbrances but we are not there.
"If you go to all these other nations, they are preparing their children. South Africa has a robust Blue Economy ministry just like Madagascar but in Nigeria, we are not interested.
"So, we just decided that with or without government, let us start the sensitsation.
"We need the support right from the local government because they are the nearest to the grassroots and that is what we are doing, it is a bottom top arrangement," she said.
Williams noted that the Lagos State Universal Basic Education Board (LASUBEB) and the National Inland Waterways Authority (NIWA) had done sensitsation programme to educate pupils in the state.
"The vision of this intiative is to catch them young, a bottom top approach in readiness to 2030 blue economy.
"We devised this intiative whereby we promote maritime qualities that are untaped in Nigeria, especially for the girl-child.
"Just like every other career, the girls are just not there, they are trickling in and that is why we decided that the girl-child must be a voice to be heard," she said.
Mrs Ngozi Oyewole, Vice Chairperson, Commonwealth Business Women Network Nigeria, in her lecture, noted that lack of a reliable data was a major issue affecting Blue Economy in the country.
She pointed out that it was time for policymakers to understand the concept of Blue Economy and embrace it as done in other parts of the world.
"Nigeria has what it takes to operationalise the blue economy and make it work for enhanced economic growth.
"It is evident that the absence of a strategic maritime economic blueprint, flawed institutional framework, maritime insecurity, as well as withheld Cabotage Vessel Financing Fund (CVFF) are the bane of the maritime economy.
"We have to adopt changes required to foster a blue economy and be more inclusive in our strategy where women will provide the shock absorbers the global population needs to survive," she said.
Also, Mr Emmanuel Jime, the Executive Secretary, Nigerian Shippers'Council (NSC), pledged to support the foundation's initiatives which contributed to the growth of the industry.
Jime represented by Mr Moses Abere, Deputy Director at NSC, said that the programme was an opportunity for children to learn some of the dynamics in the industry.
An award recipient, Mrs Margaret Orakwusi, the Chief Executive Officer, Morbod Group, noted that there was the need to encourage women not to rely on sentiment of being a woman and expect things to be done for them.
According to Orakwusi, certain businesses are capital intensive and there is no woman, male gender in her field, fish trawling, because they are talking about heavy investment.
"Bravery has no gender, there are certain aspects you cannot lower standard because someone is a woman and we are not talking about managerial position here.
"There is nothing that stops a woman, if a man is buying vessels, getting loan, structuring his investment, she too can do so. It's only when she is denied of her entitlement that I can come in," she said.
shippingposition
Kindly like us on Facebook/twitter