As it continues with fleet expansion, the Nigerian Navy earlier this year received two patrol vessels from Damen and is acquiring two more offshore patrol vessels as well as fast patrol craft from China.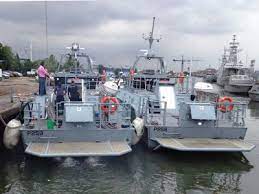 Speaking at a recent Navy graduation ceremony, the Chief of Naval Staff, Vice Admiral Awwal Zubairu Gambo, said Nigeria's President and Commander-in-Chief Muhammadu Buhari has provided noteworthy support to the Navy, particularly in fleet recapitalisation efforts.
This includes the recent acquisition of the hydrographic survey vessel NNS Lana, and a contract that has been awarded to France's Ocea for a sister ship, which will be 35 metres in length. "Also, construction work is ongoing on the LST-100 [Landing Ship Tank] and we have just received yet another approval for the acquisition of two offshore patrol vessels."
Several months, ago the Nigerian Navy took delivery of two Damen 4008 patrol vessels that were built by the Damen Song Cam shipyard in Vietnam. In July, Gambo told the IMDEC maritime conference that "two newly acquired Fast Patrol Boats (FPBs) NNS Kano and NNS Ikenne joined the fleet recently." The vessels are believed to have transited Walvis Bay on 21 June and arrived in Lagos a week later.
The FCS 4008 Patrol features Damen's Sea Axe design for improved seakeeping. This enables top speeds of 29 knots and a range of over 2 000 nautical miles in sea states that Damen says would slow down other vessels of the same size. The FCS 4008 is just over 40 metres long and has a 140m² aft deck and can be used for transporting personnel and cargo.
Gambo in his graduation address also thanked Aiteo group for its recent donation of assets to support the Nigerian Navy's maritime security operations. "These assets include houseboats, gunboats, inshore patrol boats, airboats and drones among others."
Other efforts to improve the Nigerian navy's capabilities include the acquisition and installation of Maritime Domain Awareness (MDA) assets and the July commissioning of Falcon Eye maritime surveillance infrastructure.
Speaking at IMDEC, Gambo said, "I must not fail to mention that the Nigerian Navy's indigenous shipbuilding endeavour has equally yielded some remarkable dividend with the construction of two Seward Defence Boats (SDB I and II) while SDB III is at its final stages of completion."
In the Nigerian Navy's Vision and Mission Statement delivered at the beginning of August, Gambo revealed that the Nigerian Navy will be getting 45 metre fast patrol craft from China's Poly Technology. "In consolidation of the local ship building effort, indigenous construction of the SDB III as well as water and fuel barges and houseboats are progressing steadily. Other op platforms and equipment are expected for delivery within the next one or two years."
Gambo said that the fleet renewal has evidently paid off, with increased Nigerian Navy footprints across the maritime domain leading to the arrest of hundreds of suspected criminals for various maritime offences in the last five years.
For instance, over the past four years, over 300 vessels have been arrested for various acts of illegality while 222 have been handed over for prosecution. Efforts to secure the maritime domain have seen a drop in piracy. For instance, from a high of 89 pirate attacks recorded in the Gulf of Guinea and 70 in Nigerian waters for 2016, the Gulf of Guinea in 2019 witnessed 47 cases against 21 in Nigerian waters. From January to May 2021, there were eight pirate attacks in the Gulf of Guinea while only five were within Nigeria waters, Gambo said. "It is instructive to note that most of these attacks in Nigerian waters were aborted arising from prompt response of the NN ships on patrol through a robust MDA infrastructure."
Gambo also reported successes in the fight against crude oil theft and illegal oil bunkering, with the Nigerian Navy carrying out operations on land and at sea. From 2015 to the end of May 2021, the Nigerian Navy arrested 414 vessels and 439 barges and destroyed over 3 043 wooden boats. Also, within the same period, 5 213 illegal local refineries were neutralised as well as 140 tanker trucks and 535 speed boats seized. In the course of these arrests, 405 vehicles were impounded and 4 260 persons engaged in various illegalities within Nigerian waters were arrested.
According to Gambo, the Nigerian Navy is in the process of procuring unmanned aerial vehicles (UAVs) to enhance its response capability and will acquire at least two maritime patrol aircraft to ensure a complete surveillance of the nation's maritime area of interest.
Gambo also noted challenges the Nigerian Navy is facing, including a shortfall of eight offshore patrol vessels and 69 fast attack craft; Nigerian maritime criminals migrating to neighbouring waters; and weak legal regimes in prosecuting offenders (of the 414 vessels seized between 2015 and 2021, only 52 have been prosecuted).
Another challenge is that maritime operation within Nigeria's coastal waters is often burdened by the large number of wrecks and other dangers to navigation, particularly in approaches to major ports. For instance, NNS Calabar, one of the Nigerian Navy's new Ocea patrol boats, sank along Badagry Creek in March 2019 while five other patrol vessels sank between April 2018 and Jan 2020 around Escravos channel, due to collision with submerged wrecks. About 177 submerged and partially submerged wrecks have been identified along the approaches to major ports in the country
Kindly like us on Facebook