The Western Naval Command of the Nigerian Navy on Tuesday trained 500 personnel on Small Arms Firing Exercise to enhance professionalism and reduce accidents from weapon handling in the force.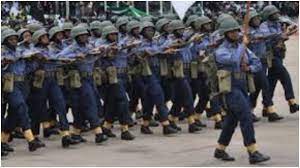 The Flag Officer Commanding (FOC) of the command, Rear Adm. Jason Gbassa in a statement said that the three-day Small Arms firing Exercise would hold from Nov.16 to Nov.18 at the 192 Battalion in Owode, Ogun State.
According to Gbassa, the training package aims at improving officers weapon handling skills and reducing numbers of accidents.
"The exercise is a yearly event aimed at improving the competence of Nigerian Navy personnel in small arms handling and shooting skills thereby enhancing operational efficiency.
"The exercise was affected last year due to the outbreak of COVID-19 but we will organise more trainings that will build confidence to defend the nation.
"The exercise forms part of individual and group training packages and it has in the past, afforded the Navy the opportunity of identifying marksmen for inter-command and inter-Service competitions," he said.
The FOC said that personnel would also be trained on higher calibre weapons and gunnery exercises at sea after the small arms firing exercise would have been concluded.
Gbassa thanked the 81 Division and 192 Battalion for approving the shooting range.
He also appreciated the timely approval of the Chief of the Naval Staff (CNS), Vice Admiral Awwal Gambo for providing the necessary logistics, support, leadership and guidance.
Kindly like us on Facebook