By Joshua Yousouph
Nigerian seafarers have called on the Federal Government to intervene in their age-long cry over the global acceptability of their Certificate of Competency (CoC's), adequate provision for training vessels for cadets.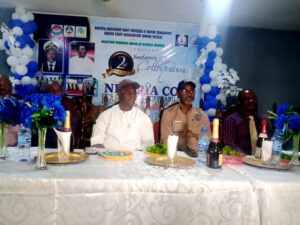 Speaking at the 2nd Annual Seafarers Colloquium organised by the Nigerian Merchant Navy Officers and Water Transport Senior Staff Association (NMNOWTSSA) in conjunction with the Maritime Workers Union of Nigeria (MWUN) in Lagos on Wednesday, the National President of the Nigerian Merchant Navy, Engr. Bob Yousou stressed that the issue of CoC global relevance has been a long battle that seafarers have been fighting, but unfortunately there haven't been much results over the years.
Yousou noted that this issue can only be tackled rightly if the federal government can put the right structures in Nigerian maritime institutions by providing adequate training vessels where the International Maritime Organization (IMO) can inspect and approve these institutions to be due for the issuance of 'Unlimited Certificates'.
He specifically suggested that the Federal government should sign bilateral agreements with more countries to enable the acceptability of Nigeria seafarers' certificates to board their vessels. He also opined that government should mandate every vessel or shipping companies operating in Nigeria to carry as least two Nigerian cadets on board for at least eight months. According to him, this will reduce the high rate of unemployed seafarers in the country.
He said: "The COC issue is not a new issue we started tackling from today. It has been long overdue. It is just a matter of putting the right structure in our Maritime Institution by having training vessels where IMO will come inspect and approve us to be due to have Unlimited Certificate. Most of the vessels are Cabotage vessels and we don't have access to work on those vessels with our certificates, because the flag state don't recognise our certificates.
"A serious government should make sure all the vessels coming into its waters should make sure they recognise our certificate. We're not even talking about the international CoC, let's talk about the NCV we have. We even have problems with the NCVs we have. When those cadets trained by NIMASA under the NSDP return, they return to work on NCV vessels. Many of them have not got their CoC. They only went there to get their academic qualifications. They have to come for their seatime but where are the vessels for the seatime?
"We are calling on the Federal Government and NIMASA to make sure we have bilateral agreements with more components so that when we come to work there, they will accept our certificates. They should also mandate any vessel in Nigeria to carry as least two cadets on board for about eight months or more. They should make it a mandatory requirement. If this is made a law, gradually the huge number of unemployed cadets will gradually reduce", Yousou concluded.
On his part, the President General of the Maritime Workers Union of Nigeria (MWUN), Comrade Adewale Adeyanju, noted that seafarers through their work, contribute to keeping the ship of the maritime industry revolving by rendering every day of their professional lives under tough and sometimes extremely dangerous circumstances.
While appreciating the efforts of seafarers in keeping the wheels of the world's economy, Adeyanju urged the Federal Government to consolidate its efforts by initiating and implementing processes and policies that would enable the upgrading of maritime institutions of training in order to enable them come to par with global standards. He further urged that the Government to enable many interested persons access to basic sea training and costs of acquiring medical certificate, endorsing of Certificate of Competency (CoC), Seafarers Identity Document (SID), amongst others.
Adeyanju reiterated that the MWUN will always have seafarers' interests at heart, adding that through its various interventions, the union has always been at the forefront of promoting the seafaring career of its members.
"We do this with a deep appreciation of the extraordinary services seafarers render every day of their professional lives, under tough and sometimes extremely dangerous circumstances. Seafarers and seafaring in Nigeria have come a long way, from a seemingly unknown point to now where it has come to be a vocation that is not only lucrative but also one of pride.
"On this note I wish to strongly urge the Federal Government to consolidate its noted efforts by initiating and implementing processes and policies that would enable the upgrading of our maritime institutions of training, to enable them to come to par with global standards, especially the training institutions like the Maritime Academy, Oron and Maritime University, Okerenkoko, Delta State. We believe this will curb the need for our indigenous seafarers to travel to Malaysia, Ghana, India, Singapore, etc to obtain STCW 95 and other such sundry sea-going certifications.
Also speaking, National President of the National Association of Master Mariners (NAMM), Captain Tajudeen Alao during his paper presentation titled: "Your Voyage-Then and Now, Share Your Journey", rehearsed past sweet-bitter experiences faced by seafarers on sea over the years.
Alao lamented that about 29 vessels which were acquired by the government for the development of seafaring activities in Nigeria in past were mismanaged by the government and unfortunately there is none to reckon with presently. He however called on the government to revitalise the economy and see to the welfare of seafarers by acquiring more vessels in the country.
Kindly like us on Facebook