According to the General Agreement on Tariffs and Trade (GATT), a free-trade area is an agreement among a group of two or more customs territories in which the duties and other restrictive regulations of commerce are eliminated on key provisions of the treaty.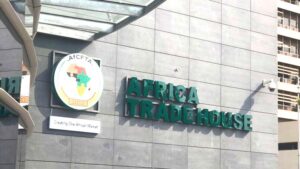 The African Continental Free Trade Area (AfCFTA) is expected to cover all 55 countries of over 1.2 billion people and a gross domestic product (GDP) in excess of USD 2.5 trillion. The scope of the Agreement covers trade in goods, services, investment, intellectual property rights and competition policy.
The African Union (AU) says that the African Continental Free Trade Area (AfCFTA) which took-off on January 1, 2021 will create the world's largest free trade area.
The AU also estimates that implementing AfCFTA will lead to around a 60% boost in intra-African trade by 2022.
According to research by the African Development Bank in 2014, only 16% of international trade by African countries takes place between African countries.
The Treaty provides that a State Party (a member state that has ratified or acceded to the AfCFTA) shall accord to products imported from other State Parties treatment no less favourable than that accorded to like domestic products of national origin, after the imported products have been cleared by customs. State Parties are to progressively eliminate import duties and charges. Special and differential treatment is allowed for State Parties at different levels of economic development.
And after months of hesitation leading to further consultations, President Muhammadu Buhari signed the landmark agreement at the African Union (AU) summit in Niger in July 2019.
Since the landmark signature, some stakeholders in Nigeria affirmed that the nation has a lot to gain from increasing access to its goods and services to a wider African market. But many of also feared increased regional integration would lead to unfair competition for jobs and the goods they produce.
With Nigeria signed-up, AfCFTA's dream of increasing intra-Africa trade, which currently lags behind the volume of trade the continent does with Europe, is now one step closer.
Now that AfCFTA can offer access to the enormous Nigerian market, they are in a much stronger position to negotiate with regional bodies in other parts of the world.
Expectedly, the Federal Government has urged Nigerians, particularly industrialists, to take advantage of inherent opportunities to promote made-in-Nigeria goods under the regime of the African Continental Free Trade Area (AfCFTA).
There is in place, a National Action Committee on implementation of the agreement in Nigeria. The committee has been holding sensitization campaign and stakeholders' engagement.
In the maritime industry, the committee led by Mr Francis Anatogu has met with a divergence of stakeholders, including, ship owners, freight forwarders, shippers and others. The engagement has been coordinated by Ms Funmi Folorunso.
We take very serious note of what the Minister of Industry, Trade and Investment; Mr Adeniyi Adebayo said concerning the need for Nigeria to participate actively in the multi-trillion dollar AfCFTA market.
He said: "The African Continental Free Trade Area Agreement will form a 3.4 trillion dollars economic bloc, which Nigeria cannot afford to be left out.
"We have worked tirelessly to ensure that Nigeria not only partake as a signatory in name, but become a major trade and economic power house, even more than we have been within the ECOWAS region."
With the recent outburst by the Nigeria Customs Service about alleged exclusion from the rule of origin verification of goods coming into Nigeria, then there is danger about the nation taking maximum advantage of its population in the market of AfCFTA.
The Comptroller General of Customs; Colonel Hameed Ali lamented that while Customs was excluded in the rules of origin in verification and certification of goods, chambers of commerce were certified to carry out such obligations.
"As at today, the 90 leaves of book that will enjoy the leverage of liberalisation of non-tariff has not been communicated to us and we expected that.
We agree with the Customs boss' position that chambers of commerce were not experts in the process.
Beyond our support for the Customs CG's lamentation is a larger issue of inclusion and exclusion, which is characteristics of Nigeria's policy implementation.
We also agree that, it is wrong and unacceptable to exclude the Nigerian Customs Service from the all-important duty of applying the rules of origin in verification and certification of goods coming into the country with the commencement of AfCFTA.
While we note also that Nigeria is starting late, the observations that were brought forward by freight forwarders and shippers in one of the interactions with National Action Committee on the implementation of AfCFTA is also very noteworthy.
Nigeria may not be able to compete favourably if her ports still run the way they currently do. Cargo dwell time is unacceptably too long, there is high level of corruption, the roads leading into the ports are in a bad shape.
The issues that we identified above collectively hike the cost of doing business in the ports, and they ultimately increase final cost of goods manufactured in Nigeria.
The stakeholders had also urged that the Nigerian Ports Authority should ensure efficiency and strict compliance to its Truck Call up System, even as they added that, there should be the incorporation of technology and innovation into the port system to reduce the level of corruption, unnecessary delays and other forms of illegality.
These are laudable requests from the stakeholders and we can only reiterate that, for Nigeria to reap maximum benefits from the AfCFTA, the Nigerian port system should be more effectively run to reduce cost of cargo clearance and delivery.
Beyond the above is the key issue of non-ratification of some of the six mandatory protocols that are needed for all participatory countries under the terms and conditions.
From all indications, Nigeria is yet to operationalize the AfCFTA in terms of giving value by trading under AfCFTA terms and conditions, we have not done one single trade, and the infrastructure to operationalize both the legal and market infrastructure is still not in place.
It is shocking that, eight months into the AfCFTA, Nigeria is still at the stage of sensitization, many businesses are still not clear as to what all the AfCFTA is all about, there is no clear information as to what products will attract free duty, what products is regarded as sensitive products, which will still continue to retain duty.
All said, the AfCFTA truly presents Nigeria with an exceptional lifeline to reboot her economy, by making use of the country's 44 Free Trade Zone zones.
Kindly like us on Facebook