· They Didn't Call Me For Any Contract Signing -Investor
Oluyinka Onigbinde
Nine months after the Nigerian Maritime Administration and Safety Agency (NIMASA) hosted a ceremony to flag off the removal of 14 critical wrecks from Tin Can to Badagry waters in Lagos; an investigation by Shipping Position Daily has revealed that the agency has not removed any wrecks despite the high expectation that greeted the ceremony.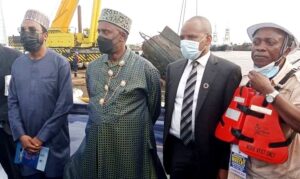 Recall that NIMASA had in September 2021, flagged off the first phase of the National Wreck Removal Exercise, which was to signal the beginning of ridding Nigerian waters of over 3000 identified wrecks and derelicts.
Our correspondent learnt that there are about 200 wrecks on the Lagos waterways alone, with each of them weighing not less than 5,000 tons, making about 200,000 tons of iron and steel lying at the bottom of the waterways with a value worth over 30 Billion
An obviously impressed then-Minister of Transportation, Rotimi Amaechi, who led other dignitaries to the ceremony, had said the exercise will open up the maritime Industry to huge investment opportunities.
He had lauded the initiative of the Director-General of NIMASA; Dr Bashir Jamoh whom he said mooted the idea of clearing the wrecks from Nigerian waters.
However, our correspondent gathered that nine months after the high-profile ceremony, NIMASA is yet to remove a single wreck, this is even as critical stakeholders, especially ship owners and master mariners have alleged that the flag-off ceremony is yet another phantom exercise.
In a telephone chat with one of our correspondents, Mr. Nasir Malik the Managing Director of Raji Industries, who was present at the flag-off ceremony and who had expressed readiness to buy the wrecks from NIMASA and use them for raw materials for building infrastructures, expressed doubts about the exercise.
Malik had at the flag-off ceremony stated that: "We buy wrecks and old ships and we recycle them and use them to construct other infrastructures like iron doors, pipes which are used in building constructions"
"There are about 200 wrecks on the Lagos waterways, each of them is about 5,000 tons, making about 200,000tons of iron and steel lying at the bottom of the waterways with a value of about N30billion".
"If Nigeria would allow, we would like to buy some of the wrecks to recycle and use it internally for Nigerian industries" he had said.
But, when contacted by one of our correspondents, Malik denied knowledge of removal, sale or purchase of any wrecks from Lagos waters by NIMASA.
He said he was not sure if NIMASA had removed the wrecks, even as he said that his company was not given any contract and as such cannot ascertain that the wrecks have been removed.
"I am not sure, I was not given any contract, so I can speak on that, I don't know if they have removed it" he said.
In a chat with our correspondent, a ship owner; Capt Deji Abegunde, described the flag-off ceremony on wreck removal as a means of siphoning money, he alleged that this is not the first time the industry will be witnessing such a flag-off, after which he said nothing will be done.
"I think the flag-off is just a means to siphon money, at a point the money will just disappear, I believe whatever NIMASA is doing now is still one of those things", he said.
"On wreck removal, if you ask me, I don't think we have the capacity to remove those wrecks as at today doubt, and I don't think it is illegal to remove those wrecks and convert whatever they remove, because I believe all the ship owners must have been alerted, but that's just the way they make their money, next year again, they will put another money there; that is what is going on, it's still the same corruption that is ravaging up everything in Nigeria" he said.
On his part, a ship owner; Capt Taiwo Akinpelumi said they have over the years been hearing about wreck removal, but he said up to date, they are yet to witness any wreck removal.
"We've been hearing about wreck removal, but sincerely up till now we have not heard anything about wreck removal.
Kindly like us on Facebook