By Joshua Yousouph
The National Inland Waterways Authority (NIWA) has tasked the Waterfront Boat Owners and Transporters Association of Nigeria (WABOTAN) to embrace sustainable development of water transportation through by ensuring safety and using technological trends.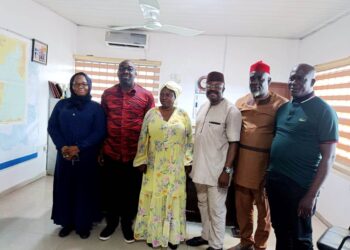 While addressing some executives of the association who paid a courtesy visit to NIWA in Lagos on Tuesday, the Area Manager, Engineer Sarat Braimah noted that every sector in the country is currently undergoing developmental shifts, stressing that water transportation should not be left out.
She charged the association to change the narrative of inland waterways transportation in Nigeria by purchasing and using modern boats.
She decried that NIWA has been having issues with some associations which attempt to show that they are more powerful than the regulators. She however enjoined the new association to show integrity by ensuring their members are in full compliance to all safety measures on the waterways.
Braimah assured that NIWA is willing to lend its support by synerging with the association's legal activities and legitimate businesses.
She confirmed that: "I have been having issues with the associations. They seem too powerful and don't even want the regulators to work. We expect WABOTAN to improve waterways navigation, and not worsen it. I know the President of WABOTAN, Babatope Fajemirokun, and I know his passion for waterways development. I hope other members of WABOTAN share this passion for improvement in waterways development".
She told the group that, "waterways operations is developing every year. That's why I keep telling operators to embrace technology. Two-Stroke engine is no longer fashionable for boat operations globally, and we won't want to have people promoting such on our waterways. It is important that as a new association, WABOTAN ensures the use of modern boats in the carriage of passengers across the waterways".
Speaking earlier, President of WABOTAN, Babatope Fajemirokun informed that the members of the association are boat owners who are ready to cooperate with all inland waterways transportation regulations.
Fajemirokun noted that the objectives of the association include ensuring safety and security of lives and properties, training and re-training of members to develop and build manpower for the water transport sector, creating a database and assist NIWA in collecting revenue amongst others.
He also pledged the association's support and cooperation to the National Inland Waterways Authority and all safety regulations on the waterways.
He told the NIWA manager that, "as you are looking at us, we are all boat owners. We are ready to work with NIWA in all areas to ensure safety and security on our waterways. Our objectives include the safety and security on our waterways. We will also be training and re-training our members to develop and build manpower for the water transportation sector. We will also be creating a database and assist NIWA in collecting revenue for the government".
"We want to use this opportunity to correct some anomalies being done on our waterways and change the narrative in water transportation" Fajemirokun noted.
Also speaking the National Public Relations Officer of the association, Chief Raymond Gold said the association has members across the littoral states of Nigeria with over 250 membership. He stressed that membership into association is not limited to boat operators alone but also extends to technical artisans, boat builders and also manufacturers of boat engines.
Gold promised that the association will ensure the modernisation of water transportation through the development of technological innovations such as e-hailing on waterways amongst others.
"Our membership strength is over 250 which cuts across the federation, with presence in all littoral states. We just got incorporated and have a presence in Rivers State, Ondo State, Bayelsa State and many other littoral states", he disclosed.
Kindly like us on Facebook/twitter