The Group Managing Director of the Nigerian National Petroleum Company (NNPC) Limited, Mallam Mele Kyari, has said banks and other lenders' funding apathy for oil and other fossil fuel projects in Nigeria has degenerated.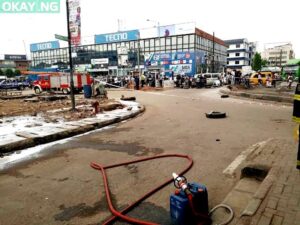 Kyari declared this at the Annual Conference of the Association of Energy Correspondent of Nigeria (NAEC) held in Lagos, adding that President Muhammadu Buhari has requested for energy justice and other plan B expected to cushion the effect of pains the apathy may be inflicting on the country energy transition.
Kyari who joined the event from Scotland through Zoom, stated that Nigeria is still energy deficient, stating that the country still lack infrastructure for the energy switch-over.
He said; "As a country, we are energy deficient as you can see in electricity. We still clearly generate less than our demand.
"For us today in Nigeria, we do not have those resources for that switch-over to cleaner energy presently.
"Mr. President is so desirous of the switch-over to cleaner alternative energy, he has demanded from us energy justice to all.
"In this regards, backbone infrastructure project OB3 is still ongoing. The expansion and completion of the project are to be within the specified period of 24 months."
On the challenge facing the industry, Kyari said: "The banks, the financial sector, have been very reluctant in financing fossil fuel and energy transition for Nigeria for obvious reasons.
Despite this, we will do everything possible to join the energy transition change."
Other speakers at the forum including Professor of Petroleum Economics, Wumi Iledare; President Nigeria Association of Petroleum Explorationists (NAPE), Patricia Ochogbu; Managing Director, Degeconeck Nigeria Limited, Biodun Adesanya, echoed Kyari's statement on banks' apathy for fossil fuel funding.
Going forward, Patricia Ochogbu, the NAPE President, advocated for Energy Bank, a financial institution to be preoccupied with funding for the energy sector.
Maintaining that the oil and gas investments are capital intensive, Ochogbu stated that the exposure to these investments has proven to be a burden to the commercial banks in Nigeria.
"The investments in prospecting for oil is capital intensive with high risk. As a group, NAPE, the association of explorationists in Nigeria, has acknowledged dwindling investment in Exploration. And, so we have called for the establishment of the energy bank, which will take full charge of the funding of projects in the industry," she said.
Kindly like us on Facebook