Oluyinka Onigbinde
The Nigerian Ports Authority (NPA) has reinstated its plan to boost export and import trade in the country to enhance the nation's revenue.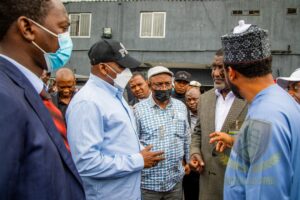 Speaking on Friday,during a facility tour of terminal in the eastern port, NPA Managing Director, Mohammed Bello Koko said there is plenty trailblazing technology solutions to digitalise, decongest and decarbonise today's ocean trade and unlock the full potential of a well-oiled global import and export logistics chain which Nigeria is playing crucial a role.
He said the NPA understands the need to work with the Federal Government to ensure the diversification of the economy, which was why the export processing terminals were licensed.
He said, "when these terminals become operational, they will reduce the traffic on the road. The movement of these export goods comes with a cost that is being borne by exporters and it makes Nigerian exports more expensive. But we believe that the export processing terminals will help," he said.
The NPA boss added that the government is very serious about the need to increase traffic at the eastern ports, so as to decongest the Lagos ports
He bemoaned the situation where a ship that carries thousands of containers would be asked to wait for close to a week before being given a berth because of the congestion at the port.
The Managing Director also frowned at a situation where enormous vessels carrying goods worth billions of Naira to the country will get stuck for days based on dilapidated port infrastructure that can be fixed by terminal operators to boost the ease of doing business policy of the Federal Government.
He noted that from the congested Lagos ports to other eastern ports, all the terminals are not working maximally to boost government revenue as expected.
He said shipping containers, the modest workhorse that once galvanised job creations and revenue generation through export and import trades, is now at the centre of the storm.
He assured that "the Federal Government is ready to support any terminal that is export-driven and that is why it is important that the collapsed berth are fixed
"The commitment BUA gave is September and that is why we gave you September 10th as deadline to begin the repairs," Bello-Koko said.
On the issue of security to boost import and export trade, he said: "We are working with the Nigerian Navy to improve security on our Waterways and the Nigerian Maritime Administration and Safety Agency (NIMASA) has deployed assets under the Deep Blue Project that would be working with the Nigerian Navy to improve security along the waterways".
Kindly like us on Facebook/twitter