The Nigerian Railway Corporation (NRC) has suspended its operations along the Abuja- Kaduna corridor after bandits attacked its line.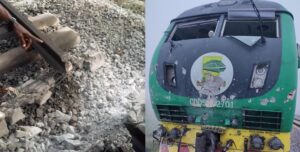 Recall that the managing director, NRC, Fidet Okhiria had confirmed that bandits detonated explosives on the tracks severing the rail line from another somewhere between Dutse and Rijana.
According to the NRC Boss, "Yes, there was an explosive on our rail track somewhere around Rijana and Dutse last night, and this damaged the tracks.
"Efforts are currently ongoing to ensure that the train services along the Kaduna-Abuja route are fully restored,"
Also confirming the attack, a former Kaduna Central Senator, Shehu Sani revealed that the train he boarded ran into a portion damaged by explosives used in attacking a Kaduna-Abuja train, adding that he narrowly escaped death.
The former lawmaker alleged that terrorists had attacked a Kaduna-Abuja train on Wednesday with explosives.
However, due to the incident, the corporation said it's suspending operations until further notice.
In a statement signed by the management, the corporation apologised to passengers for inconveniences the suspension might caused them, adding that measures were in place to resume the services very soon.
"The board and management of the NRC hereby inform the general public, particularly our valued passengers on Abuja-Kaduna Train Service that there was explosion on the rail track.
"This affected the fuel tank of the locomotive on Abuja to Kaduna last train (AK10) on Oct. 20.
"However, the situation has been brought under control by a relief locomotive that towed the train to Rigasa Station, Kaduna State.
"The affected locomotive has been sent to the workshop for assessment and repairs. We are also pleased to announce that there were no reported casualties or injuries to either the passengers or the train crew.
"The NRC intends to resume train services soonest, after appropriate measures, checks and maintenance are carried out", the statement said.
Kindly like us on Facebook