Mr Emmanuel Maiguwa is a maritime security expert and also the President of Alumni Association of the Maritime Academy of Nigeria Oron. In this first part of an interview with Shipping Position Daily team, he speaks on issues bordering on maritime safety and security.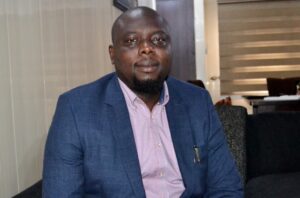 What is your understanding of the current state of the nation's maritime security?
I believe you are talking generally about safety and security. This is common to everyone in the industry both locally and internationally. The one that takes priority at the moment is security. That's is not to say that there are no safety issues with respect to protecting the environment and the legitimate activities of shipping companies in the environment. But what has taken prominence right now is security and that is because this involves a significant number of kidnappings in 2020. Records show about 130 kidnappings in the Gulf of Guinea and these numbers scare everyone because it affects seafarers. We have to understand the importance of seafarers here; whatever affects the seafarers has the tendency to distort the entire circle. It has now become a personal issue for seafarers. They are worried. They don't want to go to these environments because their families suffer whenever there is a kidnap; families are traumatized. Regardless of what security measures you put in place, if I don't feel comfortable going into any environment, I would not go into the environment and if I don't go to the environment where I am critically needed, then we will find out that the entire world will suffer. Most importantly, I want us to look at the impact that this insecurity has on seafarers, seafarers are being recognized as key workers and number one workers and truly they are. If shipping moves 90 percent of all cargoes to all over the world, then those who are responsible for moving these cargoes should be taken care of, in terms of their safety and security before you get into the welfare and all that which can be addressed strategically.
How safe or otherwise are our waters?
Two things; in reality and in perception. The issue of maritime crime is that if you have two kidnappings in a particular region, then the perception becomes very significant unlike the situation in the land. This is because the land is relatively controlled while the sea is not. It is very difficult to police the sea. If you have to deploy assets officially to police the sea, the cost is highly significant. So let's not look at it from the number of incidents, but let's look at it from the perception which is actually reflective of the entire situation. So I will say our waters are dangerous. Our waters are dangerous in a way that even our locals don't feel comfortable being on our waters, the fishing companies are not able to freely relax in our waters. We can see that the leisure boats which we used to go out with in Lagos are not relatively safe anymore. We use to see a couple of people going out to fish, but they are no longer able to do that. That is in terms of perception which is as a recorded incident. You can say that our waters are not safe.
What are those threats that we have?
One of the most important threats is that of kidnappings. When these things started at the beginning we had records of cargoes being stolen and for that to happen successfully, we would begin to look at organized crimes and the government have structures in place to easily checkmate or combat organized crimes. Since these are being planned from the shore, it has to be consummated at the shore. I want to believe that it became a little bit difficult for the criminals to continue in the aspect of taking cargo when you can easily hold the crew hostage and keep them somewhere for a ransom.
How can these threats be addressed?
First thing first, which is identification. There are issues you have to resolve first. There are instruments already on ground meant for different purposes, one of which is the AIS, the Class A and B. Class A is for vessels that go deep sea and Class B is for vessels that trade within the coast. Now if you implement that, then automatically you are now saying vessels without AIS cannot go outside the break waters. The challenge with an environment that cannot identify assets is that even when I physically see the boat that attacked me and its steams away to a particular location, if you come to that location and find 10 similar boats and I am able to say 'this is the one that attacked me', I really do not have evidence to prosecute that boat, because he is going to tell me he has never moved. So it is going to be my word against his word. Unless there is evidence to show the court, you would not be able to prosecute or hold that boat responsible because they are about 10. Let's take Liverpool for instance, a boat attacks you and you go there and you say this boat attacked me. How will you be able to deal with that situation?
Isn't this a bit complex?
So, NIWA has to come into the game here because the issue of AIS requires an MMSI number; whether it is Class A or B and NIMASA is the authority that issues that. So NIWA will have to come into partnership with NIMASA to be able to ensure that all boats that move within these areas are recognized. Even the construction of boats, do we know who build boats? Do we even give them numbers? Just like we have our cars. We have chassis numbers on cars where you can trace them from and who built them. So when you don't identify boats in our waters, then we have a problem.
The second thing you would want to go into is the identification of persons and access. People should not be able to go straight into the sea in and out because it's an open area. No, it should be controlled. If a boat is at sea, the Nigerian Navy, NIMASA and every security agency that has access to scan these boats from their platform should be able to know that this boat belongs to Mr. Emmanuel. She was built by 'Sesan Shipyard'. She is registered in Nigeria, no matter how small it is and then go further to say she left the channel to Lagos anchorage because her manifest shows she is going MT Moses at the Lagos Anchorage and she is carrying these number of crew and passengers, because you have logged them. Now if the Navy sees her not going towards MT Moses, going somewhere else, then there is a probable cause for the Navy to put an eye, because it is a red flag already. You will want to know. So that way you can actually police the waters with less resources by just sitting in one place. You don't have to deploy assets moving round, burning bunkers causing pollution to the environment, just because you want to look at one tiny thing you could have seen in the comfort of your office. So this identification system is step one, which I believe if we do in Nigeria, it significantly will reduce the reported cases which some of them will contest and say they are false alarms. The seafarers may say they are not false alarms and then you don't have the fact to check to be able to see that this is actually a false alarm.
We have the Deep Blue Project that NIMASA is pursuing so vigorously, do you think it's enough to tackle all these problems?
People have opinions and experiences. These things come into play when we make decisions. Perhaps there are certain experiences that people have had that they believe in the Deep Blue Project so much which may be limited to those experiences. But it will be interesting for us to see how the Deep Blue Project will work. But coming from my experience, I would say that generally if I would ask you a question rhetorically, saying if you have a pirate who requires just 20,000 dollars from assets to operations, to launch an attack but your response is a 50 million dollar asset. Yes, you can stop it with that. The Deep Blue assets can do a lot in stopping the pirates but I am of the opinion that let us not lose sight of other things that we need to do to complement the Deep Blue assets. The sea is very vast. If these assets go out, how are they going to fish out the criminals from the innocent ones? That is a big question. In terms of responding to an attack, I see the Deep Blue assets, that is, the combination of the aerial, sea and land infrastructure as a perfect combination to interject. But when it comes to preventive, we need something to be added to the Deep Blue assets.
The Deep Blue Project has come into play. It is a very good investment in terms of providing assets to counter security threats. But let us not get carried away and forget that there are certain things that we need to do to make the Deep Blue assets very effective. The international community such as Denmark is sending ships but when they come into the Gulf of Guinea, they will need the cooperation of the States to be able to identify assets so that they can pick out the red flags. In our waters in Lagos, if there are boats or vessels sitting in our anchorage that serve as a mother vessel for pirates, how do we know? How do we provide the information to the Deep Blue assets? How do we prevent that from happening? That is the only way I think both the Deep Blue assets and the assets that are being sent by countries like Denmark and other European countries will come and help. That would from the basis for providing a platform for their assets to be successful in West Africa. They are not going to come here and be roaming around the sea. Maybe 20 or 30 nautical miles away an attack is happening somewhere. For me I will say, I don't want to get into a situation where I will have to start negotiating with the pirate. It takes the pirate few minutes to get unto the vessel and then you'll have a hostage situation. Then the next thing you will try to do with these assets is to try to start negotiation. At that point, the harm has been done to the seafarers it doesn't matter what you do. But what you can do to the seafarers is to prevent that from happening in the first place. That is the only way you can help the seafarers. I'm not going to be comfortable being in an environment where choppers and military boats are flying all the time. It is not good for the sight of a seafarer. Even if that place has recorded zero attacks in a year, As a seafarer, I will not be comfortable being in that kind of environment. It means the issue has not been addressed.
We need to find a situation whereby a seafarer will go to a place and see no military patrol vessel but of course enforcement vessels to enforce maritime regulations. He was to see people move freely or be able to move out of his ship to a restaurant or a bar, eat something different from what they were eating in the ship, mingle with the locals and come back to their vessel. That helps the seafarer gets his work done better. But if you tie him up in a place and there is so much regulations and he can't move and do some other things, he will not want to go back to that environment unless he has to. You will have to understand that when that is happening then shipping suffers. At the end of the day, it is shipping that suffers whether the ship-owner or the country puts the money to make sure that they provide a military form of security.
*To be concluded next week