In a desperate bid to intimidate our media firm, the immediate past President of the National Association of Government Approved Freight Forwarders (NAGAFF); Mr Increase Uche has threatened legal action against First Mediacon Network Limited; publishers of Shipping Position Daily newspaper.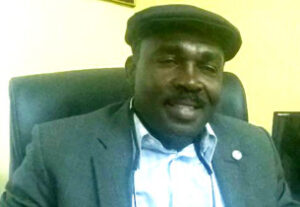 In a letter dated November 1, 2021 that was sent to our organisation and written on behalf of Mr Uche by Maritime &Commercial Law Firm, the ex-NAGAFF President referenced the story that was published in our Online platform; Shipping Position Online of October 26, 2021, with the headline: "Former NAGAFF President Threatens To Kidnap, Beat Shipping Position Daily Correspondent Over Report".
In the story, the immediate past President of National Association of Government Approved Freight Forwarders (NAGAFF); Mr Increase Uche, was reported to have threatened to deal with a Shipping Position Daily correspondent; Mr Oluyinka Onigbinde over a report that was earlier published in which he was alleged to have betrayed freight forwarders at a meeting at the National Assembly in Abuja.
Recall that the Vice President of the Association of Nigeria Licensed Customs Agents (ANLCA) Dr. Kayode Farinto, had at a press briefing, alleged that the former President of NAGAFF betrayed other freight forwarding practitioners for pecuniary gains from the Nigeria Customs Service (NCS), by stating that freight forwarders are known for falsifying documents.
As ethics of journalism demand, Shipping Position Daily did give Mr. Increase Uche, benefit of a fair hearing by getting his reaction to the allegation about what actually transpired at the National Assembly in Abuja.
Following the report which was published on Monday October 26, and which generated varying industry stakeholders' reactions, the former NAGAFF President consequently threatened to deal with and beat up our correspondent, this is even as he hurled several abuses on our correspondent and even abused his father and resorted to unprintable name-calling.
Apparently referring to the allegation from the ANLCA Vice President, the erstwhile NAGAFF President told our correspondent that: "I saw your report and you decided to still favour your brother Kayode Farinto, I know how to deal with you and I will beat you up".
The verbal assault and threats to our correspondent was also published in the Online Edition. Shipping Position Daily of October 26, 2021. The news story in question made brief reference to the insults and threat by Mr Uche. Because the conversation, which was initiated by him was fully recorded, he was also quoted in part.
But, in the letter from the law firm which was signed its Managing Partner; Mr Osuala Nwagbara, the former NAGAFF President; Mr Uche demanded a retraction of the story and an apology, failing which he would be demanding N500Million as damages.
Apparently unaware that his full conversation with our correspondent was recorded, Mr Uche misled his counsel.
In the letter, the law firm claimed that: "Our client has never been involved in a fisticuff with anyone and did not threaten to deal with or beat-up Mr Oluyinka Onigbinde"
Mr Uche demanded that the publication should be retracted within seven days.
"Please note that, in the event of your failure to comply with our client's demand, we have our client's instruction to file a suit against your organisation and claim the sum of N500,000,000 (Five Hundred Million Naira) in damages for defamation.
However, in a brief reaction to the request, the Chief Executive Officer of First Mediacon Network Limited; publishers of Shipping Position titles; Mr Sesan Onileimo said, the organisation stands by its story and is fully prepared and is looking forward to meeting Mr Increase Uche in court.
He said: "Increase Uche is apparently unaware or he chose to ignore the fact that modern day journalism has the advantage of gadgets that record telephone conversations automatically. Allegation of libel is a serious one that any reputable media organisation like ours will not joke with."
"We have not only briefed our lawyers, but we are eagerly waiting for the suit, so that the true personality of the deposed NAGAFF President would be unveiled with evidences".
Kindly like us on Facebook