Korea's Daewoo Shipbuilding and Marine Engineering (DSME) canceled an Arc7 Ice class LNG carrier order after an installment was left unpaid by the shipowner, Sovcomflot. This vessel was the first of a three-vessel order placed by the shipowner at DSME. While the orders for the other two ships remain in place, the payment deadlines for these two vessels are also approaching.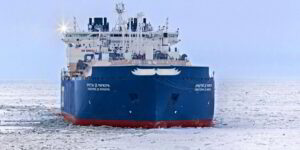 The order for the commission of these vessels was placed in October 2020. Each Arc7 LNG carrier has a capacity of 172,410 m3. These new vessels were supposed to be chartered long-term by Novatek and its subsidiary Arctic LNG 2, the 19.8 mn ton/ yr liquefaction facility. These three vessels constituted an overall $800 mn order, and the canceled ship is valued at $270 mn. They were supposed to be delivered in February, April, and July 2023. Sovcomflot has placed an order for three additional vessels with another Korean Shipbuilder, Hyundai Samho Heavy Industries, which stated that it is continuing to construct the vessels ordered from its yard.
Sovcomflot has been the target of sanctions from the UK, Canada, and the US. The US has barred the company from raising any capital in American markets, which has led to many financial troubles for the company. On May 5th, 2022, Lloyds list reported that Sovcomflot intended to sell almost a third of its fleet to pay off the debt with western banks. Sovcomflot has called it a gross exaggeration. For now, the company has confirmed the sale of 14 vessels, but Lloyd's list speculates that the original number of vessels sold is around 23.
Kindly like us on Facebook