The world's first hydrogen powered tug, HYDROTUG, was launched from the Armón Shipyard in Navia, Spain, on May 16th. After the completion of the remaining construction and the passing of the necessary trials which are scheduled for late 2022, the port of Antwerp-Bruges and CMB.TECH is to welcome this vessel in the first quarter of 2023. This will integrate exceptionally well with the sustainability goals of the port of Antwerp-Bruges, which involve starting the use of green hydrogen by 2028 and the construction of a hydrogen pipeline between the two ports of Antwerp and Bruges and the European hinterland.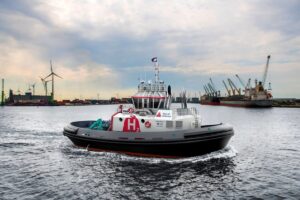 The BeHydro engines powering the tug are the product of a joint venture between CMB.TECH and Anglo Belgian Corporation (ABC). HYDROTUG consists of two BeHydro V12 dual fuel medium speed engines that can use hydrogen and conventional fuel. Each of these engines provides around 2 MW of power and reduces the CO2 emission by 85% compared to a traditional engine. After treatment, the emissions are compatible with the tier III requirements of the IMO and the EU stage V emission standards. The HYDROTUG can store 415 kg of hydrogen in the 6 stillages installed on deck.
Roy Campe, the CTO of CMB.TECH speaking on behalf of the company, stated that they were delighted to have the port of Antwerp-Bruges as the first to order the hydrogen-powered vessel. He further stated that the technology had gained approval from Lloyd's Register, and they were ready to approach the world market with 10,000 such tugs. Thereby significantly reducing emissions and improving the air quality around ports.
Kindly like us on Facebook