The Philippine coastguard said on Monday it had warned and followed a Chinese warship out of waters within the country's exclusive economic zone in the disputed South China Sea.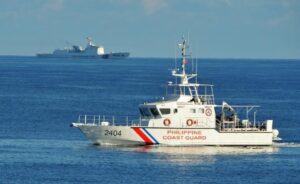 The incident happened on July 13, off Marie Louise Bank, 147 nautical miles from the coast of El Nido town in the Philippines' western province of Palawan, the coastguard said.
The Chinese ship, which apparently identified as "Chinese Navy Warship 189'', moved away from Marie Louise Bank after repeated challenges by the coastguard vessel BRP Cabra.
It was recalled that on June 30, the coastguard drove five Chinese ships and two Vietnamese vessels away from around the same area.
The Philippines has been stepping up patrols in the South China Sea amid increasing presence of Chinese ships in the disputed area.
Since March, nearly 300 Chinese ships were spotted in various parts of the South China Sea, including areas that were claimed by the Philippines and within the country's exclusive economic zone.
China claimed almost the entire South China Sea as its territory and has built artificial islands with military-capable facilities in the area.
Aside from the Philippines, Vietnam, Malaysia, Brunei and Taiwan also have overlapping claims to the area, which was believed to be rich in natural resources.
Kindly like us on Facebook