The term Crane Barge is constituted of two words: Crane and Barge. So, it can be well understood that crane barges are specialised vessels with a crane or a cranage system attached to their deck used for loading-unloading and lifting operations.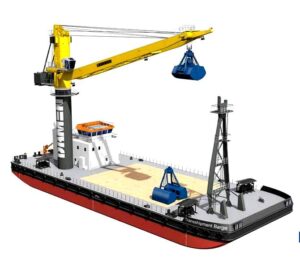 Now, while several cargo vessels have deck cranes, a crane barge is a vessel that is dedicated only to heavy-duty cranage operations and is not used for any other purpose. Mostly they are self-propelled and have the capability to venture into the high seas.
Thus, for all practical purposes, a crane barge can be considered as a floating lifting system for operations in the sea akin to the ones used for construction works on the ground. The concept of crane barge is not new and can be traced back to as early as the 14th century as lifting operations for construction in the sea have been there for over centuries.
Crane barges can be used for a wide range of activities like:
· All kinds of activities involved in offshore construction, installation, and repair work.
· Operations in rivers and canals. Piling is one of the common works that take place in river banks and canals. This involves driving filling materials known as piles for bank retention and reinforcement. Other operations involve installing bank protection materials like nicospan and also constructing embankments.
· Carrying out dredging operations in waterways.
· Installing pipework, cabling and other underground or underwater installations.
· Dismantling of civil structures in coasts, rivers, or in shallow water close to the shore.
· Salvaging operations of vessels grounded, damaged, or sunk.
Construction And Types Of Crane Barges
For all practical purposes, a crane barge has a simple hull form and has an open deck platform on which the crane or cranes are mounted.
From a design point of view, the crane barges are of the following types and configurations:
Simple cranes: They are flat hull-form barges with one or more simple lifting cranes installed. Larger configurations can lift loads in the order of 1000 to 2000 tonnes or sometimes more. These cranes can either be fixed or rotated.
Derrick Barges: They operate on a fully rotating crane system that is capable of lifting a very high modulus of loads. These are mainly used for offshore construction and repair work.
Smaller derrick barges have a lifting capacity of 50 to 500 tonnes whereas larger ones can have a capacity of over 1000 to 1500 tones.
Modern constructions of derrick barges have lifting capacities increased over time with sometimes the total capacity comprised of two or more cranes exceeding 10000 tones.
For all practical purposes, the derrick or derricks are located forward of the stern at a distance of about 20 to 25% of the length of the barge forward of the stern. The overall width of the barge should be such that the structural load distribution is uniform during the operation of the crane.
One of the problems often encountered by the derrick barge is the tendency of listing. So, often for the same reason, a counterweight is often placed to keep the barge in balance during no-load or partial load conditions.
During operations, the list can be further counteracted with the help of swing engines. Depending on the size and the lifting capacity of the derrick, there can be two to three swing engines installed.
The derrick barges, apart from their inherent capability to lift heavy loads, are also advantageous in terms of their flexibility and reach in any direction.
Sheerlegs: The sheerleg cranes consist of an A-Frame made up of tubular or truss-like structural members that are capable of lifting heavy loads. However, they are incapable of rotating. Sheer leg cranes come in a wide range of capabilities from 50 tones to as much as 10000 tones.
Amongst sheerleg crane barges, the larger ones are self-propelled while the smaller ones are often dumb and need to be towed from place to place. The propulsion system in sheerlegs is often on the deck or in outboard engine propellers.
During operation, the sheerleg barge positions itself in a favourable point of lifting lifts the load, and the sheerlegs adjust their positions to maintain equilibrium after the load is lifted. The deck engines of the sheerleg crane barges should be capable to counter various kinds of sea states that may bring about motions in all six degrees of freedom.
Heavy lift Crane Barges: These crane barges are used for lifting very high loads, primarily for offshore construction and installations. They are mainly of twin-hull configurations and the lifting device or crane rests on both the hulls with a symmetrical position. So, the load is lifted from in between.
The giant crane, which forms an interlocking arch-like structure between the two supporting hulls, is fixed and can extend up to a reasonable height to cater for lifting larger sized loads. These crane barges are often operated by heavy self-propulsion mechanisms or are towed by a number of tugs.
Kindly like us on Facebook