The menace of drug trafficking through the seas into the ports has been an issue globally; Nigeria inclusive. There are regular reports of seizures of large quantities of drugs such as cocaine, tramadol and others at seaports in Nigeria, especially in Lagos.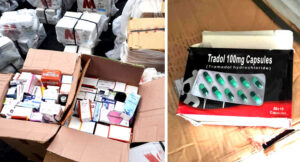 The increase in shipping operations, coupled with large container ships doubling in size in the past couple of years has provided an attractive mode of transport for drug traffickers.
According to a United Nations Office on Drugs and Crime (UNODC) report, between January 2017 and April 2020 88% of cocaine, 54% of cannabis and 37% of amphetamines were transported by sea.
Without exemption, cargo ships are preferred because they provide the safest options for drug traffickers. These vessels are the cheapest mode of transport because around 90% of global trade is seaborne. Drug traffickers conceal the drugs among other products, making them almost impossible to detect.
A popular tactic is to hide drugs between genuine shipments. Evidences abound about how such seizures are discovered by eagle-eyed enforcement officers at the ports in Lagos.
Drug couriers also understand that, there is less likelihood that all containers coming in on a ship will be searched. From available information, due to the sheer volume of transported goods, and because port operators are under pressure to process huge volume of cargo in short spaces of time, an average of around one in 10 containers is subjected to a search.
Our worry as a maritime a media organisation is the fact that Nigerian seaports have become notorious for illicit drug importation. This is a fact that the National Drug Law Enforcement Agency (NDLEA) has buttressed severally.
Shipping Position Daily investigations have also given credence to the fact that Lagos port is now a haven for hard drugs and also tops the lists of destination points for hard drugs in the country.
The Area Commander, Apapa Port Special Area; Mr Bashir Gadzama, explained that drug comes in big quantities through the seaports because there are bigger opportunities for concealment of drugs in large quantities in goods shipped to the seaports.
Also, confirming the United Nations Office on Drugs and Crime, the NDLEA top officer asaid that there is so much opportunity in the concealment of goods that are being shipped through the ports.
According to him, if a vessel is suspected to be carrying drugs, it can take one month to thoroughly search the ship. "So there is a logical conclusion that there is bigger opportunity for concealment in the goods shipped through the seaports, so that definitely could have given rise to the increase", he had disclosed during a conversation with one of our correspondents.
From investigations, the key stakeholders involved in drug importation and trafficking range from bonded terminal owners/operators, shipping lines and agencies, freight forwarders, port and dock workers as well as other critical stakeholders in the sector.
Equally worrisome is the fact that drug couriers also use the waterways to freight the illicit substances into the country.
For instance, the National Drug Law Enforcement Agency (NDLEA) last Wednesday, stated that a total of 4,349.25 kilogrammes of assorted drugs were seized in the Lagos inland waterways alone between January to May 2022.
Similarly, the Western Marine Command of the Nigeria Customs Service said between February and May 202, it seized 32 sacks containing 2,520 pieces of Cannabis sativa, weighing 1,437 kilogrammes with a street value of N168 million on a wooden boat along Lagos waterways.
It is no longer news that apart from the imported drugs being freighted out of the ports to different parts of the country, some of these drugs are used by individuals within the periphery of the ports.
This is underscored by the large number of hawkers and peddlers around the port environ and the huge number of hawkers and users in communities within and around Apapa.
It is our opinion that the way to go in the battle against drug importation is information technology (IT). Digitalisation is the way to go. It improves the efficiency and effectiveness of port operations while increasing security and resilience against drug traffickers.
Digitalisation will no doubt, lead to greater cooperation between those involved in port operations. This includes streamlining logistics and shipping processes.
We are not unaware of the high cost of digitalisation, but drug business has become very sophisticated that mere use of sniffer drugs and randomly picking containers for 100 percent examination won't likely go a long way if the NDLEA wants to step up its game.
One technology has been involved, all that is needed for the NDLEA is to rev-up its education and industry engagement.
The high usage of drugs around the ports and within the Apapa community is an indication that a lot still needs to be done. The calibre of people who patronize those who sell hard drugs within Apapa underscores the fact that the scourge is rising. It cuts across all demographic strata.
Kindly like us on Facebook/twitter