The CEO of the ecumenical charity Liverpool Seafarers Centre has called on the shipping industry to make COVID-19 vaccinations compulsory for seafarers.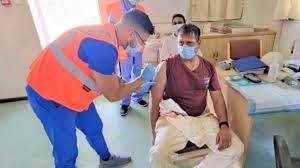 At present, the shipping companies and crewing agencies who supply workers to their vessels recommend that crew members be vaccinated, but vaccinations are not mandatory.
John Wilson of the LSC says the welfare of seafarers must come first. "If you have been vaccinated, the likelihood of serious illness or death is limited. It's not eroded completely, but the chances of you dying or having to be hospitalised are reduced greatly, as is the case for everyone," he said. "It is a sensible way forward.
"The underlying message at the moment is that if you're not vaccinated, you will not be employed, but they haven't made it mandatory. However I believe it is going to become mandatory from a continuation of employment point of view."
The industry is mulling compulsory vaccinations, with conferences for London International Shipping Week airing concern about the standards of emergency medical care provided by ship owners and crew managers to seafarers due to quarantine and immigration requirements. It is estimated that around a quarter of the world's 1.4 million seafarers have received vaccinations to date.
Wilson says that making vaccinations compulsory would reduce fragmented decision-making at company and crew level.
"The wellbeing of crew is paramount," he said. "At present, if I go on board a ship and offer vaccinations, the decision about whether to allow this might be taken by the ship's captain or the company's head office.
"Crew members may put themselves forward for vaccinations, only for them to be denied."
Kindly like us on Facebook