New studies have indicated that severe SARS-CoV-2 infection can cause acute respiratory distress syndrome and multi-organ failure.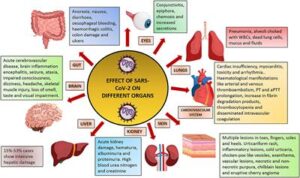 The two studies carried out by two research groups provided new insights on the pathophysiology of severe COVID-19.
The researchers carried out a single-nucleus RNA sequencing of 116,000 nuclei from snap-frozen lungs that were collected shortly after death from 19 individuals who died of COVID-19, as well as seven control lungs.
They found that lungs from COVID-19-deceased persons were highly inflamed and had dense infiltrations of aberrantly activated macrophages.
The lead researcher of the first study Melms J. C. and his colleagues at the Department of Medicine, Division of Hematology/Oncology, Columbia University Irving Medical Center, New York also found that there was evidence of plasma cells that are capable of producing neutralising antibodies, but noted that the T cell responses appeared to be impaired — indicating that, despite potentially sufficient humoral immune responses, inadequate T cell responses may contribute to lethal COVID-19.
Also, the study led by Toni Dalorey and his colleagues from the Klarman Cell Observatory, Broad Institute of MIT and Harvard, Cambridge, presents single-cell atlases of 23 lungs, 16 kidneys, 16 liver, and 19 heart autopsy samples from individuals who died of COVID-19 and compared the spatial atlases of 14 SARS-CoV-2-infected lungs.
However, the authors of both studies published in Nature on May 14 said their studies are limited by their small sample size.