The ICC Committee on Maritime Transport has added its voice to the global condemnation that has been trailing the upsurge in violent attacks on merchant ships by pirates operating in Somali waters, particularly in the Gulf of Aden. The attacks are significantly increasing in number and intensity.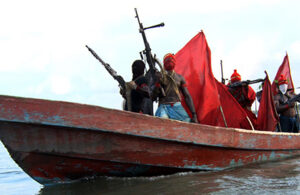 According to ICC's International Maritime Bureau Piracy Reporting Centre, there have been 54 attacks on vessels in Somali waters so far this year, with 12 vessels and over 240 crew members still being held hostage.
These hostages are citizens of many nations, including Europe, Russia and others with coalition naval forces in the area.
Pirates are armed with automatic weapons and rocket-propelled grenades, and demand large sums of money as ransom for their victims. Their actions are unacceptable and pose a grave threat to the global seafaring community, who are extremely vulnerable targets on the high seas and are responsible for vast amounts of expensive merchandise on board their vessels.
Piracy also seriously threatens the smooth flow of international trade. In the past year alone, there has been a tenfold increase in insurance premiums for sending cargo shipments through the Gulf of Aden, particularly at a time when commodity and oil prices remain high and uncertain.
Kindly like us on Facebook