"I have seen a Lebanese that claimed to be a Nigerian, he even has a Nigerian passport and a National ID card"
In this interview with Oluyinka Onigbinde, the National Coordinator; 100% Compliance Team of National Association of Government Approved Freight Forwarders; Alhaji Tanko Ibrahim speaks on sundry maritime industry issues.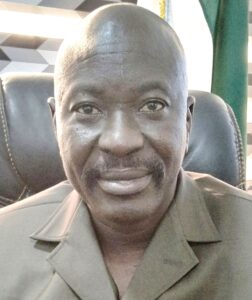 How can you assess the success of the 100 percent Compliance team so far?
As you can see, the 100 percent compliance team itself is just a year and we are still on the issue of campaigning. We have finished lectures, training people, and visitations; yet we have not yet got what we are looking for. We need our members to at least get up to 80 percent honest declaration. Any other thing is minor. This honest declaration is one of the issues we have with our clients. Secondly, some of our members who are freight forwarders; out of ignorance use their names to ship in consignments that they don't know anything about. For example, the name on the Bill of Laden carries Tanko Nigeria Limited. When trouble starts, it is that name and address that will bear the consequences. We have got so many instances whereby the main person is not the owner of the container. If you look at the past record of ammunition, you will notice that the person that owns the consignment is different from the name the container carries. So we tell people to refrain from using their names for consignments they don't know about, because they will go for it. Yes, I can say we have recorded about 40-50 percent of our expectations and campaign to people.
What do you think is responsible for the reduction in Apapa traffic gridlock compared to the way it used to be?
You may not be aware that the 100 percent compliance team conceived and sold the idea of the e-Call up system, because we don't have the capacity that time to run it. So what we did is to call meetings with the transporters from different unions. We even had some materials. When we saw that the traffic issue was getting worse, we sold the idea to the Nigerian Port Authority. When NPA was not responding, we went to the present Governor of Lagos State. We met with him three times and he approved. That is why the e-Call Up system is within the NPA and the Lagos State government. We did everything possible to make sure that we supported them to make sure they achieve what we wanted them to achieve, but they have not. I can tell you that they haven't even got to 30 percent. If they have got up to 50 percent, we will not see any of these trucks here. This is because there are some people behind it. Those people who are enjoying it those days who are realizing up to N300,000 to N400,000, do you think they will allow them to come and bulldoze them? We were thinking NPA has the capacity that time, but honestly speaking we don't know that they are not ready. Why is it that it is now they are trying to meet up? We told them that there is a need for them to collaborate with the Ministry of Transport for Lagos State, meet with all sectors, and station their offices. At least we have six terminals, they should see if there is a need to equip those terminals and all the gates with CCTV cameras, or get Power Bikes so that they can monitor the unit in case of breakdown of trucks. Why I said they should collaborate with the Lagos State Ministry of Transport is that before a truck is qualified to access the port, he needs to undergo screening from the Ministry of Transport of Lagos state. How do I mean? What is your qualification for you to drive and what is the standard of the truck? Today, you can see that almost 30 to 40 percent of the truck drivers don't even have an android phone and we call it e-Call Up system which means they will call you through your system. Some drivers will say they have not yet been called. When your phone is off and you cannot even read, how will he know? and you call it e-Call Up system? It is supposed to have a standard. That was why I asked them to synergy with the Minister of Transport and set standards for the port. Honestly speaking, if they can do this, we will not see these trucks here again and all these minor accidents in the port. You will not see all these killings of drivers killing their conductors and also those complaints from truckers that they are not aware that they have been called. If they install CCTV cameras around the place, all these issues of small bribe collections will not be there. That is why I said they are not prepared yet, they just started.
There are allegations that military men also help in moving some trucks into the port. Are you aware of this?
I am aware of that. I am aware that some military men partner with trucks and they paint those trucks in military colour and gain access to the port. Some time ago we wrote to the Ministry of Defence and DSS, but nothing has been done. The Commissioner of Police in the Port and the Governor of Lagos State are the only persons who can help us this issue. Nobody is above the law. If you paint your truck in soldier colour, we expect that vehicle to carry their own ammunition or their own properties. They should not commercialize it. That is why they are arresting them for carrying Tramadol. It is true that some people are using the military as business partners.
What is the Compliance Team doing as regards this?
I said before that we don't have the power of arrest. We only have the power to complain. We have written letters. We have different issues at hand and we cannot tackle them all at once. We are taking it bit by bit. When we are through with one, we move to the other. We are coming to that.
There are allegations that the Nigeria Customs Service recently licensed Maersk Line and MSC to perform custom brokerage. Are you aware of this and what steps has NAGAFF taken?
We are aware that presently in the freight forwarding business, a lot of foreigners are getting licenses and doing our jobs. Shipping companies don't even care to employ Nigerians. For example, in South Africa, once you build a hotel, you must take at least 30 percent of indigenes into that place as employees. When I say indigenes I mean people in that locality. Then you consider other indigenes outside the locality and also outside the state, before you now talk of foreigners. But in Nigeria here, it is not so. Some people even claim to be Nigerians. I have seen a Lebanese that claimed to be a Nigerian. He even has a Nigerian passport and a National ID card. So what are we saying?
What is the Compliance Team doing to make sure the government complies with what the freight forwarders want?
We have different issues and problems and we only write. Sometimes we write petitions and complaints and when they do not respond to us, we send a reminder. If there is still no response, we go there with copies of the letters we have written to them. This is how we normally do and I think this issue of foreigners taking our jobs will be our next fight.
Following the step taken by the Customs to license foreign firms; if revoked, how many foreigners will be out of jobs?
Let's say 10 to 20 percent of the foreigners will lose their jobs. This is because they own the company. They are not many. Even if they revoke the license, they will still hide under somebody and get back the license. Some will even say if they were born and brought up in Nigeria, they are Nigerians. To me, they are not many. One of the things causing this problem is because we Nigerians are not serious too. Very soon, I believe the Nigeria Customs will apply the system like the way banks were merged. That is, you cannot have the license to be a Customs agent until you have a certain amount of money. For example, you need to get at least N1billion for you to have a license. So many will have to merge their bank accounts to realize that whereas these foreigners have even more than that. That is the problem we are facing. To acquire just an ordinary license, we spend close to N2 to N3million naira to get. How many people have the N3million?
Kindly like us on Facebook