"Barge operators move containers outside the port to dry ports. They cannot do door-to-door, but truckers can do door-to-door"
Mr Leye Thompson is a leading truck owner and the President of Council of Maritime Truck Unions and Associations. In this interview with Shipping Position Daily team, he speaks on issues bordering on the Nigerian maritime industry.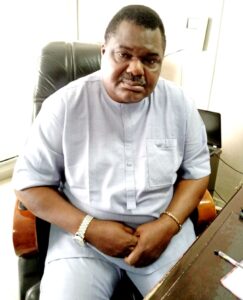 Can you give us an appraisal of the industry so far this year?
Well, although it has not been what we all expected, I think there are some new ideas and innovations being introduced into the system and I think it is getting better.
What will you say is responsible for the current reduction of traffic in Apapa?
One, there is a lot of increase in barge operations, that has really brought down the activities of truckers in Apapa because they are moving a lot. When the truckers don't have much to do, definitely the traffic will be reduced and that is what we are experiencing presently.
Are you saying there is a drop in importation?
Not at all. There is no drop in imports. What I mean is that the services of barge operation have really helped in moving consignments from the port to the hinterland.
Do you see barge operations as a threat to the business of truck owners?
Not at all. We just need understanding. The barge operators move containers outside the port to some other dry ports. They cannot do door-to-door, but truckers can do door-to-door. Definitely, both of us need to manage ourselves together. There is a limit to where the barge operations will end and the truckers will pick it up from there. So it is not a threat.
Since the Presidential Task Team left, the Truck Transit Park came on board, how will you assess their performance?
So far, there has been a lot of improvement in their performance lately. Although one will expect some teething problems at the initial stage, but I think they are getting it right. The only thing I expressed during my last interview with some media houses is their charges. To me, I think it is unreasonable. There is no way you will be expecting people to pay more than N20,000 because they want to access the port. The aftermath effect will still come back to the end users. The masses are the end users. This is because whatever TTP charges, you might look at it as peanuts, but eventually, the owner of the truck is going to add it together with his expenses. At the end of the day, it will reflect on the charge of the goods.
It seems there is a disparity in the cost. We heard that they charge around N10,000.
That is not true. I am a practitioner. That is what I do every day. I book them (TTP), the first booking you make is N10,750 and when you are barging out of the port, you will pay another N10,000. If you add it together, it will be N20,750 and you are still going to pay some back-end charges. So at the end of the day, you end up paying N21,000. In some cases, we pay up to N28,000 naira. Some pay N27,000. It depends.
So what steps have you taken?
We have written a letter to them (TTP). I have called some of their top management that they should look into it because we are not happy about it. I think when you are complaining about something, you need to give them some time to see if they can make some amendments and make some changes. That is what we are still hoping that they will do at the right time.
TTP and ETO have been able to work in Apapa but not in Tin Can. Can you share with us why it has been so?
The problem with Tin Can is that the road there is not okay yet. A lot of construction is going on in Tin Can. Secondly, there are so many link roads; coming from Kirirkiri, Brawal, and inner Ajegunle. All these routes are roads truckers are following. After the completion of the road, we might have some changes. But as it is, we just have to manage it.
Some have alleged that there are only three entrances into Tin Can unlike Apapa that has about eight. They said this is why the e-call up has not worked in Tin Can.
There are so many Tank farms along that road and the tankers are not on the TTP programme. So they want to have their way, and some other people want to have their own way too. That is why they are having some of these challenges. If it is well and properly managed with some dedicated and committed staff, we can get it right.
You are a key member of COMTUA, how will you rate its performance so far in the industry?
Our activities have been very high and we are doing really well. What people are using to judge us is different. For instance, the people in COMTUA are all matured and educated, unlike some other unions. We don't believe in confrontation with the government. So other people are complaining that we are too civil and gentle. That is the best way to handle things. We cannot be fighting the government or causing problems all the time. We are all investors. We invest and we want to also make fortune from our investments. So you have to protect the investments as well. If it is not properly managed and you are confronting the government, you will end up losing your investment. Nobody is planning for that.
Recently the Maritime Workers Union of Nigeria pulled out of COMTUA, do you have any idea why they pulled out?
I am the President of COMTUA. I heard the news and the main cause of the problem. It was not to COMTUA as a body, but one of the affiliate unions which is the National Union of Road Transport Workers. They have some little disagreements with the MWUN. We tried to intervene but unfortunately, I think the other side which is the NURTW did not allow us to use all the mechanisms within the system to settle the differences. They went to the Police and I think the MWUN were not happy with their step and they decided to pull out.
We heard that MWUN pulled out because of sharing formula.
No, we are not charging anybody any money so it cannot be sharing formula. Let me go into details, since you have heard a particular aspect of it. We need to clear the air on it. The NURTW and some of their members are collecting money at some points along Tin Can/ Mile 2 axis which is not part of our agenda. Along the line, we heard MWUN were collecting money at Tin Can as well; which I have not yet verified. I don't know whether it is true or not. Both of them have disagreements and that was the cause of the problem. I called the leader of the NURTW and they said they are collecting the money on behalf of the state government. I saw a ticket they used to give to people and they said it is an agreement between them and the State Government. I don't know whether it is real or not. What caused the problem between the two of them was about financial disagreements, but by the way, it has nothing to do with COMTUA.
Are you working out a resolution to bring them back?
No, we are not. This is because when there is a dispute and you look at the options available before you. If it is going to be something positive at the end of the day, you can consider it and say let's try to unify these people and let them move together. But I noticed that if both of us can still maintain the way we are, for now, it will be better for us. This is because I don't want the idea of collecting money or not collecting money at all. It is going to dent the image of the leadership; which is not part of me. So if the whole thing can be settled and it fades-off like that, then if there is any reason for us to collaborate together in future, we can consider it. But for now, I think it is better for us to maintain it the way it is.
There is an allegation that some military men move containers and trucks directly to the port without the use of the e-call system. We believe you will have an idea of this and we want you to please tell us if this is true.
Actually, I don't believe the Nigerian Army has a transport division that has that number of trucks that are plying the road on daily basis. A lot of people are painting their trucks to their color because many people know the Military is not paying and they don't respect the rules. Actually, yes they are causing problems. But if the system is well-managed, even if you are from the Presidency they should be able to manage you. When you get to the gate and you find out that you cannot enter the port without following the due process, you will go and queue up. But because people have the belief that the military is all above the law, if not there is no reason why someone will just be coming from nowhere without following the normal process. I blame the Nigeria Port Authority as well. The MD is saying is because of the Military. Why didn't he write to the NPA not writing to the Military Authority? They should write letters to them on the procedures of getting to the port stating that some of their men are looking down on the procedures.
Are these military men genuine or fake?
I am 100 percent sure that it is only a few of them that are genuine, not all. I don't think the Nigeria Army has up to 200 trailers. I don't believe that. What we have on roads daily are sometimes over 100. People who have painted their trucks with Nigeria Army color are more than 200. The Director of Nigeria Army Transport Division should be contacted and asked how many trucks they have and the number of those functioning. If you get the record, then you can use that to determine this. But I'm not sure they have up to that. A lot of people have infiltrated the system and hiding under their names to move their trucks at will.
The exchange rate seems not to be favorable to maritime stakeholders. How has it affected your business?
It has greatly affected our business. You know we are talking about Minimum Safety Standards, changing some of the trucks to new ones, overhauling some of them that need to be changed and all that. If you look at the exchange rate today, it is difficult. I think that is where the NPA and the Nigerian Shippers' Council need to come in to assist the truckers. When they want to charge or roll out some rules, they don't consider those ideas. As of today in the local market, a dollar is N524. To get a fairly- used trailer marked as a standard one, you will need about $10,000. This is just to buy from there (overseas), we are not talking of shipment or clearing. Lately, with all these exchange rates, clearing charges have been increased. So it is not an easy thing. It is difficult for us, but I know with time we will get there.
Why is the association not pushing for bailout funds, in order to help alleviate some of the challenges?
The truth of the matter is that we have so many associations in the maritime sector and some of them are not well coordinated while some are. The few of us that are well established and are operating have our means of funding our business. So if you have a means of funding your business, you might not be interested in whatsoever bailout. But at least, we should also consider the younger generation. But because we are not united, the government even uses some of them to cause division in the system. That is why we are not finding it easy.
Recently the NPA set some guidelines that trucks must meet, that is the Minimum Safety Standards. Do you think this is realizable?
Yes, it is very realizable. It is not only for the port operators; I think it is even good for the business owners and the safety of Nigerians. Most times I see some trucks and I feel ashamed even as the President of the association. Some are even without windscreens. It is one thing to set the guidelines, it is another to make sure that you walk the talk. They just reel-out guidelines and they don't follow it to the latter. There are some trucks that don't have a business to do in the port because they are creating a lot of problems and dangers for the people working in the port and other road users. It is a good idea, but we need a very strict enforcement team.
The AfCFTA kick-started in January and we are in September. Are the truck owners being carried along in the sensitization?
They have not, the Nigerian Shippers' Council is calling us for a meeting next tomorrow, so I believe when we get there they will open up. But personally, as a businessman and someone that follow-up on things, I have been doing some follow-ups and we have been discussing within the system community. So when we get there on Thursday, we will know their position and see how it can be of advantage to us.
Kindly like us on Facebook