By John Konrad
On the eve of World Suicide Prevention Day, suicides aboard ships are rising at an unprecedented rate. Are we doing enough to help mariners in mental distress at sea?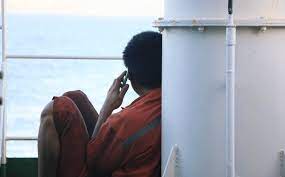 "Suicides at sea and mental health generally are talked about in trade press but the industry and more particularly governments don't own the issue," says Frank Coles, former CEO of Transas and Wallem Group. "Seafarer health is very much an afterthought in this industry"
In July of last year, the US Navy attracted global media attention when the civilian Third Officer of the replenishment ship USNS Amelia Earhart, went onto the bridge and committed suicide. He died immediately. The official cause of death was a "self-inflicted gunshot wound" but the true cause was more complicated.
Over the past few decades, no organization has invested more in PTSD, mental health, and suicide prevention than the US Military, but despite having world-class physiologists available 24/7 they made a mistake that most organizations in the world continue to make. They overlooked the mental health of the civilian seafarers employed to maintain their critical logistics chain.
In the wake of this incident and countless others across the US Navy and military the Department of Veterans Affairs is proposing spending $682 million more next fiscal year on mental health issues, and ramping up funding for suicide prevention efforts by one-third, but civilian mariners, like the Amelia Earhart's third mate, do not qualify for full VA assistance because the Pentagon refuses to classify them as veterans.
Similarly, most US states and countless countries around the world pour money into mental health programs within their borders but seafarers work mostly outside all borders. This makes it the responsibility of shipping companies to advocate for seafarers' access to land-based support networks and also spend money on private mental health programs that understand the specific stresses placed on seafarers.
"Companies like Shell mention it at their safety conferences," says Coles. "But while the owner's representatives nod and avow to address this problem the mighty dollar drives all decisions in the industry."
If the US Navy can't prevent the suicide of its civilian seafarers at sea, what can shipping companies possibly do?
"Shipping companies should focus on the preventative measures for suicide," said Charles Watkins, Managing Director and Clinical Psychologist at Mental Health Support Solutions (MHSS). "They can do more by creating awareness, talking about it, and breaking the taboo of bringing up concerns about suicide."
The company, which provides 24/7 professional mental health support to the shipping sector, saw calls from seafarers to its phone line surge by 60% between April and June 2021. Issues raised during the calls included anxiety, bullying, or crew conflict arising from limited experience with different cultures or nationalities.
"Offering people the opportunity to talk about their issues is vital – but they need to be aware of the help available to them," he said. "We can assess a person's wellbeing by simply giving them a chance to talk.
"We can also follow up with anyone onboard who is affected by suicidal ideation, be it the person dealing with mental health issues or seafarers impacted by a colleague who is feeling anxious, depressed or suicidal."
Sobering statistics from the World Health Organization show that more than 700,000 people globally die by suicide each year, most commonly through ingesting pesticides, hanging, or using firearms on themselves. For every suicide, there are more than 20 attempts of people trying to take their own lives.
Moreover, suicide is the fourth leading cause of death in 15–19-year-olds, something shipping companies with young cadets need to be aware of, according to Watkins.
Tomorrow is World Suicide Prevention Day and we simply must provide more support to mariners facing intense pressure to keep delivering consumer goods globally amid the Covid-19 pandemic.
In addition to supporting seafarers in acute distress, we also must do more to educate all seafarers on how to provide support for the mentally distressed. This could be added to IMO mandated programs like Medical PIC training but even simpler methods can be addressed right now. Large companies can hire a director of mental health to champion programs internally and smaller companies can contract out to companies like MHSS. All shipping and offshore companies can add suicide prevention and mental health to their budgets and as a topic of concern at board meetings.
Kindly like us on Facebook